And just like that — Aidan Shaw is back!
The Team Aidan clan finally get to see the return of Carrie Bradshaw's nice-guy ex in the latest episode of Max's "And Just Like That ..."
Last week, viewers watched as Carrie (Sarah Jessica Parker), widowed since the untimely death of husband Mr. Big a year ago, reached out to Aidan (John Corbett) in an email. "Hey Stranger… Remember me?" she wrote, adding, "I wondered how you were doing."
This week, things kicked off with Carrie flipping open her laptop to see Aidan had responded to her message. The author and podcast co-host, who demolished Aidan's heart years before by ending their engagement, needed a moment to work up the courage to read his reply.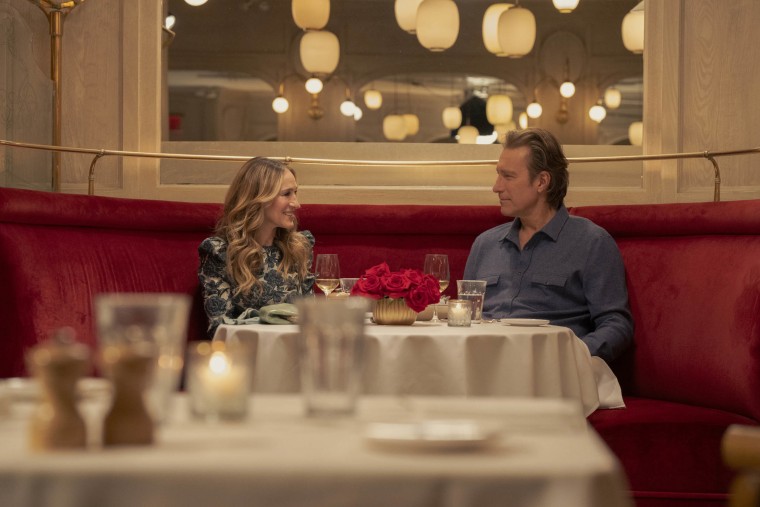 At brunch, Carrie told Charlotte (Kristin Davis) and Miranda (Cynthia Nixon) that Aidan would be was traveling to New York City for a meeting.
The newly flush furniture maker, who recently sold his profitable business to West Elm for big bucks, invited her to dinner the following Thursday. The last time they had seen each other was during a chance encounter in a market in Abu Dhabi during "Sex and the City 2."
"Thursday, it's Valentine's Day!" Charlotte excitedly pointed out. "He asked you to dinner on Valentine's Day!"
Carrie replied that Aidan, whom she hadn't seen in 13 years, probably had no idea Thursday was Valentine's Day, which Charlotte said was a clue about Aidan's love life. "If he doesn't know that it's Valentine's Day, then he's not in a relationship," Charlotte reasoned.
At dinner, sparks flew between Carrie and Aidan. First, though, Carrie had to figure out she was waiting at the wrong restaurant.
Once she and Aidan were face-to-face, the conversation flowed. Smiles lingered. Flirting commenced. "Sitting here with you is like 10 years just — ," Aidan said, snapping his fingers to make his point.
Then, the former couple left in the same cab, heading back to Carrie's apartment. Carrie's old apartment. Aidan hadn't realized Carrie moved back into her place after Big died.
Seeing the outside of Carrie's apartment again was too hard for Aidan, who decided to cut the date short.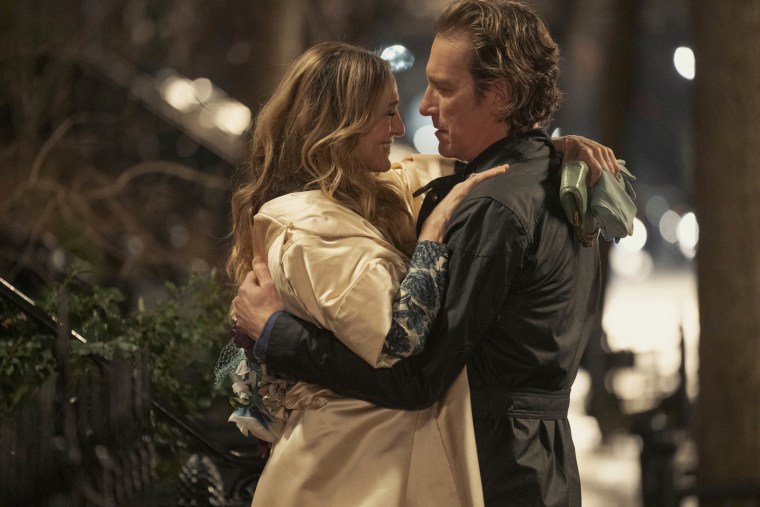 "At the restaurant, I just thought, how great. This feels really great. We're back where we started," he told Carrie. "But this is where we ended, with the f------ wall I couldn't break through, and those floors. Remember those floors I redid? That's all bad, and it's all in there."
"Yes, it's the same place. But we're not in the same place," Carrie replied, adding, "And it wasn't all bad, Aidan, was it?"
"I'm never going in there again," said Aidan.
"I understand, I do," Carrie responded. "I guess time doesn't heal everything. No matter how much you want it to."
Aidan began walking away, before changing his mind. Turning to face Carrie again, he said, "Hey, f--- it … This is New York. They have hotels, right?"
Then, Carrie and Aidan kissed each other as passionately as they ever had.
"And just like that," Carrie said in a voiceover, "Aidan and I were back on the same page."