Looks like the "Law & Order" shows are finding Camryn Manheim a rather ... handy person to have around.
That's because the veteran actor, who currently rules the roost on "Law & Order" as Lt. Kate Dixon, is set to share her skills Jan. 5 on "Law & Order: SVU," using sign language to interpret the stories of deaf sexual assault victims.
"It is meaningful to have been a part of (the episode), because I am fluent in sign language and have been an advocate for disabilities for a long time," she tells TODAY.com. "One thing that's come up recently is how much the public learns from shows like 'L&O' and (Manheim's old stamping grounds) 'The Practice'; (and) just how important it is for our producers and showrunners to get the procedure right."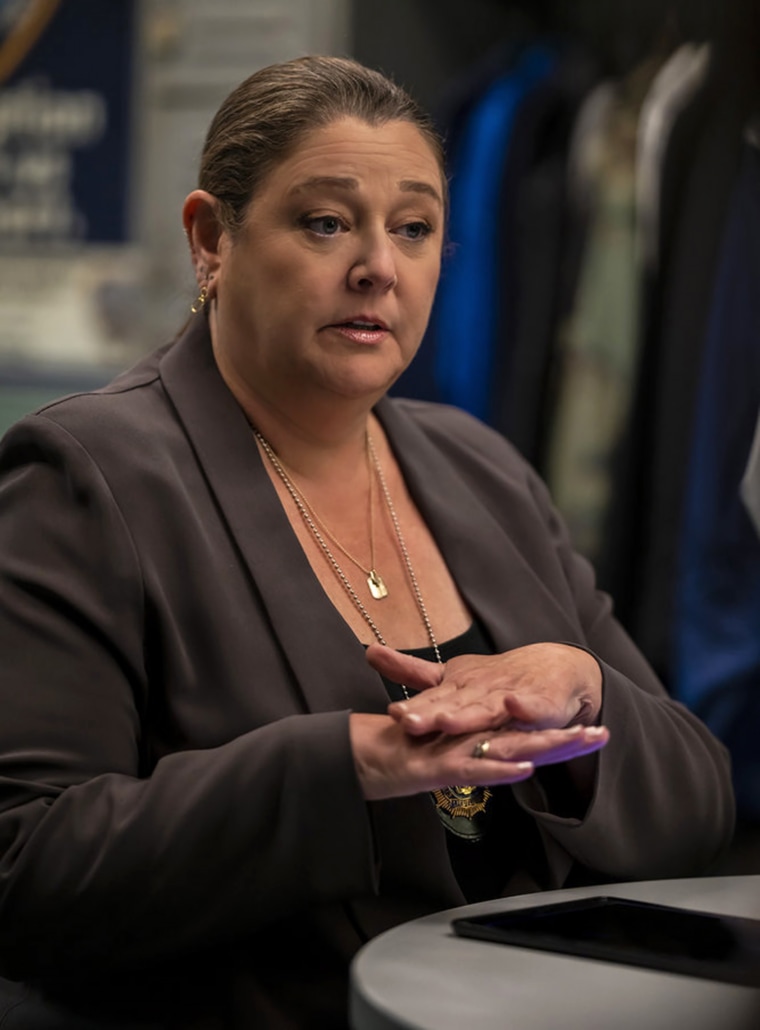 Manheim, who is not deaf or hard of hearing but can communicate in American Sign Language, has already used her skills a couple of times in the franchise; first, during one of her guest appearances on the show in its early days in an episode from 1993 called "Benevolence" and then last October, when a girl who is deaf had to be questioned on the show.
The actor spoke up for the inclusion of her skills in that episode, as well as the one on "SVU," the Emmy winner explains.
"I'm going to name drop," she chuckles. "I was having lunch with (actor) Maria Bello and ("SVU's" Olivia Benson) Mariska Hargitay, and Mariska mentioned they were having an upcoming episode with deaf people. I said, 'I'm fluent in sign language,' and she picked up a phone and all of a sudden I'm crossing over. It happened that quickly."
Now, it might seem odd that a police lieutenant would be called in to help with translation, particularly to a completely different division of the NYPD. But Manheim says the added lines, in which Dixon learns from Benson that it will take up to five days to get an interpreter in with the assault victim, helped underscore why her character is so critical.
"We wanted to show that it's not OK to pull a detective from another precinct and get them to interpret," she says. "I made it clear to the writers, and they were fantastic about incorporating that ... (Dixon) I told all the deaf victims that an interpreter will come and review their statements to make sure it's accurate and also that they were recording the interview in case I missed something, so we'd have it on tape. I wanted to get that across that we were doing all the right things to protect deaf people."
She recalls that the last time she used ASL on "L&O," there was plenty of feedback from the Deaf community.
"They were doing TikTok videos watching me doing the signing and whether I did it right or not," says Manheim, 61. "They're very vocal when they're represented on television. We have so few opportunities to get it right, so it's important to teach people the procedure about what to accept when they are in this scenario."
Meanwhile, the visit had one other benefit: getting to hang out with Hargitay and her co-star Ice-T, who plays Odafin Tutuola on "SVU."
"Mariska is like the mayor of New York and of 'Law & Order,'" says Manheim. "She's the most welcoming, she's hilarious. She is a jokester. She knows that show like the back of her hand, and it's inspiring to watch her move in and out of being an actor, a producer, a director. On the show I was on, Mariska has, like, 85 percent of the dialogue. I'm like, 'How do you do it? You have three children!' But it's really become the fabric of her soul."
Perhaps amusingly, Manheim is actually more of a "L&O" veteran than Mariska, in that she started earlier on the franchise (though initially only in those guest roles in 1991, 1993 and 1994). But it gives her a unique insight into the differences between the 20th and 21st century versions of "Law & Order."
"I'm glad that the politics of 'Law & Order' has progressed with the time," she says. "Maybe in the old 'L&O' there would be some idle chitchat around the coffee machine that wouldn't fly now. ... Whenever you're watching a television show you can't take all the time you need to get it right, but I do believe the show is trying to address so many of the issues that are prevalent in our justice system. Sometimes we get it right and sometimes we could do better, but we're always a work in progress."
"Law & Order" airs Thursdays at 8 p.m. ET, followed by "Law & Order: SVU" at 9 p.m. and "Law & Order: Organized Crime" at 10 p.m.
CLARIFICATION (Jan. 6, 2022, 10:38 a.m.): An earlier version of this article used the term hearing-impaired. The preferred terms are deaf and hard of hearing, according to the National Association of the Deaf.