Noemie Serieux has always loved period dramas.
"I really like anything that has Keira Knightley," she tells TODAY.com. "Anything that has her, I'm watching it immediately."
But she says she rarely saw herself represented in historical dramas, known for their elaborate costumes, sweeping orchestrations and swoon-worthy romances, often set in the English countryside.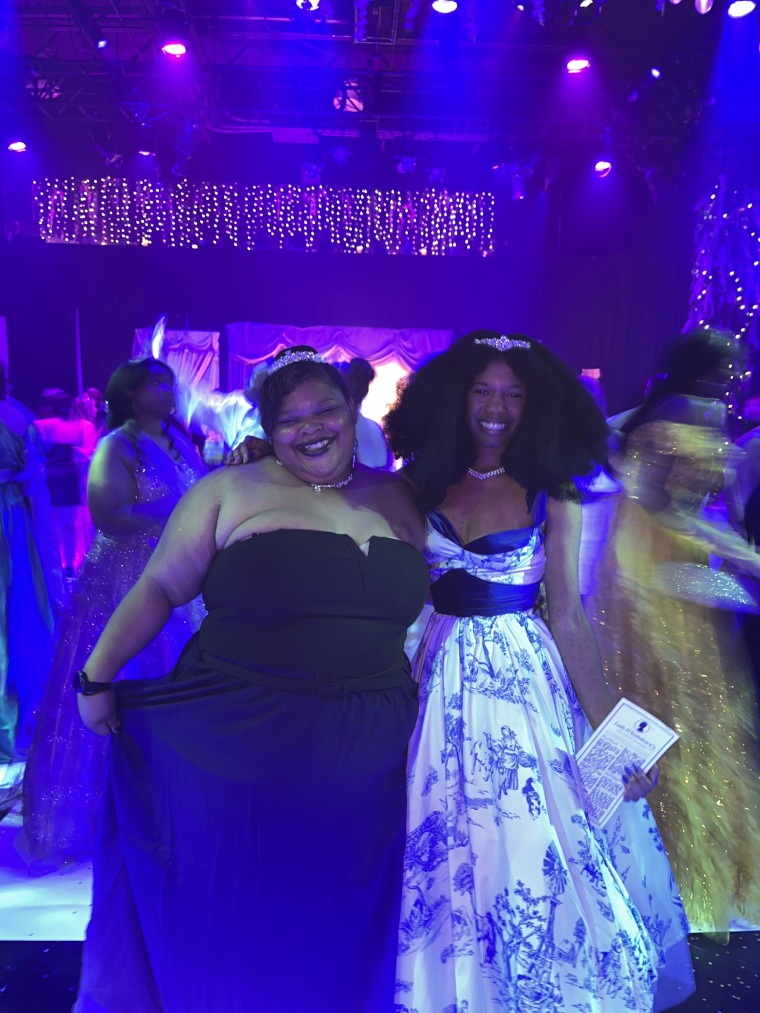 "I've always wanted to wear ball gowns and be in fairy tales and everything, but I never really had the venue to do so, especially as a Black woman growing up in Brooklyn," she tells TODAY.com.
It wasn't until Season One of "Bridgerton" premiered on Christmas Day in 2020, that she saw a version of London — ruled over by Black queen — in which she could.
Serieux, 25, is one of hundreds of guests who poured into a Manhattan performance space April 30 to attend the Queen's Ball, an immersive experience that aims to transport attendees into the world of the Netflix series.
The pop-up event, one in a nationwide series, features a troupe of actors and musicians who lead attendees in dances from the era and perform a choreographed love story for the audience.
The devotion tells author Julia Quinn, who wrote the "Bridgerton" series that the show is based off of, that the world has become part of the "cultural zeitgeist," she tells TODAY.com.
Premiering during the COVID-19 pandemic, "Bridgerton" proved to be a much-needed escapist delight, transporting audiences to a world where romance was real and anyone could be part of high society. Season One's leading man, (Regé-Jean Page), is Black; Kate Sharma (Simone Ashley) and her sister in Season Two are Indian.
Many say "Bridgerton" made them feel seen in their racial and cultural identities, and now, through social media and events like the Queen's Ball, fans have put themselves in the story.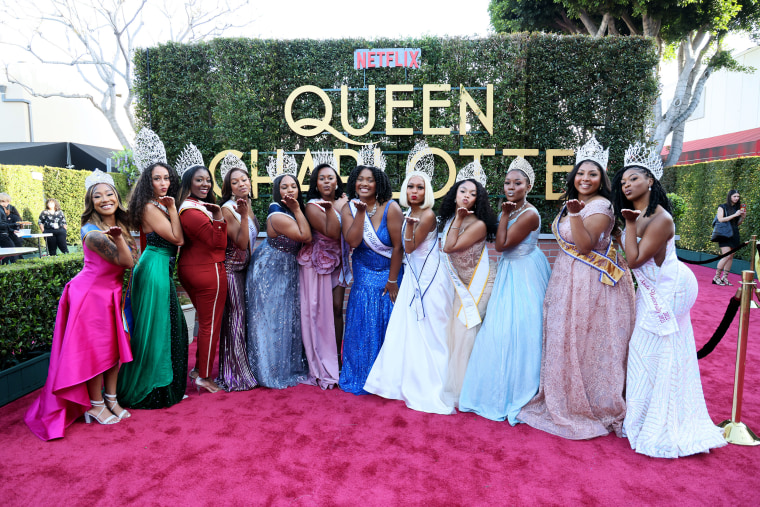 At the Queen's Ball, 'Bridgerton' fans get a chance to become 'diamonds'
One of the first scenes in "Bridgerton" features Daphne Bridgerton' debut into society, which is marked by her introduction to the queen. In the scene, Daphne (Phoebe Dynevor) slowly approaches Queen Charlotte (Golda Rosheuvel) before sinking into a deep bow. Moved by her beauty and grace, Charlotte leaves her throne and lifts Daphne's chin, saying, "Flawless, my dear."
Lady Whistledown soon reports the news: Daphne has been named a "diamond of the first water," the highest honor for a young debutante among the society of the Ton.
The Queen's Ball borrows from this scene. No matter the city, most of the event transpires before a performer dressed in the splendor of Queen Charlotte, the monarch in "Bridgerton" whose story is now fully explored in a prequel series.
At the end of the event, the queen looks out over the gathered crowd of fans, many dressed in their more regal attire, before she picks one to be crowned the "diamond of the season."
That person then stands on a raised platform in the middle of the room and spins under a gleaming chandelier, silver glitter falling all around them in a cinematic scene that seems straight from a Shonda Rhimes script.
These moments have gone viral on TikTok, such as the time designer Matthea Nava, who identifies as transfeminine, received the honor in Los Angeles last year.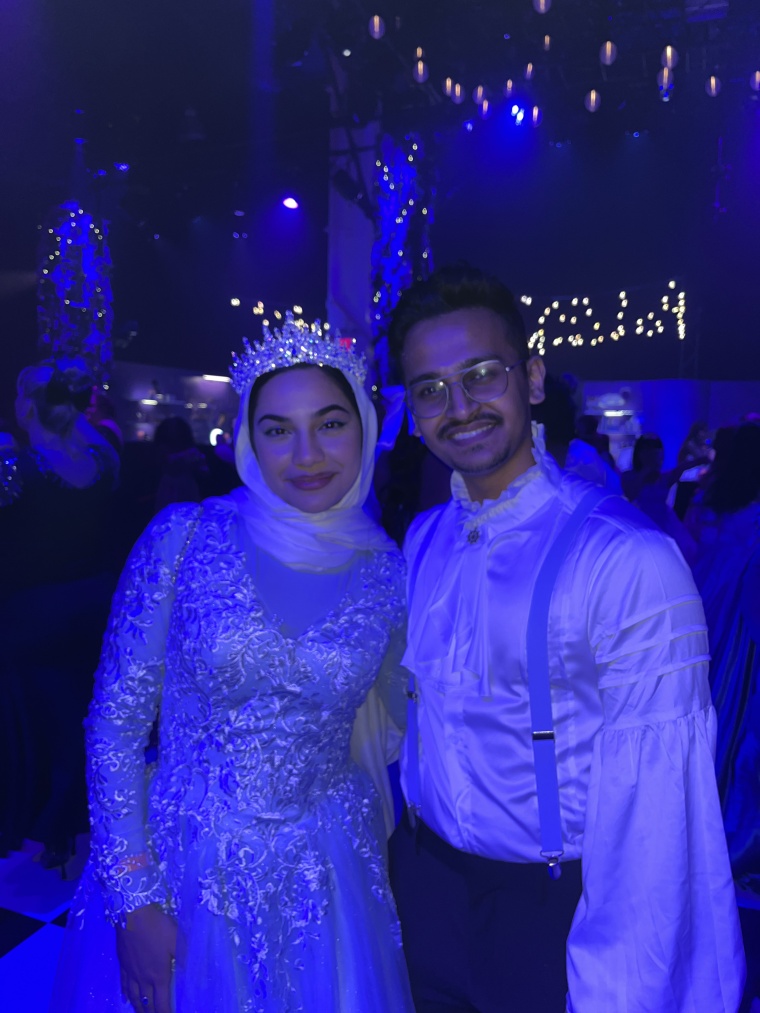 At the April 30 New York event, the honor went to Muslima Munim, 26, who wore a sparking blue gown with a floral embroidered overlay. Her inspiration was simple: She wanted something "big" and "glam."
"I got my princess moment," she says.
Her friend, Dipu Rahman, 27, surprised Munim with tickets to the event because he knew how much the show meant to her.
He didn't know what he was in for.
"I knew it was a princess, castle, kind of vibe, that's the most I really knew," Rahman says. "So coming in and seeing all these people dressed to the 11's was crazy."
"And then this happened," he continues, motioning to Munim. "I cried, almost, a little, I'm not going to lie ... It was beautiful."
Fans are using 'Bridgerton' to inspire their proposals
Like Rahman, Tanveer Mostafa wouldn't have elected to watch "Bridgerton" himself. But then, his girlfriend "encouraged" him to watch it with her ("I wouldn't say forced," Afrida Ashraf clarifies, with a laugh).
In Season Two, when the couple heard an instrumental track of the classic Bollywood song "Kabhi Khushi Kabhie Gham" play on their TV, they felt like their culture and childhoods were represented authentically, Mostafa says.
"We come from a South Asian background," Mostafa, 27, tells TODAY.com. "So feeling like a part of us was in the show was a big reason why we got attached to it."
When Ashraf, 24, learned that the Queen's Ball was coming to Canada in June of 2022, she knew she wanted to participate with her boyfriend.
Mostafa thought about what he wanted to wear, aiming for an outfit that fits the regal theme and acknowledges the diversity represented on screen that the couple first fell in love with. He settled on the sherwani, a long garment traditionally worn in South Asia, that his brother wore for his wedding.
"When I came across that thought, I was like, 'Well, hey, if I'm gonna wear it, and it's a wedding sherwani, then this is a really great opportunity to propose,'" he says.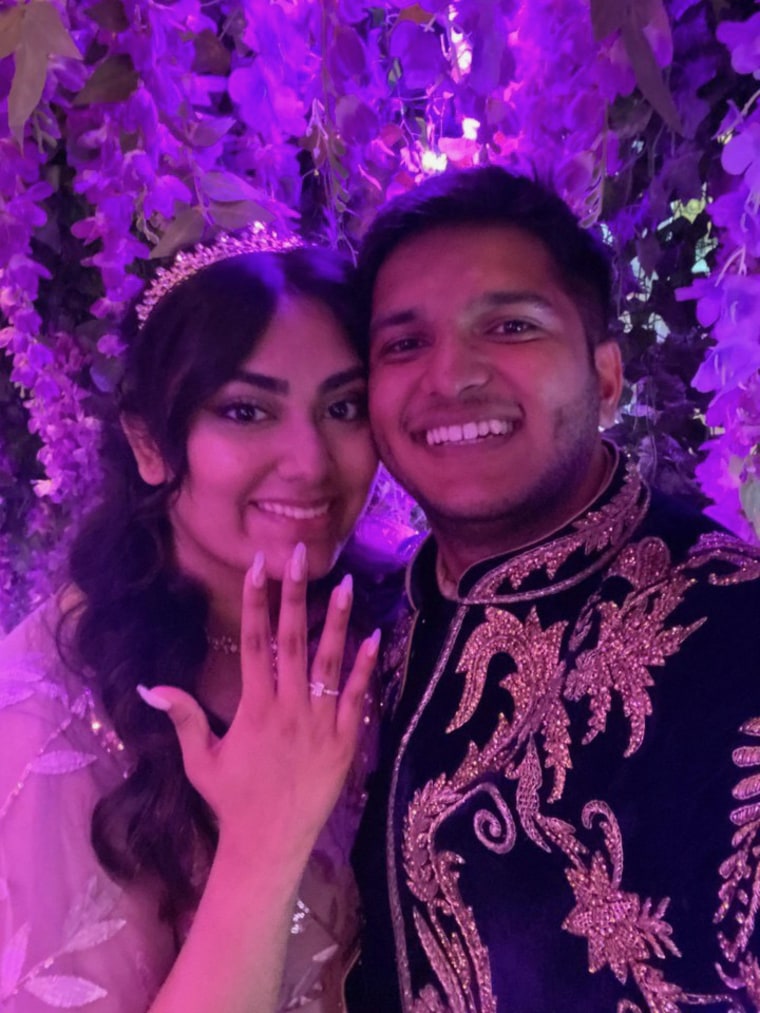 The actual event was marked by surprises for both Ashraf and Mostafa. Mostafa ended up being selected as the diamond of the ball. One of the event's organizers — with whom Mostafa had worked to plan the logistics of the proposal — then told the couple that one perk of the honor was having the venue to themselves at the end of the event.
When the rest of the attendees left, one of the remaining event staffers filmed a video of the couple dancing, a routine they had practiced all weekend in preparation for the ball. As Ashraf momentarily spun away, Mostafa dropped to one knee and brought out a ring.
"I was really, really happy for him when he got chosen as the diamond of the season, but I wasn't expecting that I would get something at the end of it, too," she says.
"She wasn't expecting getting an actual diamond," Mostafa adds, with a laugh.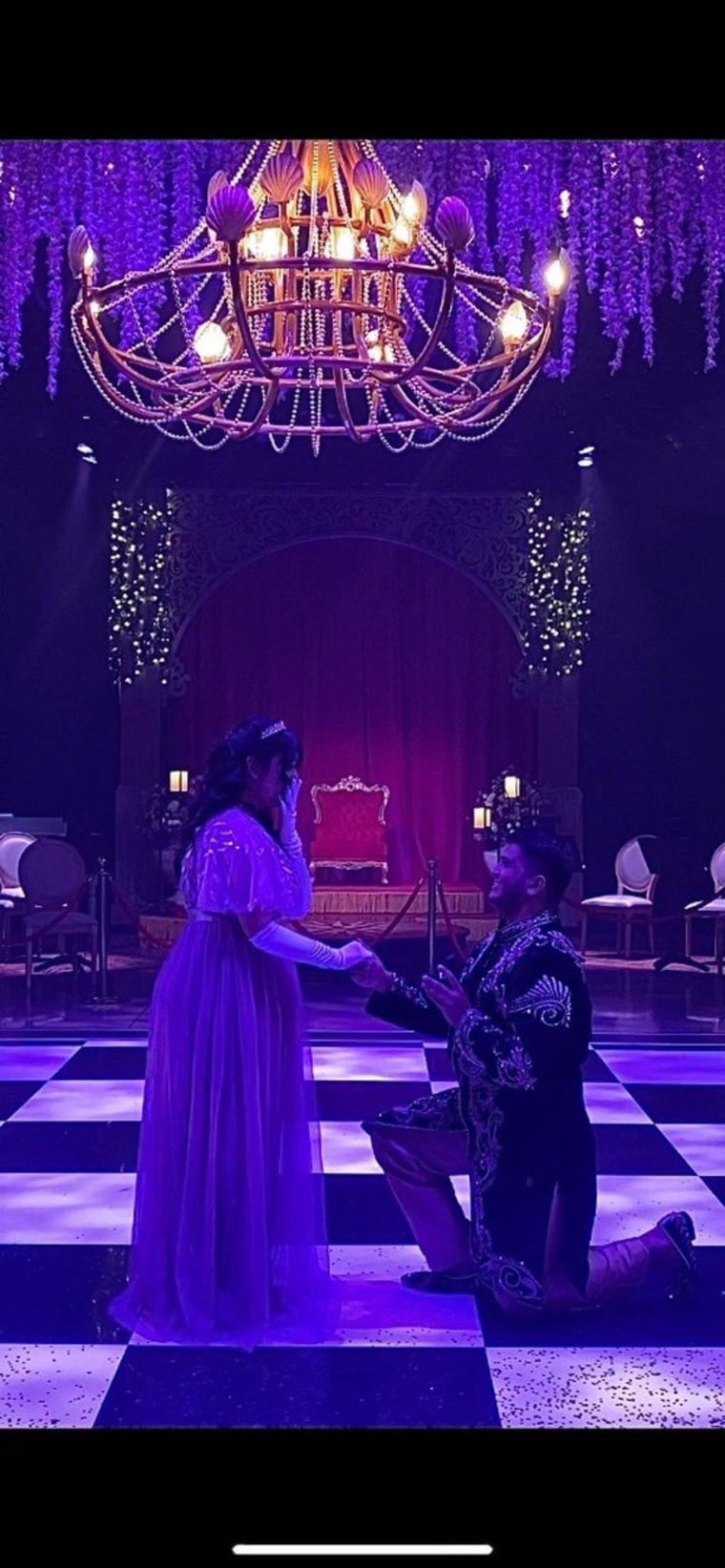 In total, more than 40 proposals have occurred across nine cities at the Queen's Ball event, according to Netflix. Mostafa posted the video capturing the sweet moment to TikTok and soon went viral, receiving more than 6 million views.
Now, the two are preparing for their wedding, which is set for August. Ashraf says she often finds herself thinking of the "Bridgerton" scene in which the Sharma family performs a Haldi ceremony for the engaged Edwina, covering her in turmeric paste in an intimate ritual to bless the new bride.
"Not only is it something that is now something that we're looking forward to having on our own, but it's something that I think is just a crazy moment for me to see captured on screen," she says.
'Bridgerton' fans are dressing like their fave characters
The fashion at the Queen's Ball is one of the highlights. According to Netflix, 90 percent of guests at the event dress up in Regency attire, and four groups have even shown up at the event riding in a horse and carriage.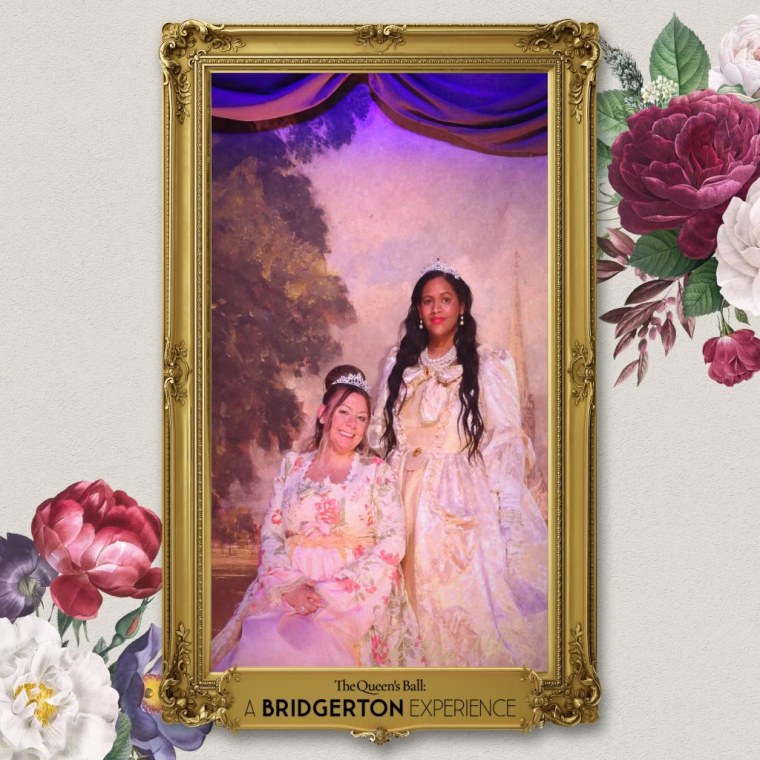 Naomi Rosario attended the event for her 31st birthday with her friend, Adriana Shaw, and both donned full skirts and tiaras.
Rosario's outfit, a light pink gown draping with fabric, was inspired by Queen Charlotte herself.
"It's such a fantasy that we all want to live," Rosario says.
At the event in Manhattan, Serieux's gown, a blue and white floral floor-length dress, was handmade, inspired by Scarlett O'Hara's iconic green dress in "Gone With the Wind."
The final piece came together by combining two pieces of clothing and using a drawstring, elastic and help from her mom to complete the flowing floral look, topped off with a tiara.
"I was just always made fun of for being into this kind of stuff, but now 'Bridgerton' has opened the door for everyone to engage with it without being called a nerd for it," she says.
At the Queen's Ball, attendees take turns walking up to a seated Queen Charlotte and bowing in an attempt to court her favor, receiving only her slight disapproving expression and a powerful nod in responsive.
After taking her turn to pay respects to the queen then dancing with other fans all night, Serieux says it feels like she was part of the Bridgerton" world and that the event was made "just for us."
"It's kind of feels like a dream come true," she says.
Show creator Shonda Rhimes, "Queen Charlotte" actor Sam Clemmett and the original Charlotte herself, Rosheuvel, also took their turn bowing to the queen and surprised guests at the April 30 event. But most people didn't even notice at first, Rosheuvel says.
"I think they were so into what they were doing, and where they were, and the characters that they had created. There were lords and ladies in the room," Rosheuvel tells TODAY.com. "The Ton was in the room."