Reba McEntire is already looking right at home in the red coach's chair on "The Voice."
During a moment in the singing competition show May 15, the 68-year-old, who is set to join the panel of coaches for the first time ever next season, comfortably sat in Blake Shelton's designated seat.
TODAY's Carson Daly, who is also the host of "The Voice," took a moment to acknowledge McEntire sitting there, to which the live audience went wild with applause and cheers.
"If you don't know, now you know. Reba is going to be in this chair next season on 'The Voice': It's official," he said, then asked, "Where'd Blake go? Who cares!"
When asked what she's looking forward to after joining the show full time, McEntire responded, "I'm looking forward to being here with all of y'all. You've treated me so nicely. I appreciate the hospitality so much that you showed me earlier. And to be able to come in and form my team, I'm so looking forward to it."
Shelton, who is set to leave the show after this season, then suddenly appeared. He walked over to his chair and told the country singer, "Do you mind, I still have a week left. If you don't mind, I'd like to ..."
Interrupting the "God Gave Me You" singer, McEntire repeatedly said, "No."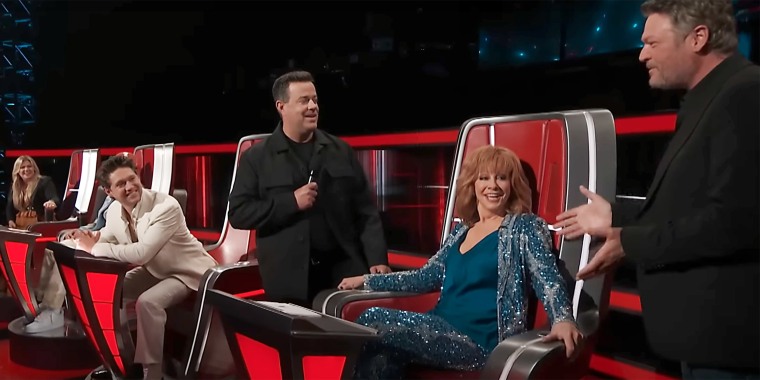 After joking that he'd be OK with her taking his seat for the evening, Shelton noted, "I mean this is unbelievable. It is Reba, but you are in my seat. For God's sakes, let me finish the show!"
Reluctantly, McEntire got up out of the red chairs and responded, "All right, oh man."
At the 2023 NBCUniversal Upfront event on May 15, Zuri Hill made the big announcement that McEntire would be joining Niall Horan and John Legend as coaches on the show, as well as Gwen Stefani, who is no stranger to "The Voice."
As Stefani makes a return, her husband, Shelton, is parting ways with the competition show after 23 seasons. He's been a coach since "The Voice" began in 2011.
During the current season, McEntire previously appeared as a mega mentor, serving as an adviser to give feedback to the coaches and singers before their performances.
Live shows for Season 23 of "The Voice" began on May 15 for the top eight performers, though competitors Ryley Tate Wilson, Ray Uriel and Holly Brand were eliminated in real time.