In the beginning of last night's episode of "The Bachelor," Zach Shallcross decides to do the Fantasy Suites his way ... by not doing much at all.
At least, that was his intention.
By this point in the season, Zach has whittled down the 30 women chosen for his cast to three front-runners: Ariel Frenkel, a New York marketing executive; Gabi Elnicki, an account executive from Vermont; and Kaity Biggar, a nurse from Canada living in Austin, where Zach also resides.
Here's what happened during the Fantasy Suites.
Hold on: What are the Fantasy Suites in 'The Bachelor'?
Before taking the women home to meet his parents, Zach has a chance to get to know his season's remaining women (and yes, we mean "know" in the Biblical sense).
Essentially, the intention of Fantasy Suites is to give the lead some camera-free time to explore his, ahem, intimate connection with his three remaining suitors.
This tradition within the "Bachelor" franchise is not unlike Las Vegas, in that what happens in the Fantasy Suites usually stays in the Fantasy Suites, and leads are often coy when addressing what happened behind closed doors.
But when the leads decide to be honest with what goes down in the Fantasy Suites ... the truth often leads to tension.
Take Clayton Echard's season, when he was intimate with two other women, betraying Susie Evans' expectations that he would not sleep with anyone else. Clayton sent Susie home, to then go after her.
Similarly, in Zach's season, drama from what happens (or what doesn't happen) in the Fantasy Suites soon spreads.
This season, Zach intends to abstain from sex
From the start, Zach is determined to break the Fantasy Suite mold as he tells host Jesse Palmer he wants to avoid "sex of any kind."
Why take such a stand? He tells Jesse this act of intimacy is not how he imagines a "healthy engagement should start." Incidentally, Zach left his season of "The Bachelorette" after his Fantasy Suites experience went sour with Rachel Recchia for reasons that are still undisclosed. At the time, he told Jesse he was "not feeling it at all."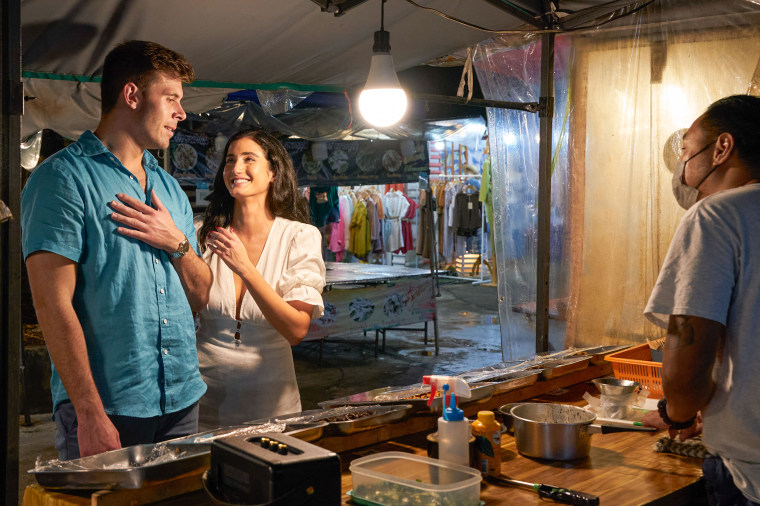 Out in the wild with the three women, though, Zach struggles not to give into what he calls "animalistic desire."
All three leads struggle in their own way, too. During his date with Ariel, he lays down some ground rules.
"I guess what I envision (for) what would be a happy engagement and a happy marriage, that this week in particular, sex being off the table," he says. "Like, sharing that intimate moment should be saved for that moment of engagement."
Ariel is surprised by his decision, saying in a confessional, "Being physical with someone is a big part of loving someone and getting to know them."
But he then goes against his own word on his second date with Gabi.
During their overnight, Zach delivers the same speech he gave to Ariel: No funny business, OK?
Or, in his words: "To a lot of people, this week is viewed as … sex week. I think what feels right to me is approaching this entire week not having sex with Fantasy Suite. To me, it's probably the healthiest way to go about it."
Like Ariel, Gabi is somewhat skeptical of his approach. "Did I think I was going to get engaged to somebody that I've never had sex with? Probably not. But we're gonna work on it later. I won't try to seduce you," she says.
Speaking to the camera, she tries to understand his point of view. "He's saving it for the right person, which means he's not test-driving anything. He knows he wants a Porsche." 
Well, looks like Gabi is a Porsche, because next morning, Zach reveals to Jesse that his promise to himself dissolved some time after opening the door to the hotel room.
"We both agreed and wanted to have sex together, and it was very special … I feel terrible because I've essentially, like, gone against my word," he says.
Then, he deals with the aftermath on his third date with Kaity
Now in damage control mode, Zach tells Gabi his intention to share what happened with his third and final match, Kaity. He also says he's falling in love with her.
Gabi says she feels "blindsided" by the idea of him sharing what happened in the Fantasy Suites with the world.
"I didn't realize you were so bothered," she says. "I just took it as it was between us."
Gabi isn't happy, and soon, neither is Kaity.
"I have been intimate this week," Zach tells Kaity during their trip down the river in a see-through canoe (perhaps to continue the theme of radical transparency). "It was a decision between us that made sense to further the relationship."
Kaity responds, "I get that you wanted to tell me and I know you're saying that because you respect me, but I could have honestly went without hearing that." Translation? TMI, Zach, TMI!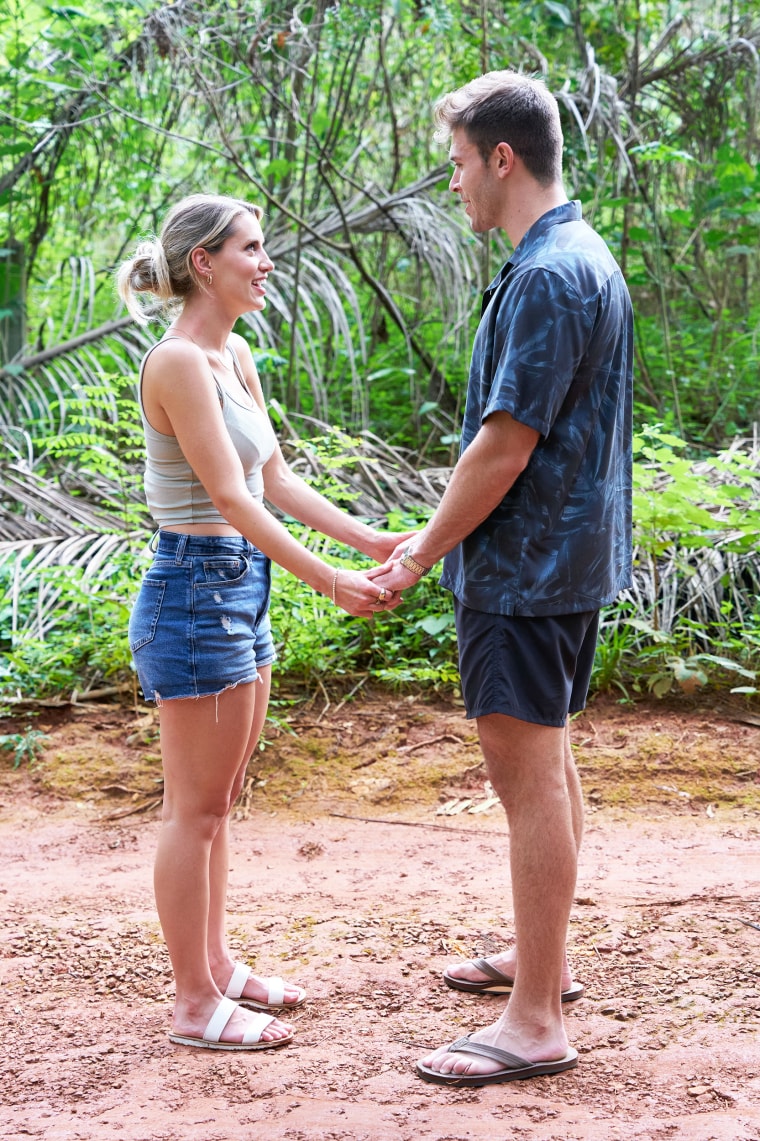 In a confessional, she says she is "crushed" by the news. Still, she recovers from her unhappiness and they go on to have a dinner date, which ends well.
"I feel a lot better," Kaity says after the date. "In relationships, things aren't going to be easy all the time. Obviously, this is a very strange circumstance. But I had the clarity I needed and wanted from him. It feels good."
After a rough Fantasy Suites week, Zach seems to have learned his lesson. He keeps quiet and doesn't say what happened on the date with Kaity — whether he tried to glue his now-broken promise to himself, or whether he left the shards on the floor and hopped into bed.
During the rose ceremony, Zach says he feels like a 'failure'
Zach owns up to what he calls the "biggest mistake" he could have made during the rose ceremony.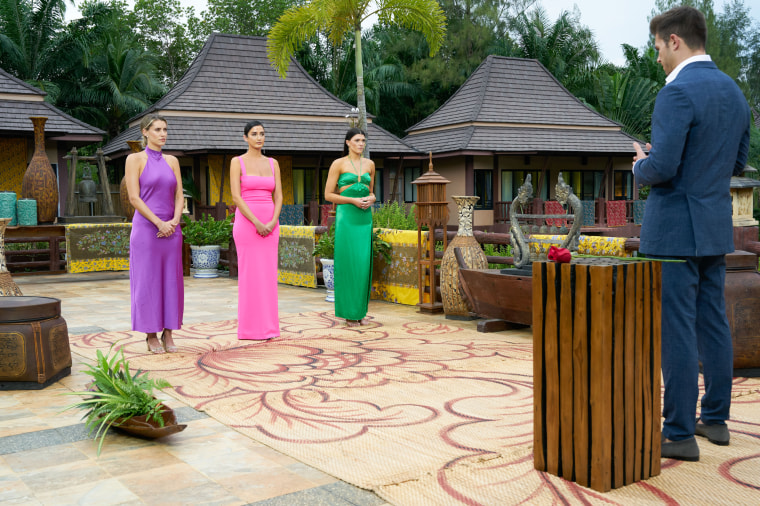 "This week, I, at times, felt like a failure. I've caused pain, I've made mistakes and I'm so sorry for that," he says.
He causes a little bit more pain by sending Ariel home, leaving only two women.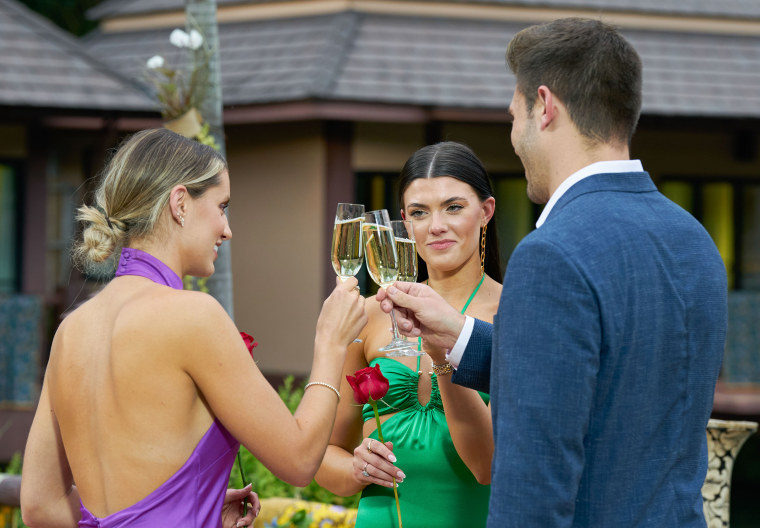 Kaity is all smiles, but Gabi is reeling from the experience, which she says left her feel stigmatized. She compares herself to a "Bachelor" version of Hester Prynne from "The Scarlet Letter."
"I thought I would be in a much different state of mind," Gabi says after the rose ceremony. "I thought I'd be a lot happier. Right now, I feel like I am wearing a big 'A' on my chest. It's a very uncomfortable feeling and he's only making eye contact with Kaity when I feel like I've just been put through the wringer here."