Ariana Madix has broken her silence on the alleged Tom Sandoval and Raquel Leviss affair.
On Thursday, March 16, the "Vanderpump Rules" star took to Instagram to speak her truth after rumors surfaced online that her longtime boyfriend, Tom Sandoval, allegedly cheated on her with their co-star Leviss.
"Hi. where to begin?" Madix started her post. "I want to express my most sincere gratitude for the outpouring of love and support I have received from friends, family, and people I've never even met in the last two weeks. When I have felt like I couldn't even stand, you all have given me the strength to continue and seen me through my darkest hours."
"To say I have been devastated and broken is an understatement," she continued. "However, I know that I am not in this alone. So many of my closest friends are also grieving this loss right now and reeling from this betrayal on so many levels. I am so f----ing lucky to have the best support system in the world and I hope I can repay every single person for the love you have shown me."
Madix concluded her post by saying, "What doesn't kill me better run."
Her candid message received an outpouring of love from her friends and fellow "Vanderpump Rules" castmates in the comments section.
Kristen Doute wrote, "I love you babycakes 🦄 ✨ you are slaying life & your support squad is here for your trustfall. Watch out world: she back 💥🦋."
Dayna Kathan said, "A WHOLE F***ING QUEEN!!!!!!! I love you for life 😭😭😭❤️❤️❤️."
Scheana Shay added, "THERE SHE IS!!!! 🔥🔥🔥🔥🔥🔥."
Meanwhile, "Selling Sunset" star Chrishell Stause wrote, "Yessssss so happy you feel supported and loved!! You look so beautiful and the last sentence…chefs kiss😆🤌🏼."
Madix's post comes after Sandoval addressed the cheating allegations in a March 8 statement he shared on Instagram.
"I want to first and foremost apologize to everyone I've hurt through this process," he wrote. "Most of all, I want to apologize to Ariana. I made mistakes, I was selfish, and made reckless decisions that hurt somebody I love. No one deserves to feel that pain so traumatically and publicly."
He continued, "I can only imagine how devastating this has been for Ariana and everyone around us. I feel really horrible about that. My biggest regret is that I dishonored Ariana. I never meant to disappoint so many people, including our loving families and friends."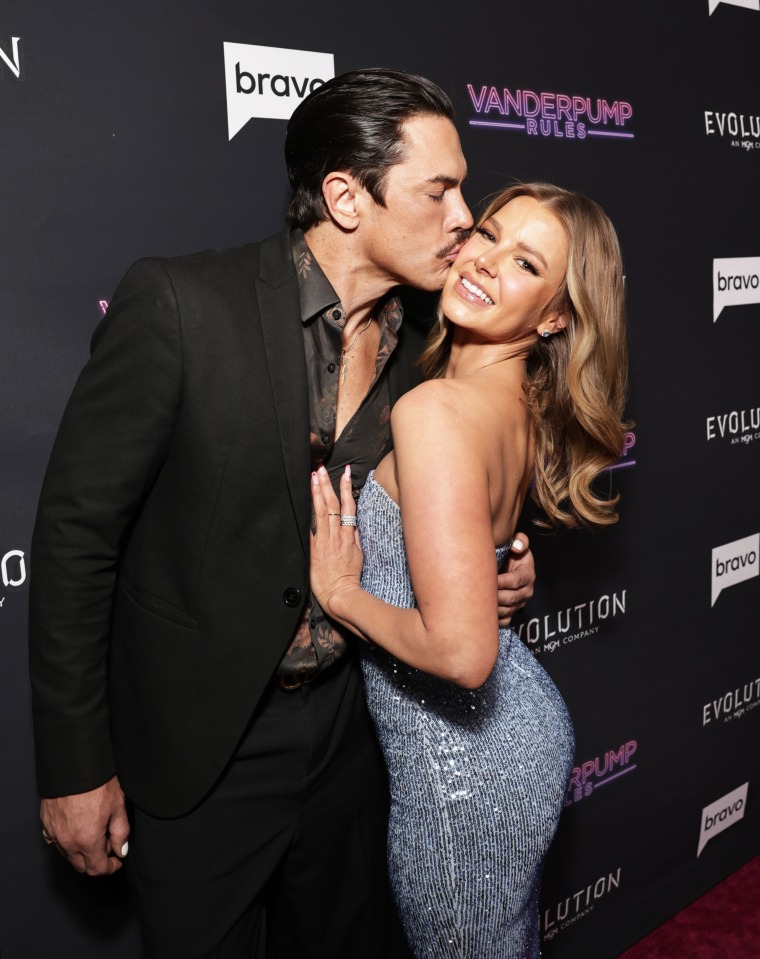 In an earlier post, Sandoval had asked fans to direct their anger towards him and not at his business partners and restaurant staff at TomTom and Schwartz & Sandy's.
Meanwhile, Leviss also spoke out about the allegations of her being in a month-long affair with Sandoval beginning in 2022.
In a statement shared with Entertainment Tonight, she said, "I want to apologize for my actions and my choices foremost to Ariana, and to my friends and the fans so invested in our relationships. There is no excuse, I am not a victim and I must own my actions and I deeply regret hurting Ariana."
On March 9, she also revealed the status of her relationship with Sandoval and said that while she's taking time to work on her self-growth, she doesn't want to "label anything or predict what lies ahead" with Sandoval.
"Right now I need to heal," she said.