Looks like Andrea Bocelli keeps up with the Kardashians.
On July 7, the opera singer posted a clip to his Instagram story of Kim Kardashian talking about him on the latest episode of "The Kardashians," which followed the Skims founder as she hashed out her ongoing feud with Kourtney Kardashian Barker over Dolce & Gabbana.
Throughout Season Three, the girls have been at odds over Kardashian's decision to partner with Dolce & Gabbana shortly after Kardashian Barker got married to Travis Barker.
As fans recall, Kardashian Barker worked with the fashion house to secure multiple Dolce & Gabbana outfits for her Italian wedding, leading her to accuse her sister of imitating her wedding aesthetic for the "Ciao, Kim" collection.
But in the latest episode, and in the clip shared by Bocelli, Kardashian said she wasn't doing anything of the sort.
"I got married in Italy. Am I saying you copied me by getting married in Italy?" Kim explained in a confessional on the show. "Who performed at my wedding? Andrea Bocelli. Who performed at Kourtney's wedding? Andrea Bocelli. You stole my f---ing wedding country and my wedding performer. Andrea Bocelli is my favorite male singer of all time, but I'm copying her dolce vita lifestyle? OK."
After finding himself part of the sisters' feud, Bocelli took to Instagram to respond to the moment in the show.
On his Instagram story, the "Time to Say Goodbye" singer wrote, "Dear @kimkardashian and @kourtneykardash, I'm so flattered that you both love my voice and I'll always be happy to sing to you."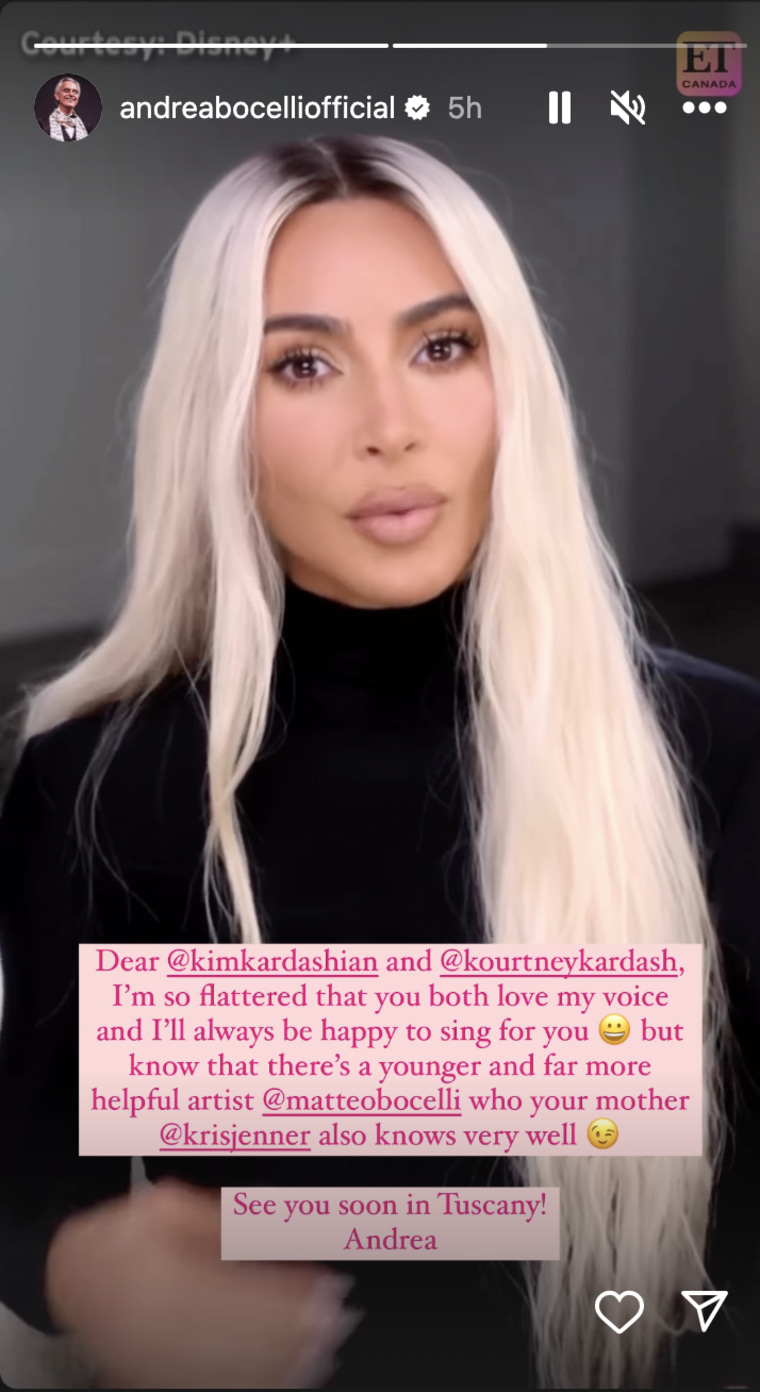 He then gave one of his sons, Matteo, a shoutout, adding "know that there's a younger and far more helpful artist @matteobocelli who your mother @krisjenner knows very well. See you soon in Tuscany!"
On his own Instagram story, Matteo Bocelli shared the same clip from "The Kardashians" and wrote, "@Krisjenner hit me up," with a laughing face emoji.
Kardashian Barker and Kardashian finally reconciled on the July 6 episode when they sat down to talk about their conflict.
"The last thing I want to do is for you to feel like I'm coming for you," Kardashian said.
"I'm sorry that my choices put us in this situation," she added.
"Thank you for apologizing," Kardashian Barker replied.