"America's Got Talent" got very emotional when two moms who live across the country from one another sang "For Good" from "Wicked," and shared the beautiful story of how they met.
During the episode that aired on Tuesday, July 18, Holly, who hails from Odessa, New York, explained that her life changed when her son Jake, who was an organ donor, died in 2007.
"His heart went to Kim's son," she said.
"That's incredible," Simon Cowell replied.
Kim, who lives in Eugene, Oregon, explained that her son, Beckham, was 16 days old at the time he got Jake's heart, and noted that she and Holly didn't know each other prior to the surgery.
Holly revealed the last song she sang to Jake was "For Good" from "Wicked," and it turned out to be the same song Kim sang to Beckham when he came out of surgery after getting his heart transplant.
"Wow," Sofia Vergara said.
Several years later, Kim wrote a letter to Holly and they stayed in touch from there. Holly said it was "one of the best moments" in her life when she met Kim and gave her a hug, and ever since, their lives have been intertwined.
"We would love to spread the word about organ donation. If we could change the heart of one person, it's worth it," Kim told the audience before she and Kim sang the song from "Wicked."
While performing in green and blue outfits, the two women held hands and looked into each other's eyes as they finished off the song.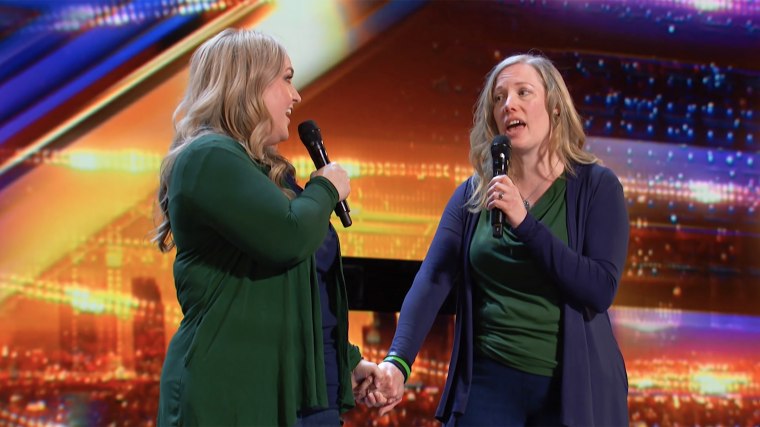 The friends were met with a standing ovation and they also brought Beckham on stage to hear the judges' critique.
"Here's what I have to say, honestly," Howie Mandel said. "I have never responded well to musical theater. They over-dramatize singing, so this is the first time in my life that I've felt a connection to this kind of music. That was probably the most magical moment I have ever experienced on 'America's Got Talent.'"
Heidi Klum added, "I'm just lost for words" and Vergara said their performance was a moment that everyone was going to remember.
"Thank you for coming to 'AGT' tonight," she said.
After getting four signs of approval from the judges, including Cowell, the ladies were off to the next round.