There's nothing like a feel-good "American Idol" audition to put a smile on people's faces.
Oliver Steele, 25, performed for judges Katy Perry, Lionel Richie and Luke Bryan — as well as his own father, who had suffered a stroke.
Before he sang on the March 26 episode, Steele, who hails from Mt. Juliet, Tennessee, spoke to the judges about his father.
"He's a smart man. He's the reason I do what I do," he said.
He said his dad was with him at the audition.
"It's been a struggle to have him around. He's been through a lot," he said.
In a taped package, Steele explained that his father was a professional blues guitarist who was also a singer-songwriter before he suffered his medical setback.
"It's been hard because he can't really get around very well," he said in a voice-over where we saw his dad in a wheelchair. "He had a stroke that basically had severely affected the left side of his body."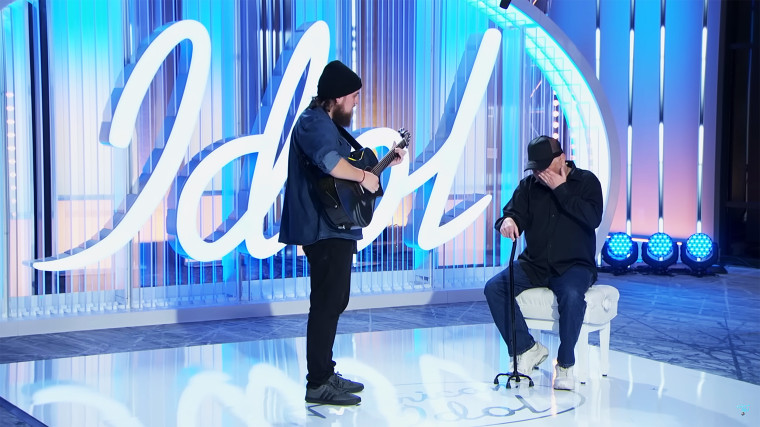 "He's part of the reason why I want to do this, is for him, because he gave me everything," he added, alluding to trying out for "American Idol."
Back at the audition, Steele cried while talking about his father to the judges. Richie suggested his dad come into the room with them, which made Steele cry again.
His dad was wheeled in while Steele cried. He walked over with his cane and hugged his son.
"If I had it my way, he'd be playing for me," Steele said.
Steele flawlessly performed "Change the World" by Eric Clapton, strumming his guitar while his dad sat near him and the judges stood. The judges got teary-eyed and started singing along with him after his dad urged them to do so.
After he finished singing, Steele gave his father a hug while Bryan stood on the judges' table and cheered.
Richie, Perry and Bryan unanimously passed Steele, sending him to the show's vaunted Hollywood Week.
"This is the good-luck charm right here," Richie said about Steele's father.
"Pretty awesome moment. I have to admit. Better than anything I ever did," Steele's dad said afterward.