When Alexia Nepola and Marysol Patton were invited to participate in "The Real Housewives Ultimate Girls Trip," they wanted to go anywhere but Dorinda Medley's Blue Stone Manor. 
Luckily for Alexia and Marysol, their destination was Thailand, as they ventured across the world last summer to tape "RHUGT" alongside "RHOP" stars Gizelle Bryant and Candiace Dillard Bassett, "RHOSLC" stars Heather Gay and Whitney Rose, former "RHOA" star Porsha Guobadia and former "RHONY" star Leah McSweeney. New episodes of the show drop every Thursday on Peacock.
(Peacock is part of our parent company, NBCUniversal.)
TODAY.com caught up with Alexia and Marysol to hear what it was like to take the Miami heat to Thailand.
Marysol and Alexia say joining 'RHUGT' is something they manifested
Prior to joining the cast of "RHUGT," Marysol says she "really wanted to join" a future trip, which Alexia knew was in the works prior to Marysol finding out it was official. 
Alexia tells TODAY.com that she kept the secret from Marysol, but once she could finally spill the beans, she says they "screamed" because they "both wanted it."
Alexia says Thailand was a "perfect" destination and a location on her bucket list of places to visit. The ladies' only holdup? The weather in Thailand, which Alexia describes as "humid and hot." 
According to Marysol, the weather "made it really hard" to have her "hair and face look good."
Alexia adds, "We had an advantage because we did come from Miami. Imagine the Salt Lake City girls — oh, my God, from the freezing snow and all that. So they had a tough time."
Marysol says she felt Mama Elsa while on the trip to Thailand
Throughout the earlier seasons of "Miami," Marysol's mother, Elsa Patton, who was also known to fans as "Mama Elsa," quickly became a fan favorite for her quick wit and ability to easily put the "Miami" wives in their place. Elsa passed away in 2019, so she's not on the rebooted version of "Miami," which premiered in 2021.
Interestingly enough, Marysol tells TODAY.com that she felt Mama Elsa was with her while on the trip to Thailand. She says, "There was a point in the show where Pepsi gives us all a speech, and I keep telling Alexia, I felt my mother's talking through him. He literally was like, 'You girls need to stop. There's fighting, and then it's I love you, ha-ha-ha. It's fake, it's all fake.'"
"I felt like it was her speaking through him to all of us," Patton concludes.
Alexia and Marysol share their dream 'RHUGT' cast
With five episodes of "RHUGT" released, it's no secret that Alexia and Marysol haven't gelled well with Leah of "RHONY," something Marysol notes was a surprise. 
Marysol tells TODAY.com, "I had met Leah before. We had texted a few times, and I was surprised she was just coming for me."
Alexia added about Leah: "She didn't show up with a good energy, a good vibe to have fun, to get to know the other girls, and I think that she set the tone. She set the tone from day one."
On the flip side, Alexia says that Candiace surprised her in a positive way, as she realized Candiace was "so, so nice, so smart and so in control," which contrasted with the warnings others had shared about her prior to the trip.
Alexia continues, "I think that they (Candiace's 'RHOP' castmates) poke her, just like they did to me. So I can relate to her a little bit. They push her buttons, and she explodes. She's very passionate, she's very smart and she's very talented. 
"I was really surprised by that, because that's not what I had read about her and what people were saying about her. We both felt the same way."
Although Alexia and Marysol connected with most of their "RHUGT" castmates, if they had to do it again, they'd bring back Porsha and invite fellow "Housewives" Teresa Giudice, Kenya Moore, Luann de Lesseps, Sonja Morgan, Lisa Rinna, Tamra Judge, Shannon Beador and Gretchen Rossi (Rossi will actually star on the next iteration of "RHUGT," which filmed earlier this year in Morocco).
The pair explain why Gizelle Bryant doesn't share much about herself
In some of the earliest scenes of "RHUGT," Alexia pointed out that Gizelle asks a lot of questions about others instead of speaking about herself — something Alexia and Marysol say continues throughout the run of "RHUGT."
Marysol jokes that viewers won't hear much more about Gizelle "because she's too busy asking questions," and Alexia adds that they need to go on another trip to learn more about her.
"I'm going to start asking her the questions," Alexia jokes.
Gizelle took issue with Marysol and Alexia talking to each other in Spanish while the group was together in Thailand, as it offered a barrier for Gizelle's routine fixation on gathering information about her castmates.
Although we won't see Alexia and Marysol give up their Spanish banter, Alexia provides a solution: "I need to get her a Latino. He can really teach your children Spanish in five minutes."
Marysol spills on her upcoming mocktail business — and what she has to say to haters
If you know who Marysol Patton is, odds are you know she loves a good alcoholic beverage — or in her terms, a "cockie."
Since "Miami" rebooted, it's rare to see Marsyol without a "cockie," and viewers' reactions have evolved as time has gone on.
Marysol tells TODAY.com, "Most people are like, 'I love it.' People want me to go have drinks with them all over the world, and I choose to read their comments." 
Marysol's turning her personal brand into a business, with an upcoming line called Cockies, which will consist of mixers for alcoholic and nonalcoholic beverages.
Alexia jokes, "You didn't make them mockies for Leah, right?"
"Everybody can booze it up as much as you want, or not at all," Marysol responds.
Alexia and Marysol believe some 'RHOM' cast members may buy Instagram followers
Alexia and Marysol initially joined the Bravo-verse in 2011, meaning they've had more than enough time to meet "Housewives" from across the country — and form opinions about them. 
Alexia caused a stir on social media after her April 3 appearance on "Watch What Happens Live with Andy Cohen." During a game involving choosing which Bravolebrity has more followers, she alleged that "RHONJ" star Melissa Gorga bought followers on Instagram. 
Alexia is close friends with Melissa's sister-in-law Teresa Giudice, and Melissa and Teresa are once again embroiled in a dramatic fight in the current season of "RHONJ."
Alexia tells TODAY.com, "I usually get myself in this situation (when appearing on the show)."
"I talk from my heart. Maybe there's no facts or proof or research or a receipt because I don't need a receipt. My receipt is in my head and in my heart. So when I saw Teresa and Melissa, who has the most followers, I really generally thought that it was Teresa," Alexia continues.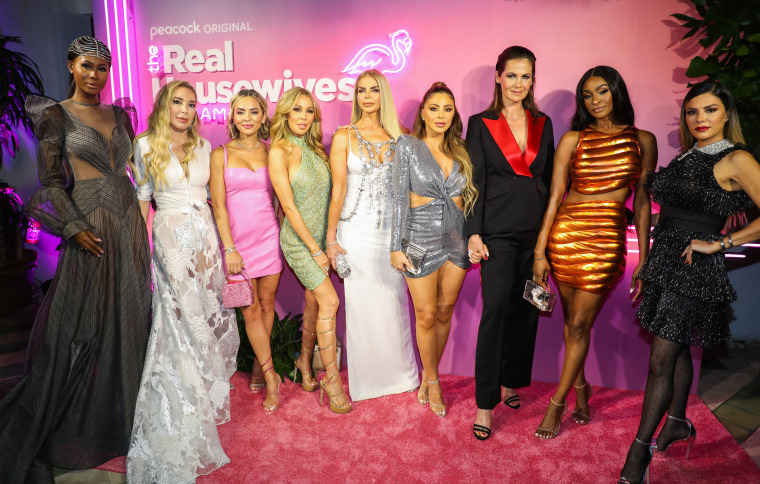 Alexia adds that some members of the "Miami" cast may be buying followers themselves, and Marysol says she's "keeping an eye on it (who's buying followers)."
As for whom the culprit may be? Marysol says, "Someone that I trust the least," which could be a reference to Dr. Nicole Martin, whom Marysol said she trusts the least on her cast in a "RHOM" Season Four exchange.
Marysol and Alexia on if they're interested in reconciling with Adriana de Moura
At the conclusion of Season Five of "RHOM," Alexia and Marysol found themselves at odds with Adriana de Moura, another "RHOM" OG. The reunion offered the trio the chance to air their grievances, but it seems not much has changed since the reunion taping.
Of her relationship with Adriana, Alexia says, "I haven't given it much thought. I left the reunion, I said everything I had to say and it's a good time to just reflect — and find your peace. She went on a press tour to continue to bash me and my family, and I think at that point I'm done."
"This show documents my real life. In my real life, I would never have a friend like her. So that's the answer: I'm not interested," Alexia concludes.
At the Season Five reunion, Adriana presented a satirical letter to Marysol, addressed from Marysol's liver to Marysol, an action that still doesn't sit well with Marysol today.
Marysol tells TODAY.com, "Honestly, to apologize and then to have that little letter in her purse the whole time — is that even genuine? No. So when you end on that note, there's not a friend there for me. After all these years, that's not a friend."
With five seasons under their belts, Alexia and Marysol are looking to the future while remaining thankful for the support of their fans.
Alexia says, "We're just happy that we had a great season. We had such a great comeback, and we have all this love and support from our fans."
Marysol hopes for more filming with her "bro" Alexia and notes the minute Alexia walks in the door, they both "light up" and get going. "It's just like a moving train," she says.