Warning: This post contains spoilers for Season One of "The Traitors."
Alan Cumming is no stranger to playing larger-than-life, theatrical characters. But in the Peacock original reality TV game show "The Traitors," he plays what he calls his "campest" role yet: himself.
For his first time hosting a competition show, Cumming donned a variety of suits, tartans and other traditional Scottish garb as a game master out of a James Bond movie.
"It's a much more heightened and theatrical version of me and even much camper, in the true form of camp," Cumming tells TODAY.com about his latest role. "I say to people, 'This is the campest thing I've ever done.' And that's me saying that."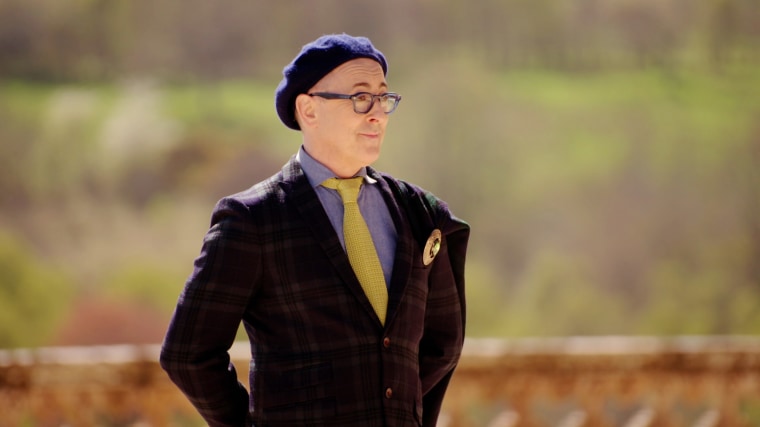 In the lore of the show, Cumming invites contestants to his castle in the Scottish Highlands and enlists them in a game reminiscent of "Mafia" or "Werewolf."
Season One's 20 contestants — a mix of reality TV stars and civilians— compete in challenges, called "missions," to add money to a prize pot. Three of those contestants, known as "the traitors," have the ability to "murder" a player each night with the goal of lasting until the end to take the prize for themselves. The rest of the players, "the faithful," aim to oust the traitors amongst them through nightly banishment votes.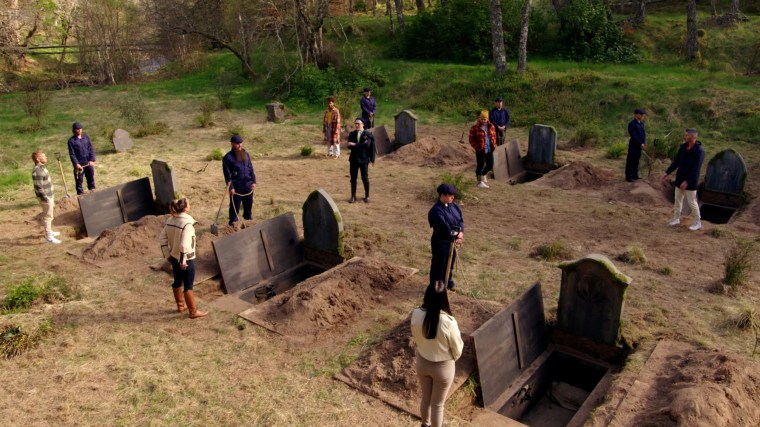 As shocked as viewers were watching some of the twists and turns that occur over the 10-episode series released on Jan. 12, Cumming reveals to TODAY.com there were moments that made him gasp, too.
The end of the series sees two traitors — Cirie Fields of "Survivor" and Arie Luyendyk Jr. of "The Bachelor" — fly under the radar and make it to the final four. At this point, if all the remaining players voted to end the game, Fields and Luyendyk would split the $250,000 prize.
Luyendyk and the two remaining faithfuls, convinced they had already ousted all the traitors left in the game, voted to end the game. But Fields opted for one more vote to banish a player — Luyendyk, her fellow traitor.
Cumming tells TODAY.com that he saw that move from Fields coming.
"I knew she was going to do that," he says. "I mean, she could have stopped, and Arie and she would have shared the money. I just thought, 'No, she's out to win.'"
But he never expected what happened next.
Instead of fighting it out for one more vote, Luyendyk chooses to walk away from the game, outing himself as a traitor.
"I was gobsmacked, sideswiped by that," Cumming says.
"They told me afterwards that they couldn't use the two-shot or the wide shot because I was just like —," he says, dropping his jaw to illustrate.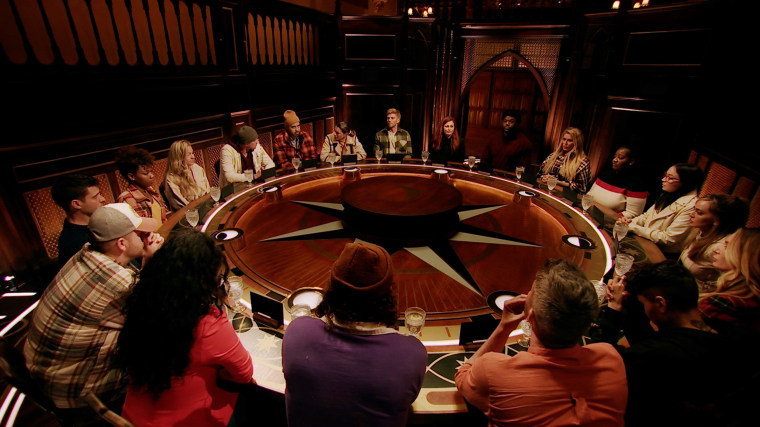 The round table votes also provided plenty of drama. Some of the players' over-the-top emotional reactions also tested Cumming's poker face.
"You know sometimes when you're emotional, you get the words wrong and you sort of say the wrong thing, that used to make me laugh a lot," he says. "That happened a few times and I just found it hilarious. Terrible, really."
Alan Cumming on playing Alan Cumming
A big part of the camp factor comes from Cumming himself. He describes his hosting persona as a "condescending and disappointed schoolteacher."
"We both enjoy dressing up," he noted when asked about any similarities between himself and the character he's playing.
Cumming says most of the colorful costumes from the season came from his own wardrobe.
"I have a lot of really bright tartan suits that I was given for events over the years, and I just have quite a big dressing room upstairs so I kept them," he says.
One thing he kept from the experience — in addition to a portrait of himself wearing a crown from the set — was rubber boots.
"I become obsessed with wellies," he said. "I have a whole row of wellies now that I didn't have before."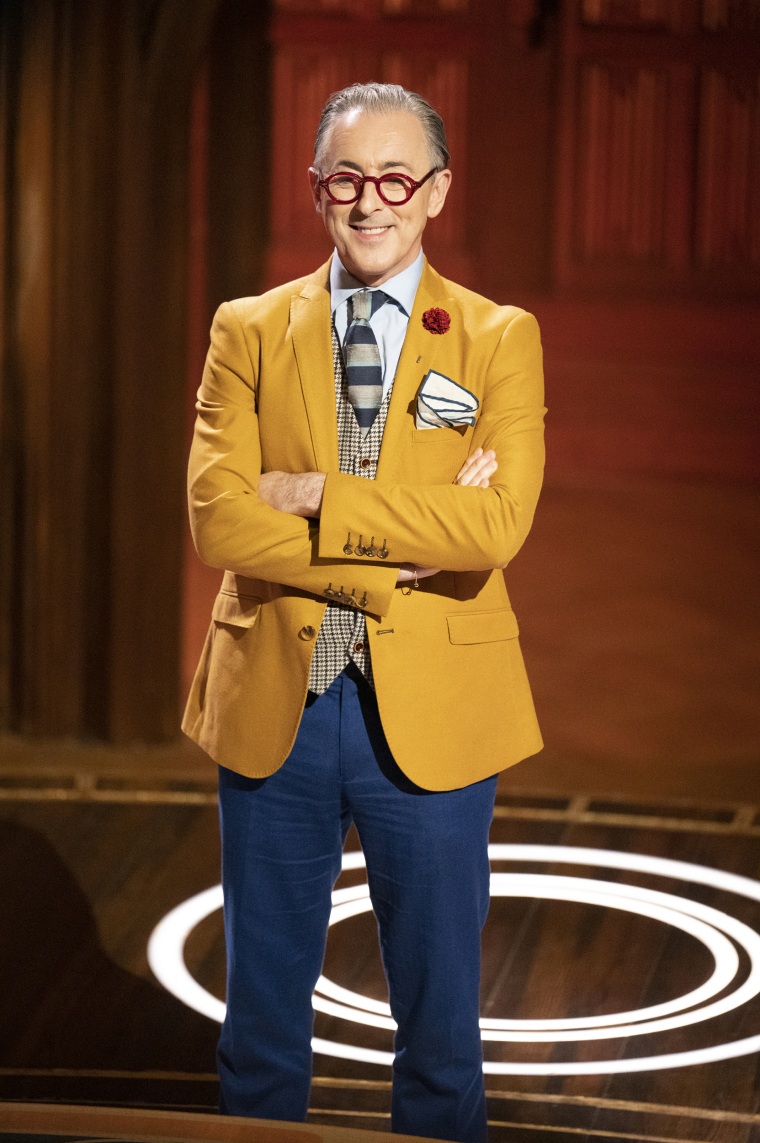 In addition to the costumes, part of playing a wealthy Scottish landowner involved heightening his natural accent, even if some people online didn't believe it was real.
"Even though I know Alan Cumming is Scottish, his accent sounds so fake on #traitorsUS," one user wrote.
"I'm acting," he tells TODAY.com. "I thought it was hilarious that people thought I sounded like Moira Rose from 'Schitt's Creek' ... I took that as a great honor."
Cumming also had a signature catchphrase on the show: "You have received the most votes and are banished from the game," uttered in a low, drawn-out tone.
Some of his other favorite quips include the command, "Please leave" and the ominous, "There's going to be a murder."
"'You've disappointed yourselves, and you've disappointed me' was a good one, too," he adds.
Talking strategy, and moments that contestants' decisions had him shaking his head
Cumming couldn't see all 20 contestants at any given moment — but he did know what they were up to.
Throughout the game, Cumming received live updates on all the strategy and sneaking occurring throughout the castle from an earpiece connecting him to producers.
"I actually really enjoyed it, it was like having Google in your ear," he says. "They can tell you everything you need to know and also feed you lines and suggest things to do. I actually got really good at speaking while someone is speaking in my ear right now."
He stayed up each night waiting for a text from producers to confirm which contestant got killed off — not literally, of course.
"I couldn't go to bed until I knew who was murdered," he says.
Before this role, Cumming says he wasn't really a fan of reality TV. Out of the 10 celebrity contestants, Cumming said he only knew of three: Kate Chastain of "Below Deck," Brandi Granville of "The Real Housewives of Beverly Hills" and Olympic swimmer Ryan Lochte.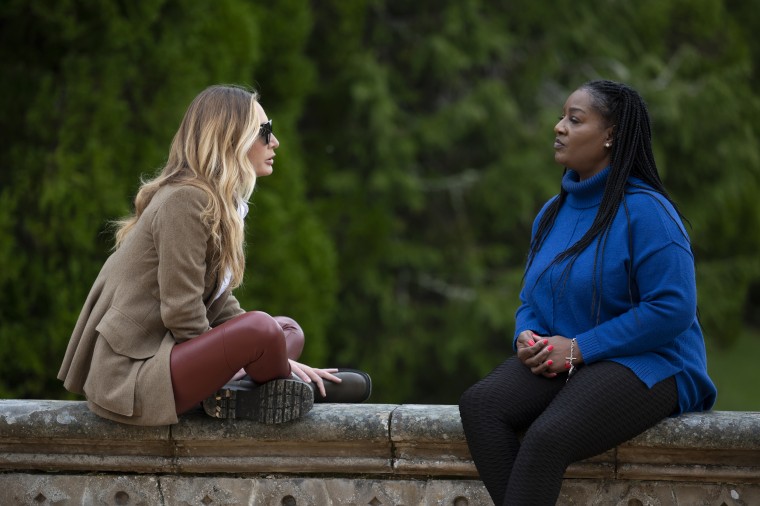 While watching the Dutch show that provided the inspiration for "The Traitors," Cumming says he was "fascinated by all the machinations" — but not as enamored by the tone of the show.
"It's much less ... it's not as campy as this one," he says. "It's much more sort of Dutch, I guess."
Filming the U.S. version, he says he often found himself critiquing contestants' gameplay.
"A lot of the time the decisions that were made, I was like, 'What are you thinking? This is so obvious,'" he says. "So some of the things I said to them, like, 'You've got to get it together, it's called 'The Traitors.' It's not called, 'We're Going To Be Friends and Have Drinks After It's All Over.'"
"Those things that they got me to say, I actually meant them, because I was like, 'Come on people,'" he adds.
Cumming knows how he'd approach 'The Traitors' as a contestant
If he ever had the chance to play, he's already thought through the strategy he'd like to follow as a traitor.
He says he wouldn't follow the lead of two of Season One's traitors — Christian De La Torre, who "talked too much," and Cody Calafiore of "Big Brother," who "looked upset all the time" and "couldn't handle it."
"I think keeping keeping your cards close to your chest seems to work for this," he says, saying that Fields, the winner of the season, provided the perfect model.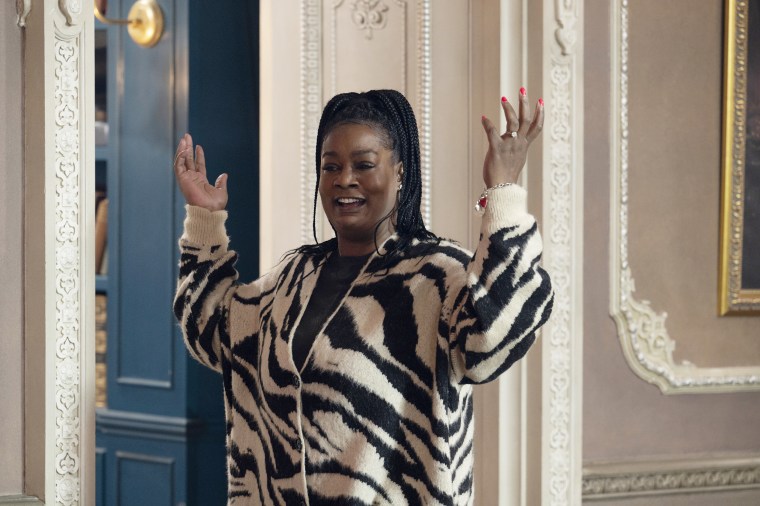 "I just love her so much," he says. "I think she's such a darling."
Kate Chastain's journey as a faithful, however, proved to be one of his favorites.
"By the end she was saying, 'I actually really enjoyed this,' when just about a week before she was flinging barrels into the bushes," he says.
Cumming will resume his hosting duties for Season Two of "The Traitors," which Peacock announced on Feb. 2. Andy Cohen will host a Season One cast reunion on Feb. 28.