Warning: This post contains spoilers for the March 23 episode of "Grey's Anatomy."
Fans are still trying to process the shocking cliffhanger at the end of the latest episode of "Grey's Anatomy."
Episode 11 of Season 19, "Training Day," was full of drama, but the emotional moment that sent everyone reeling involved Addison Montgomery, played by Kate Walsh, who made a guest appearance on the show March 23.
At the end of the episode, Addison is helping a trainee pick up some papers she dropped in the street, when a car plows into them both.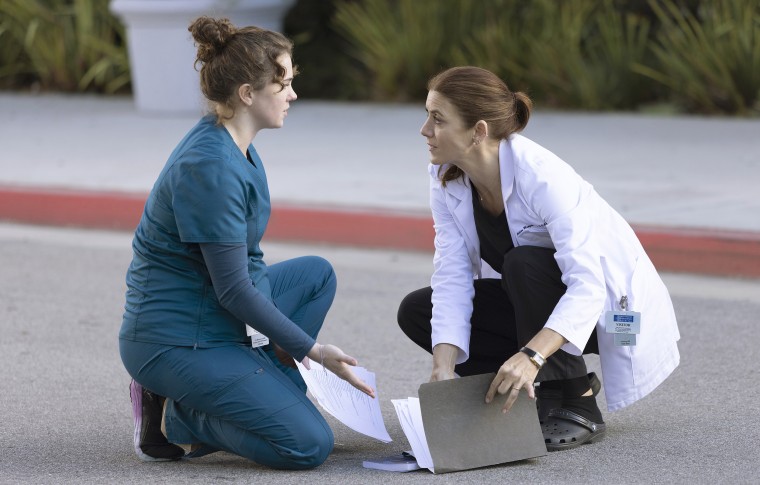 The attack appears to be part of a violent anti-abortion rights protest held outside of the hospital's reproductive clinic.
The trainee is thrown over the windshield of the car, while Addison appears to be clipped by the vehicle.
The car speeds away, and both women are left lying unresponsive in the road. As the episode ends, their colleagues rush to help them, but their fate is unknown.
It's safe to say fans had some feelings about this surprising turn of events.
"If Addie gets killed off I will NEVER watch greys again and I have been a loyal viewer," one fan commented on a recent post from the official "Grey's Anatomy" Instagram account.
"YALL JUST MADE MY HEARTRATE GO FROM 70 BPM TO 115 BPM. CONGRATULATIONS," another person wrote.
"I swear Addison better be alive in the next episode, or you'll be hearing from my non existent lawyers," one fan commented.
"is there anyone who was ok after what happened to addie?" another person wrote, while another fan commented, "YOU DID NOT JUST DO THAT TO ADDIE."
Thursday's episode was the first part of a two-episode event, so fans will hopefully learn more about what happened to Addison and the trainee March 30. In a promo for the upcoming episode, Addison remains unconscious as she is loaded onto a gurney and put in an ambulance.
The action-packed episode also marked the directorial debut of Kim Raver, who also plays Grey Sloan Memorial Hospital's chief of surgery, Teddy Altman.
Raver, 54, spoke with TODAY.com about addressing abortion on "Grey's Anatomy" after the reversal of Roe v. Wade last year and amid the tightening of abortion restrictions in several states.
"It's happening in our real world," Raver said. "What happens in Shondaland is that they're brave enough to talk about very topical and important subjects and then allow the audience to come up with an opinion and have discussions about it."