Two weeks into the latest season of "90 Day Fiancé: The Other Way," and things are starting to get interesting.
The hit TLC show, which follows couples as they navigate transatlantic romance, is known for highlighting unique (and, OK, sometimes dysfunctional) love stories.
In the latest episode, set to air July 17, viewers meet TJ, a native of Jaipur, India who uses manifestation techniques to bring love into his life.
After joining a spiritual group on social media two years ago, TJ started crushing on Kimberly, an American woman whose profile he found.
"She made me smile. She is very beautiful," he says in an exclusive clip shared with TODAY.com. "It was just like, 'I should talk to that lady.'"
Unfortunately, Kimberly didn't accept TJ's friend request.
"Recently, I asked her, 'Why didn't you accept my (friend request)?' My profile picture was like this (holds hand up over half of his face). I think I put my whole mind behind it (and thought), 'Oh, that looks so funky and so stylish,' he says in a confessional interview.
However, TJ's profile photo left a different kind of impression on Kimberly.
"And she said, 'No, it looks like that you are conning someone or you are a spammer.' I'm not a spammer," he says.
Despite the initial setback, TJ wasn't ready to give up on Kimberly just yet.
"I knew she was my destiny and so I tried manifesting her. Manifesting is a real part of Hinduism. You (start) thinking about something and (try) to make it really (exist) in your mind. And by following this process, you can really make it happen," he explains.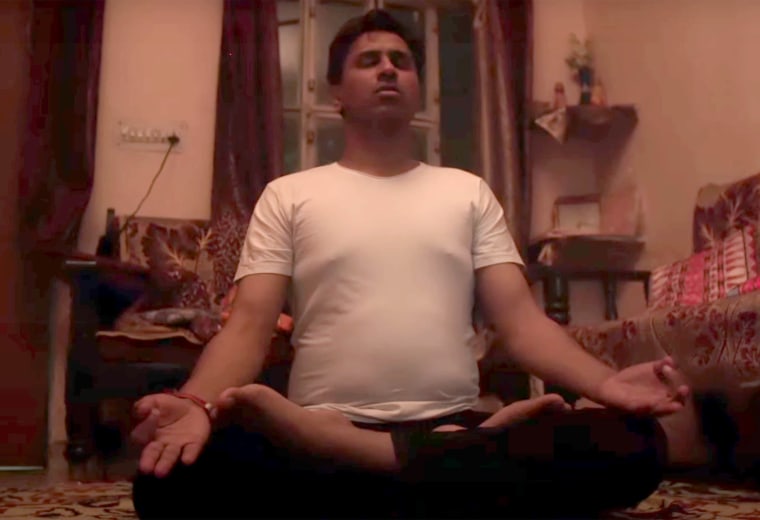 TJ started by taking a screenshot of Kimberly's profile picture and started meditating, thinking that she should text him. Oddly enough it worked, and she texted him the next day.
"We connected instantly and formed a bond which I had never felt before with anyone else," he says.
From there on out, things progressed and TJ fell hard.
"So that's where I started getting my whole thoughts of mine that 'Ok, I'm gonna marry that Kimberly,'" he says.
TJ and Kimberly join the following six couples on this season of "90 Day Fiancé: The Other Way:"
Brandan (Oregon) and Mary (Philippines): These lovebirds have never met in person but spend all their time together on video calls. Their families are concerned about their "obsessive and possessive behavior," per TLC.
Holly (Utah) and Wayne (South Africa): After Holly relocates to South Africa to marry Wayne, she begins to feel unsafe in his house since it's been broken into three times in the last six months.
Shekina (Los Angeles) and Sarper (Turkey): Shekinah is crazy about Sarper after meeting him on a trip to Turkey, but her family is worried that he's a playboy. When she travels back to Turkey to be with her new beau, "shocking discoveries are made" as they get to know each other, per TLC.
Julio (New York) and Kirsten (Netherlands): Julio is determined to move to the Netherlands to be with Kirsten, but when she visits his home state to meet his mom, she soon "makes a shocking discovery that leads them both to question the future of their relationship."
Daniele and Yohan (Dominican Republic): This returning couple has big goals this season but their "cultural differences and personality clashes threaten to topple everything."
Kenny and Armando (Mexico): This returning couple experiences a "power struggle" this season as they can't seem to agree over whether or not to become parents.