The writers of "Justified" have kept an image in their minds since they started plotting out the new season of FX's modern-day western. If you've seen some of the clever promos for the fifth cycle, you've already got some clues.

"We speak of it as crows settling on the wire," executive producer Graham Yost told TODAY during an interview, referring to the new villains that ride into Kentucky to create mayhem for lawman Raylan Givens (Timothy Olyphant) and the other bad boys of Harlan, namely Boyd Crowder (Walton Goggins).

"The Crowes are an important family in Elmore Leonard's work," Yost said. "The Crowes pop up in book after book. We also love our character Dewey and we wanted to bring him back. When Elmore had his stroke and then he died, we became even more committed to making this a season about the Crowes. There's just something about the name and something about this indecent species that takes over and kills the host. So it was a model for us."
The white-trash Crowes are related to Dewey Crowe (Damon Herriman), the lovable idiot who was absent in the fourth season but who returns in a new position of power, so to speak. His cousins are gator farmers from Florida who were orphaned as children and have been taken care of by their ex-con older brother Darryl (Michael Rapaport). Dilly Crowe (Jason Gray-Stanford) is a screw-up, Danny Crowe (A.J. Buckley) is a violent hothead, and Kendal Crowe (Jacob Lofland) is their younger brother. They have one sister, Wendy, (Alicia Witt) a Miami paralegal who keeps getting dragged into her brothers' problems. 
Fans of "Justified" have already seen Raylan battle another crime family headed by Mags Bennett, played by Margo Martindale who won an Emmy for her portrayal of the "apple pie" loving matriarch. While the Bennetts' season involved a long-running feud with the Givens family, the Crowes are newcomers to Harlan who go there when they learn Dewey finds himself in a more desirable financial position. 

"The Crowes are much more of an invasive species," Yost said. "It's a wilder family. There was something about how Mags ran her family—that even though her boys would go off and do crazy stuff and get into trouble—she really ruled with an iron fist. Darryl can't maintain that kind of control over his family. So it's a little crazier."

Darryl Crowe and Raylan also have a negative history. When Raylan was posted in Florida as a U.S. Marshal, Darryl was a fugitive and it was Raylan who tracked him down and dragged him to prison. In the season premiere, Raylan is sent to Florida to help catch the killer of a U.S. Coast Guard who is believed to be an associate of the Crowes. 
But there's a lot more in the Sunshine State for Raylan than some common criminals. His ex-wife Winona (Natalie Zea) is living in Miami with their newborn daughter Willa, and Raylan spends the episode deciding whether he's going to go see them. 
"It's always tricky with Raylan because he doesn't talk too much about these things," Olyphant told TODAY during an interview. "But I don't think he's got a clue. I think he just knows how to do his job. It's one thing he's good at. I think he enjoys his job. Everything outside of that is a bit of a cluster F, if you will. He doesn't want to be like his father but it seems like the choice right now is to be totally absent. And that's worse."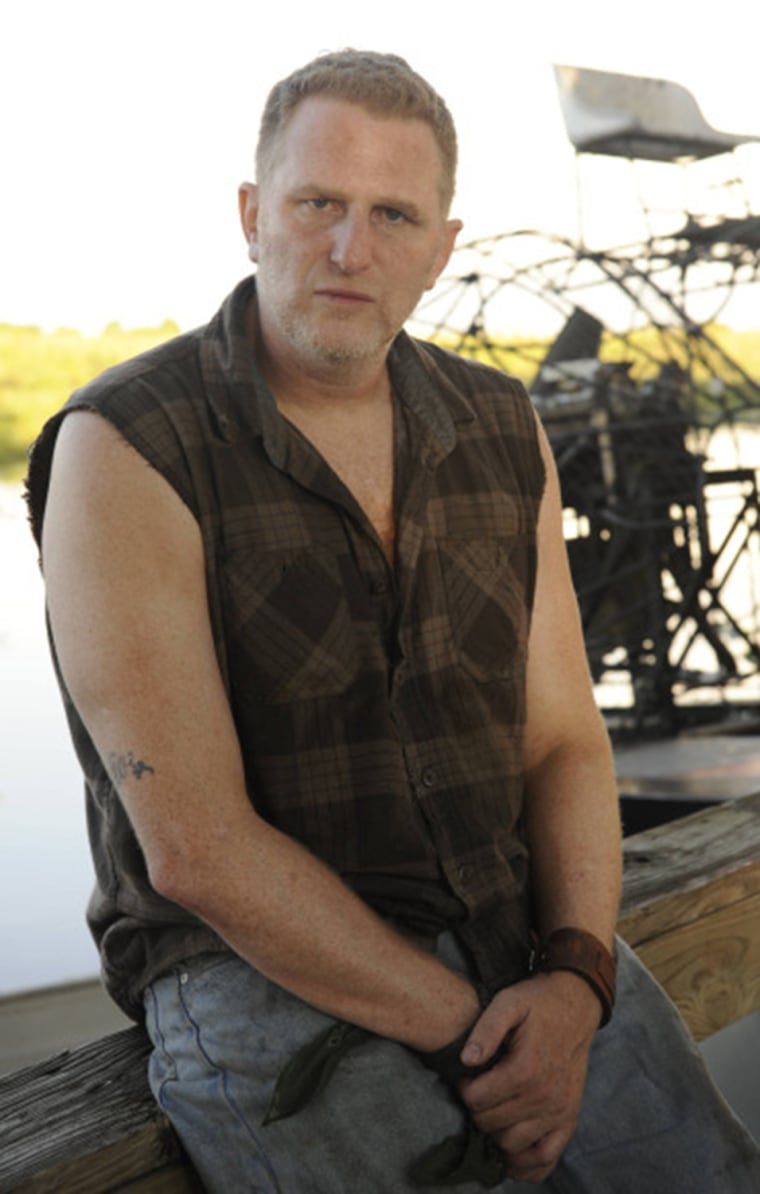 Raylan's still struggling with his daddy issues, despite the fact that Arlo (Raymond Barry) died last season, putting an end to their contentious relationship. Olyphant, who is also a producer on the show, says "it's tricky figuring out how far to take the character," which is something the writers are considering as they expect the show to end next year.
"For Raylan, his problem since he was a boy is—can I be a man different from my father?" Yost said. "You can put on a badge and a hat and carry a gun and still be worried about that. In Elmore's books, people don't change that much. They are kind of who they are. There can be surprises and often contradictions but they don't change a lot. Tim and I have talked about this from the beginning. We do want Raylan to change but it's a small change. It can still be a profound change. How will he end up at the end of the series is a big question for us."
For now, Raylan is focusing his attention on the Crowes who promise to become "a great annoyance that gets more serious" for both for the U.S. Marshal and his arch nemesis Boyd, a criminal who is as articulate with his words as he is with his guns.
"The Crowes are big operators," Yost said. "Boyd is the big criminal in Harlan, so how is that going to work out? But the biggest thing for Boyd is that Ava's (Joelle Carter) in jail and what can he do about that?"
Rapaport says he "hasn't had this much fun acting in a long time" because he's playing off Emmy-nominated actors Olyphant and Goggins and portraying a character different from the ones he usually plays.
"Darryl's a cold-hearted dude when it comes to making money and doing what he needs to do to take care of himself and his family," Rapaport said. "He's down with drugs. He's down with stealing and killing. He's not a snobby bad guy. He will cut you up and feed you to the gators. In the past, I've played characters that aren't the sharpest knives in the drawer. This character is definitely not stupid. He has no qualms and he doesn't back down from anything."
Does that mean Raylan's in the worst trouble he's ever been?
"Raylan is in big trouble," Rapaport replied. "I'm coming for him. I'm coming for that hat and for that pretty face."