It's been 12 years since Trista Sutter, the very first "Bachelorette," met her husband on reality TV, and while the couple is still happy and in love today, not every couple from the hit show has worked out.
Sutter told TODAY.com she thinks that has a lot to do with what couples do after the show ends.
"Whenever I hear of people going on 'Dancing With the Stars' right after, it's heartbreaking to me," said Sutter, who met husband Ryan Sutter in 2003, when she starred on the first season of ABC's "The Bachelorette."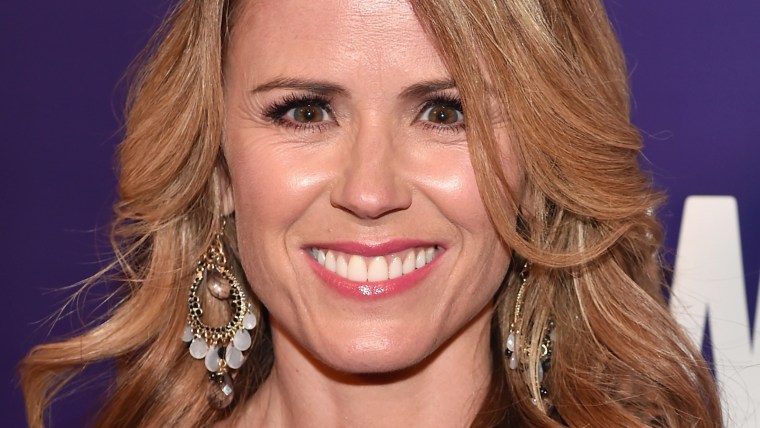 She added that couples "really need to focus your time and energy on each other," to get to know each other outside the short-lived "bubble" the show creates.
RELATED: Chris Soules' advice for new 'Bachelor' Ben Higgins
"It is a really short period of time, and you are in a bubble," Sutter said. "For six, eight, 10 weeks — however long you're filming. For us, it was six. So that's all you're focused on. You can't watch television, you're not allowed to be on email, you can't talk to friends and family, you're not at your job every day, you're not playing in your sports leagues or whatever you do as a hobby. You're just solely focused on developing these relationships."
"And for some people, they get caught up in the glamour of it all, and the excitement," she said. "And maybe they just realize, after they get back to the real world, that they're not compatible."
Staying together after the show means, well, actually being together, Sutter stressed. And that's hard to do when couples experience celebrity for the first time, and are offered spinoff opportunities, such as being on "Dancing With the Stars."
"I was on the very first season, but it was after we had been together for years," she said. "We practiced maybe two times a week, like a couple of hours of practice, and it wasn't even close to what they're having to do now. They did two dances the second show this season! And that takes so much practice when it's something that is completely foreign."
RELATED: Ben Higgins named the next 'Bachelor'
Couples also have to be willing to put in the work to make a relationship successful, she said.
"It's just like your job," Sutter said. "You have to put in the time and effort and energy that you do into everything else in your life. And I feel like [Ryan and I] do that. We've had our bumps in the road, just like anyone else, but it's really about staying focused on each other and dedicating time to each other."
Although her romance is now mostly off-screen, Sutter stays busy — she's the author of a book partly about her experience on "The Bachelor" and "The Bachelorette," and she and her husband have two kids together in Vail, Colorado. The 42-year-old also has a new partnership with Olay, promoting the beauty brand's Olay Age Defying body wash. Her biggest beauty secret? Moisturize.
"I live in a very, very dry climate," she said. "So anything having to do with moisture, I'm all about. That's something that women really have to combat as we age."
RELATED: Why is 'The Bachelorette' receiving death threats? 5 biggest moments from 'Men Tell All'
Sutter also had some advice for women who will be vying for Ben Higgins' attention on the upcoming season of "The Bachelor."
"Stop being catty!" she said. "Some people say, 'I didn't come here to make friends.' Why not make friends? Even if you didn't come there to make friends, what is the harm in making a friend and being kind?"
As for Higgins, whom Sutter met this summer, she said he doesn't need any advice: "He's really grounded, has a great head on his shoulders, and has a great family, a great support system. I think if he holds true to who he is down at the core, he'll be fine."
Sutter also joked about letting her kids one day be on the show.
"I tell everyone, if you are truly looking for the love of your life, then go for it!" she said. "Why do you have to meet someone on a blind date, or through church, or through friends or through work? Why is that right and meeting on television is wrong?"