Beautifying yourself doesn't have to involve over-priced, expensive cosmetics or complicated makeup regimens. If you have just a few minutes, you can look fantastic. In her new book "The Five-Minute Face: The Quick & Easy Makeup Guide for Every Woman," Carmindy, the makeup artist from TLC's hit show "What Not to Wear" shares her simple and smart beauty secrets. Here's an excerpt:
Most women are intimidated by makeup. They don't have the time or the desire to take on a multistep routine, or they get scared by pushy makeup-counter salespeople who have their own commissions in mind, not a customer's best beauty interests. Women tell me all the time that they feel left out by beauty magazines whose focus has become celebrity beauty ideals and red carpet looks that don't relate to everyday life. In the end, many women adopt a "Forget it!"attitude. They throw on mascara and lip balm and run out the door, not feeling their best. But by following the steps of my 5-minute face, you can create a complete, polished makeup look without a hassle. It's what I use every day; it's fast—and easy!
The 5-minute plan
00:00-1:00     Smooth on foundation or tinted moisturizer
01:00-01:20   Pat concealer under your eyes with your ring finger
01:20-01:55 Spot conceal any redness from tiny veins or breakouts
01:55-02:15  Use powder to set your makeup
02:15-02:45  Sweep on highlighter
02:45-03:05  Apply blush
03:05-04:05  Line your lash line
04:05-04:50  Brush on mascara
04:50-05:00  Slick on Lip color
The step-by-step breakdown
STEP 1: FOUNDATION  
Application smarts: Tinted moisturizer and foundation go on the same way: I prefer using a makeup sponge for blending—it makes the job go faster. Dip the sponge into a bit of foundation and blend over the face including eyelids and under the eyes. Lightly buff down the neck for a seamless finish. If some areas need more coverage, stipple on a second layer by using a light patting motion to push the foundation into the skin. This is a great technique to hide redness from rosacea without resorting to thick cover-up. Expect to use about a nickel-size amount for the entire face.
STEP 2: UNDER-EYE CONCEALER  
Application smarts: Since you've already applied your tinted moisturizer or foundation under your eyes, you'll need less concealer and will have a more natural finish. The most important thing to remember about concealer is less is more. If you load concealer on to obliterate a problem area, it takes on a dry, cakey look as the day goes on, and it will actually draw attention to what you're trying to hide! For under eyes, sweep concealer next to your eyes' inner corners (where dark color is most concentrated) and blend downward with a ring finger. Make sure to target only the dark areas of your skin; if you start spreading it up and down and all around you end up with that "I never took my sunglasses off on vacation" look.
Fast fix: If you're bothered by your dark circles, shift the focus by playing up another feature, like your mouth. Wear bright gloss to draw attention from your under eyes.
STEP 3: SPOT CONCEALING  
Application smarts: For redness and blemishes, spot-apply concealer with a thin concealer brush. The bristles will be compact and tapered, and the thin tip allows you to "paint" concealer precisely where you need it. Afterward, use a finger to gently pat any edges, blending them seamlessly into skin.
STEP 4: POWDER  
Application smarts: Apply face powder with a clean blush brush. Yes, a blush brush: the smaller sizemakes it easier for you to target the fewplaces where you need powder. In contrast,a classic puffy powder brush dusts powderall over, leaving skin looking overly matted.Less powder is modern and leaves skindewier; dust it down your nose, across yourchin, and over your cheeks and eyelids.That's all you need. A little can be appliedunder the eyes, but use only enough to setthe makeup without causing it to caketogether. I like to leave the tops of the cheekbones powder-free. Even if you haveoily skin, having a bit of shine in this areagives you a youthful dewy look. If yourskin is too matted down, you'll look dryand tired.
STEP 5: HIGHLIGHTER
Highlighters are my secret weapon and the key to the 5-minute face. These pearly shimmers come in fine powders, sheer creams, luminizing liquids, or light-reflecting crayons and bring light to the face, blending into the skin to become almost unnoticeable—except for an ethereal gleam. Powders go on faster, so use one here to save time. After you apply it, tilt your face, you can see the tones of the color prisms, giving your face and eyes that luminous glow.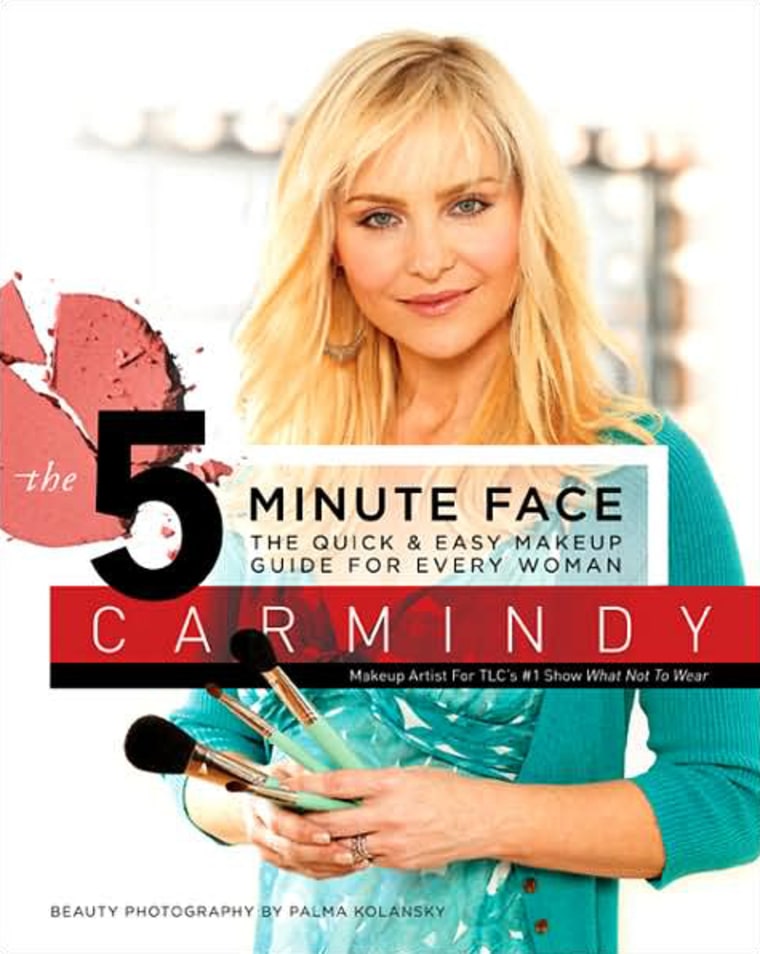 STEP 6: BLUSH  Application smarts: Apply blush (one that mimics a natural flush) to the apples of your cheeks, which are the rounded areas that stand out when you smile very wide. For powder blush, apply using a brush made for face powder. Its large size will hug your apple and apply the color with a natural, seamless finish. Cream blush should be applied before face powder. It should be dotted on with clean fingers then smoothed in tiny circles until it looks like part of your skin. Add more dabs until you build up to the color intensity you want. No matter whether you use powder or cream, remember that you should look like you're blushing, not like you've been slapped in the face.
Fast fix: BLUSH OVERLOAD! Applied too much blush? This will help: if you're dealing with a cream blush, take a makeup sponge, place a drop of foundation on it, and with tiny upward strokes, buff over your blush to soften the color. If you used powder blush, do the same with a dry sponge.
STEP 7: EYELINER
Application smarts: Aim to apply eyeliner along your upper lash line as close to the roots as possible; wiggle the pencil using little back-and-forth motions to really work the color into the roots, then smudge with a Q-tip to soften the line. This will give the illusion of a thicker lash line, but your eyes won't scream "Eyeliner!" You can use whatever liner is left on the Q-tip to slightly smudge under your lower lashline for just a hint of color. Chocolate brown pencil liner is a universally flattering no-brainer shade. Cheap or pricey doesn't matter as long as it glides across skin without skipping, pulling, or crumbling.
STEP 8: MASCARA  
Application smarts: Tilt your head back slightly and look down to expose your lash root. Target the root as the first place the brush hits (it will deposit the most color there, which is where you want it), then glide the brush through to the tips. Apply one coat to your top lashes only. The bottoms are where smudges happen most and keeping them bare will save you potential cleanup time.
Fast fix: I like black mascara on almost everyone. It makes more of a statement and gives you that extra wow! Keep an eye out for formulas with smaller brushes; they offer control for faster application and fewer clumps.
STEP 9: LIP COLOR  
Application smarts: The quickest way to add color to the lips is to use a tinted lip balm. This is a fast and natural way to add color, moisture, and protection in one easy swipe. Of course you can use your favorite lipstick or gloss. Cover your lips in color, then run a pinky finger over them to help "push" moisture and color into your lips.
Check your look in the mirror and you'll see — you're perfectly polished in five minutes! Enjoy it, master it—and then see where else it can take you. Besides being the ultimate look for every day, my 5-minute face technique is the basis for all of the other (easy) looks covered in this book, such as one that's perfect for a black-tie event or one that makes you feel fantastic on a sexy Saturday-night date. You'll look and feel like a makeup expert, even if you aren't!
Excerpted from "The Five-Minute Face: The Quick & Easy Makeup Guide for Every Woman" by Carmindy. Copyright © 2007 Carmindy. All rights reserved. Published by HarperCollins. No part of this excerpt can be used without permission of the publisher.