Tracy Morgan will soon make his comedy return on "Saturday Night Live," and a trio of fellow former "SNL" players consider that particularly fitting.
"[I'm] so happy," Seth Meyers said of the news during an appearance alongside Bill Hader and Fred Armisen on TODAY Tuesday.
On Monday, NBC announced that Morgan would host the Oct. 17 episode of the live comedy show, marking his first work since a June 2014 tour-bus crash left him seriously injured.
MORE: 'Stoked to be going home': Tracy Morgan to host 'Saturday Night Live' this fall
"I would love to see that," Meyers said. "I couldn't think of a more fitting place for Tracy to make his return."
Armisen agreed, adding he'd "love to go" and see Morgan perform again.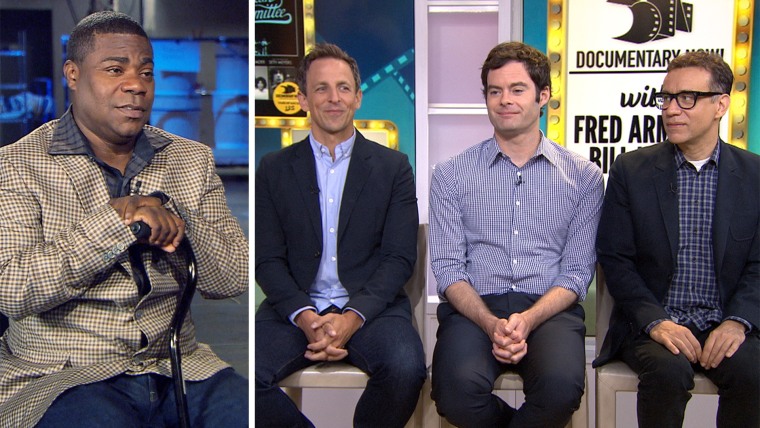 Morgan first appeared on "SNL" in 1996 and remained a regular part of the cast until 2003. He hosted the show in 2009, and on Monday tweeted that he was "stoked" to be headed back to Studio 8H.
"It's really wonderful," Hader cheered during his TODAY visit. "Really, really, really wonderful!"
While "SNL" fans still have a couple of months to wait before they can catch Morgan's return, they don't have to wait long to see more from Meyers, Armisen and Hader. Their new comedy series "Documentary Now!" premieres Aug. 20 at 10 p.m. ET on IFC.