Tracy Morgan broke his silence Monday on TODAY over the car crash that nearly claimed his life, and paid emotional tribute to his late friend and mentor, comic James McNair.
The "30 Rock" star spoke to Matt Lauer exclusively, less than a week after settling a lawsuit against Walmart over the June 7, 2014 crash that killed McNair and left Morgan with debilitating injuries.
"The case is settled, but the pain is always going to be there for Jimmy Mac," Morgan said in his first interview since the deadly car crash.
"Bones heal, but the loss of my friend will never heal."
Morgan and several friends were returning from a performance when the limousine they were traveling in on the New Jersey Turnpike was rear-ended by a Walmart truck. The comedian suffered a broken leg, several broken ribs and severe brain trauma, but McNair was killed in the collision. Two other passengers in the limo were seriously injured.
"I can't believe I'm here. I can't believe I'm in front of you," he told Lauer, speaking clearly but often overcome by emotion. "I can't believe I'm just here, and just seeing the tragedy that happened. It touches me."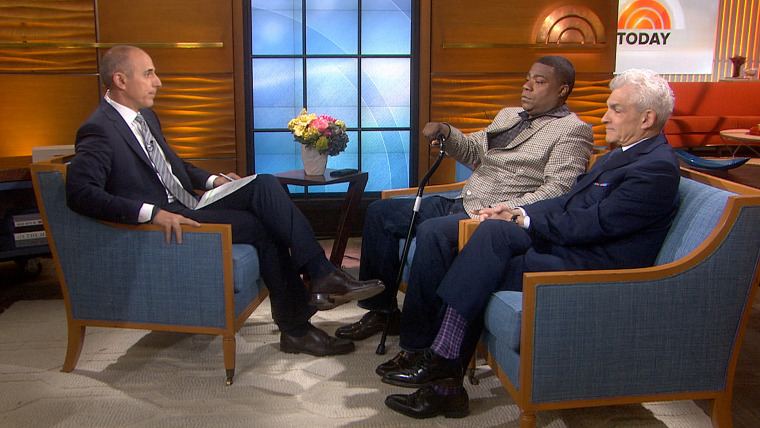 Holding a cane with one hand while seated, Morgan said he doesn't remember the accident. Instead, he remembers waking up and seeing the faces of his fiancée and son.
"There are times where I have my good day and my bad days, where I forget things," he said. "There are times where I get the headaches, and the nose bleeds. I won't even let my lady know because I don't want her to be worried about it."
Morgan repeatedly thanked the medical staff who helped him through his recovery. He also thanked his family, staff and friends like fellow "30 Rock" star Tina Fey who called to check in on him.
"I've been down — they keep my spirits up," he said.
Morgan said his last memory of McNair was from the Delaware show they performed on the night of the crash. He didn't learn about his friend's death until he emerged from a coma two weeks after the collision. He said he didn't feel the full impact of the tragedy until he returned home and started watching YouTube videos of both the accident and of McNair's funeral.
"I had to know what happened to my friend. I had to know. I had to pay my respects, and that was my way," he said.
"He was a close friend of mine, a comrade in comedy. He was a loving man, and he was a warm man. He was a good man. It's just hard for me to see that he's gone."
Last week, Walmart settled a lawsuit filed by Morgan over the collision. Morgan expressed relief that "Walmart stepped up to the plate in a tremendous way. They took full responsibility."
A criminal complaint alleges that the Walmart truck driver, Kevin Roper, had not slept for more than 24 hours and was driving 20 miles over the speed limit at the time of the accident.
Last Friday, Morgan's attorney, Benedict P. Morelli, told Lauer the process for reaching terms in the confidential settlement "was never easy."
Morgan said he expects to return to the comedy scene but he still has a lot of work before he gets to that point.
"I love comedy. I'll never stop loving her. I love comedy and I can't wait to get back to her, but right now my goal is just to heal and get better because I'm not 100 percent yet, I'm not," he said. "And when I'm there, you'll know it. I'll get back to making you laugh. I promise you."
Follow TODAY.com writer Eun Kyung Kim on Twitter.