Tracy Morgan will make what's sure to be an emotional return to Studio 8H this fall, when he hosts the Oct. 17 episode of "Saturday Night Live."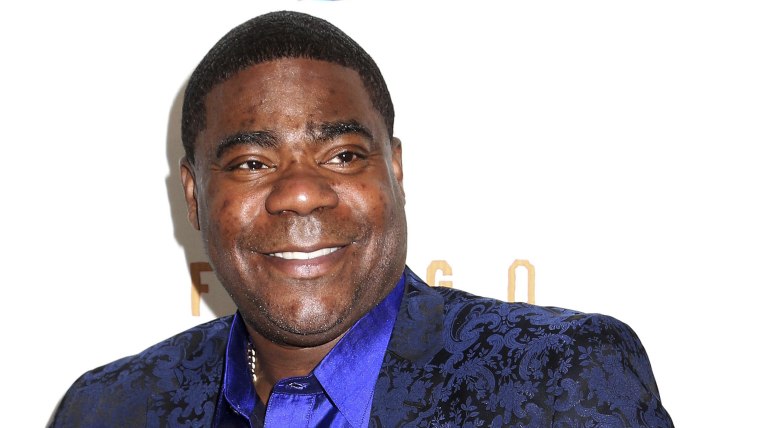 The news was announced Monday, when NBC also confirmed that pop star Miley Cyrus and comedian Amy Schumer would host Season 41's first and second episodes, on Oct. 3 and Oct. 10, respectively. Musical guests for the three episodes are expected to be announced at a later date.
Tweeting for just the third time since a June 7, 2014, tour-bus accident seriously injured him and claimed the life of his friend James McNair, Morgan said Monday that he was "stoked to be going home" to host the show.
Almost a year after that fatal accident, Morgan discussed the tragedy with TODAY's Matt Lauer, and fought back tears while reflecting upon it.
"The case is settled, but the pain is always going to be there for Jimmy Mac," Morgan said in his first interview after the fatal crash. "Bones heal, but the loss of my friend will never heal."
There may be therapeutic value in hosting the show that made him a household name. A few months ago, when he toured the "SNL" set with Lauer, Morgan expressed just how much he feels at "home" at 8H.
Morgan's homecoming should be especially poignant, since the Emmy Award nominee did not attend the series' 40th anniversary special, which he said he couldn't bear to watch from home. "We were all together in my house, and I wouldn't look at it," he told Lauer.
His "30 Rock" cast mates, Tina Fey and Alec Baldwin, acknowledged his absence during that special. "I wish my friend Tracy Morgan was here tonight, and I know that he was hoping that he would be well enough to be here, too." Baldwin encouraged the audience to give Morgan a round of applause.
Morgan said he was moved by the tribute, to which his publicist alerted him. "I just put my head down and started crying, because it's a lot for me," he said, "It was too much for me at that time. Too much."
But even during that interview with Lauer, Morgan expressed hope that he'd return to a funnier state of mind.
"I love comedy, and I wonder how I'm going to be funny again, how I'm gonna get to it," he said, choking up. "And my fans let me know, 'We can't wait for you to come back. We can't wait for you to come back.' And I can't wait to make them laugh again."
We're looking forward to it, too, Tracy.
Follow TODAY.com writer Chris Serico on Twitter.