Still basking in the glow of the Denver Broncos' Super Bowl victory in his uniform, Peyton Manning made a surprise appearance Thursday on "The Tonight Show" looking suspiciously like Kristen Wiig.
Having impersonated Michael Jordan, Harry Styles and Khaleesi from "Game of Thrones" in previous interviews with Jimmy Fallon, Wiig hilariously channeled the Broncos' star quarterback. Still in a Broncos' uniform five days after the game, she was a little fuzzy on details from the team's 24-10 win over the Carolina Panthers in Super Bowl 50.
"It was 14-6...in my mind,'' she said.
RELATED: Kristen Wiig impersonates One Direction's Harry Styles on 'The Tonight Show'
She also gushed about the Super Bowl MVP despite the pesky fact that she didn't really know who it was. (It was Manning's teammate Von Miller).
"He didn't do anything wrong the whole game,'' she said. "I was like, 'I'm so proud of you, just go out tonight. Have a good time."
RELATED: Kristen Wiig gives hilarious interview as Khaleesi on 'Fallon'
Wiig's knowledge of biographical facts about Manning also had a few holes. She said she graduated from the University of Florida (Manning went to University of Tennessee) as an environmental science major (communications and business). She then fired off answers to some rapid-fire questions from Fallon, noting that Manning's favorite clothing store is Sears and his pregame meal is french fries and toast.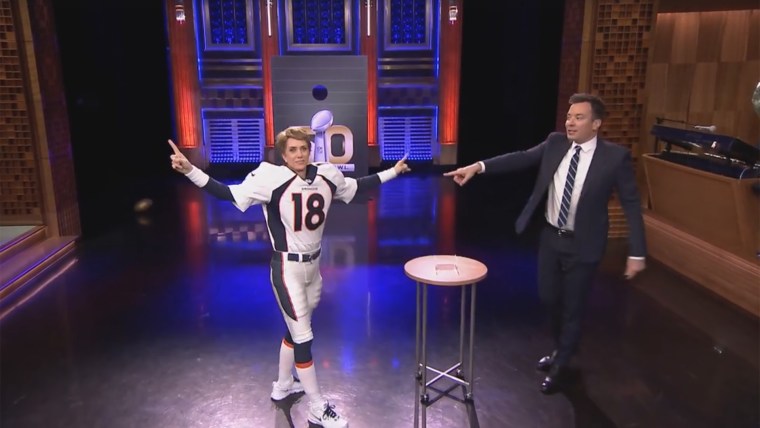 Wiig then tried to demonstrate the famous pinpoint accuracy of one of the greatest quarterbacks of all time by throwing a golden football with disastrous results.
Follow TODAY.com writer Scott Stump on Twitter.