Tori Spelling said her 14-year-old daughter, Stella, is doing well after she was hospitalized earlier this week.
"I wanted to thank everyone for all the well-wishes for Stella," she wrote over a picture of her daughter cuddling up with her dog. Stella's hospital band could be seen on her wrist in the picture posted to Spelling's Instagram story.
"She is home and feeling much better," Spelling continued.
The "Beverly Hills, 90210" alum said that her daughter was "diagnosed with a hemiplegic migraine" — a rare type of migraine that primarily impacts one side of the body — when she was at the hospital.
"It can be terrifying if you don't know what's happening or about this type of migraine," Spelling wrote in her post. "As a migraine sufferer my entire life, I had no idea about this. Grateful to everyone at the ER. They were amazing and took great loving care of her."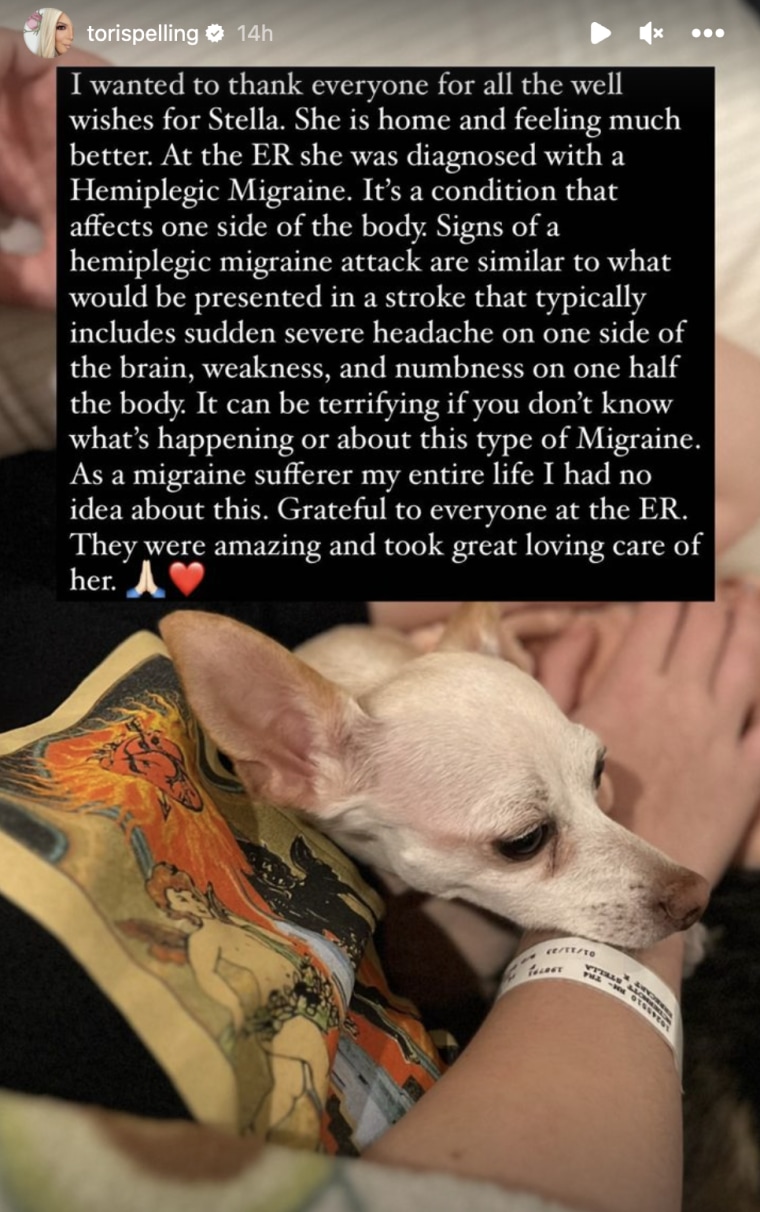 On Jan. 11, Spelling revealed that Stella was hospitalized by sharing a photo of her daughter in a hospital bed on her Instagram story, writing "the hits just keep coming" above the picture.
Stella's hospitalization came shortly after Spelling opened up about her own health problems back in December. On her Instagram story, Spelling said she was admitted to the hospital just before the holidays due to having a "hard time breathing, high blood pressure and crazy dizziness," according to US Weekly.
She also posted a selfie of herself in a hospital bed on her Instagram story and addressed those who doubted her illness.
"Here I am in [the] hospital since late last night," she wrote, according to US Weekly. "To all of you who gaslit me when you were told I [was] too sick to work, well, here I am."
"How about next time [you] take someone at face value and show kindness instead of doubtfulness," Spelling continued. "Remember, for people like me, NOT working is a nightmare. I'm a hustler and a workaholic. I always choose work."
Spelling shares Stella with husband Dean McDermott, and they also have four more children — Liam, Hattie, Finn and Beau — together. Their full blended family includes kids ranging in age from 5 to 24.