There aren't a lot of bright spots coming out of the wildfires raging in California at the moment, but we are happy to learn that best friends know how to stick together in times of crisis.
Specifically, former "Beverly Hills, 90210" co-stars Tori Spelling and Jennie Garth.
The pair, who we've seen palling around since the show's heyday in the '90s, are very close — close enough that when Spelling, her husband Dean McDermott and their five children (and related pets) needed to evacuate their homes recently, Garth was the one who gave them shelter.
Spelling wrote in an Instagram post Monday, "(T)hank you most of all to my childhood, adulthood, everything in between, and lifelong friend @jenniegarth for giving our ginormous family flesh and fur your entire house to stay at in a moments notice. I'm not good at asking for what I need. But only my best friend would know that and jump in and just make it happen!"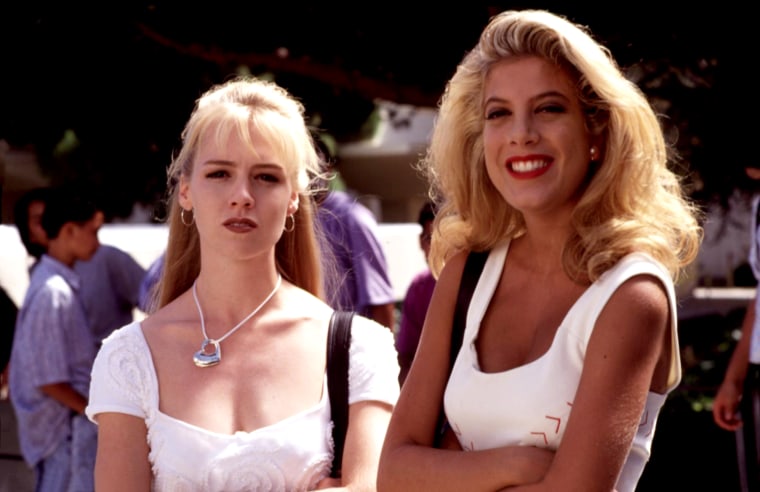 That must be a big house; Spelling's children are Liam, 11, Stella, 10, Hattie, 7, Finn, 6 and Beau 1. Garth has Luca, 21, Lola, 15, and Fiona, 12.
And Garth wasn't the only one who came through for Spelling. Erin Ziering, who's married to another "90210" co-star, Ian Ziering, hosted Spelling and the kids at an early, packed Friendsgiving:
In the photo caption Spelling posted on Instagram of Sunday's event, she wrote, "In a time of so much loss, heartbreak, disaster, and chaos... I truly cherish these women and our big big BIG extended family we grow together."