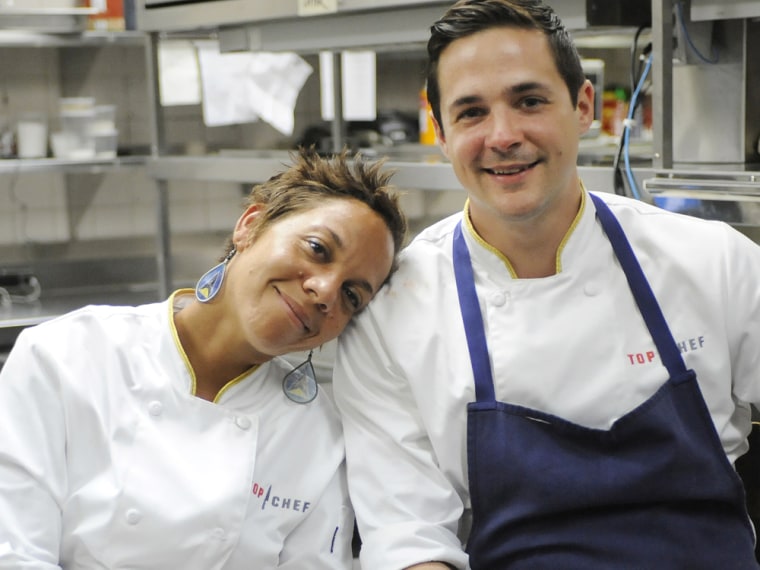 The "Top Chef: New Orleans" finale was like the disappearing pea puree, near head-shaving and Kristen-sent-home-for-Josie controversies all rolled into one. In other words, it was jaw dropping. 
Fans were surprised last week when Nicholas Elmi somehow defeated both fan favorite Shirley Chung and "Last Chance Kitchen" victor Louis Maldonado to win a spot in the finale against Nina Compton. And in Wednesday's finale, he pulled off the seemingly impossible: He won.
Despite a full season of consistently underseasoning and overthinking his dishes — and being warned by the judges about both faults repeatedly — the chef from West Newbury, Mass., reigned victorious. And he managed the feat by besting Nina, who has been one of the strongest competitors since the season premiere.
Those hoping that Nick would get his comeuppance for his bad attitude and sometimes mistreating his fellow contestants (all that shade he threw at Carlos, getting "friend" Stephanie sent packing when she had one of the best dishes) were disappointed. 
In fact, he even flipped out at his unsuspecting servers during the finale dinner service, screaming and swearing so loudly that stunned diners turned to look toward the kitchen. 
That's "Top Chef" champ material? Fans certainly don't seem to think so.
But hey, viewers didn't get to taste the dishes, the judges did. Head judge Tom Colicchio on Thursday revealed how the panel scored the four-course meal.

Colicchio also defended Nick's win.
Judge Gail Simmons said in her Bravo blog that it was not an easy decision, and that deliberations went on for so long that she "almost fell asleep at the table numerous times from sheer exhaustion."
She explained, "In the end we thought that the full experience that Nick gave us and the strength and highlight of just a few of his dishes — really the last three courses of his — were really exceptional."