Tony Bennett has been belting out pop and jazz standards for nearly seven decades, and there's good news for his longtime fans — at 90 years old, he plans to keep on doing what he does so well.
Wednesday is Bennett's birthday, and he sat down with TODAY's Al Roker to share the secrets to his success and long life, including the fact that he has no time for retirement.
"My doctor keeps telling me, 'There's not a thing wrong with you. Just keep going at it,'" he said. "I'm always sold out, throughout the world, wherever I play, and it's beautiful."
RELATED: Fame, with brush: Check out Tony Bennett's surprising side gig
The 19-time Grammy winner just can't imagine packing it all in for a life of quiet reflection.
"I feel like I have so much more to learn yet," he insisted.
And the duet-loving singer still craves the opportunity to learn alongside other artists, just as he did with Lady Gaga for their 2014 album, "Cheek to Cheek."
"Well, I'd like to do something again with Lady Gaga — she's a terrific talent," he said. "But I like that Beyoncé. ... Yeah, she's got a lot on the ball."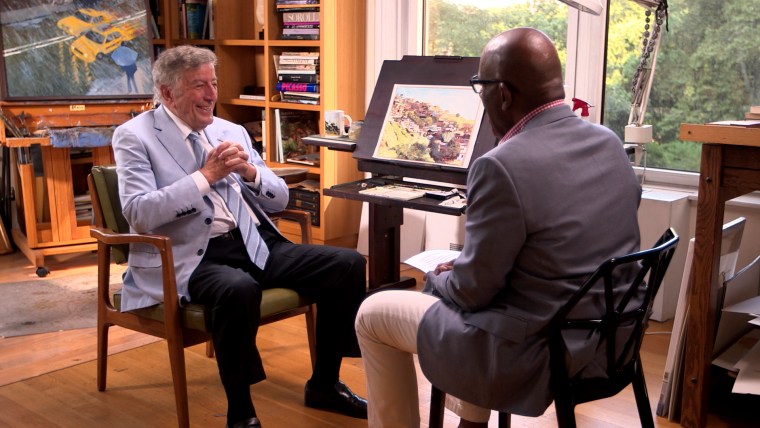 RELATED: Tony Bennett: Lady Gaga's 'going to be bigger than Elvis Presley'
But even if a Queen Bey and Tony B. album never happens, the living legend plans to make good use of his time. That's part of his secret to a long life.
"I believe in the fact that it's a gift to be alive," he explained. "I love the fact that I'm blessed to be on earth, and that my whole life, I love what I do."
And when he's done with what he calls this "great adventure," he knows just what he wants to be remembered for: "That I made people feel good."
Follow Ree Hines on Twitter.