Tony Bennett has enjoyed a long career as a crooner, and is perhaps most famous for "I Left My Heart in San Francisco." But did you know he's an accomplished artist as well? Interviewer Robert Sullivan focused on Bennett's love for art and how it affected his life and career in "Tony Bennett in the Studio: A Life of Art and Music." Here's an excerpt.
Tony Bennett listens hard and watches closely. He takes advice seriously and feels strongly that influence and inspiration can shape a life.
This was the chief message I took away from our principal interview in 1994, which was conducted over a meal at the Metropolitan Museum of Art on Manhattan's Upper East Side —  one of Tony's favorite buildings.
A very proud New Yorker, he considers the Metropolitan to be the greatest art museum in the world (and he's seen all of the contenders). On the Met's endless series of steps, he was greeted by several fans.
He handled each with an instinctive grace that created a lasting memory. At the museum's entrance he was met by an escort who ushered our small party through the grand foyer and up to the Trustees Dining Room.
Tony was given the star's table by the window, a huge window that afforded what might have been the most sublime image in that vast stone warehouse of sublime images. Central Park cyclists and strollers could just be seen through bare trees; on this early-winter afternoon, the sky was already gray.
A sudden, four o'clock slant of light flared, then faded, and streetlights in the park came up like footlights. "I love that park," Tony said in a soft voice. "I always dreamed of having a place that would catch the afternoon light, so I could paint the park over and over." Tony was well aware that the dream had come true: He was to move into the new place on Central Park South in January, a splendid apartment where he has lived ever since. "My life has been like a cheap novel," Tony said, starting off. "Interesting people, adventures, strange twists."
The "people" thing kept coming up all evening, far more often than the considerable adventures and many twists. Bob Hope told me to do this; Sinatra said that; I learned this from Bing; I learned everything from my mother; writer, director, and childhood friend Abby Mann was so important to me; Cary Grant gave me the best advice; Ralph Sharon, my longtime musical director, insisted that I should do this; my first art teacher, James MacWhinney, meant everything to me ...
"I've gone back to an old piece of advice," Tony said characteristically, late in the conversation, when we were talking about the art of singing. "Fred Astaire told me, 'Look at the song through the composer's eyes. Then look at it again with a new idea, but one that's true to what was intended.' See, it's like this." He leaned in and sang lightly as he snapped his fingers. "The way you wear your hat!" It was amazing: His speaking and singing voices were so similar, yet this one floated and flew.
The very moment he started to sing he became the guy on the stage, even as he sat there beside me in a now all-but-empty dining room. "Or you can think it through again, and do this."  He paused, downshifted. "The way you wear your hat ..." This was a slower rendering with a backbeat and the last word emphasized — it was the version from his recording. "See?" he said. He was happy, almost excited — maybe he was, in fact, excited. He had displayed something nifty, a master's trick of the trade. "It breathes differently," he said. "That was Astaire."
No, it wasn't.
This leitmotif running through Tony's personal narrative  —"Somebody told me"; "Somebody did this for me"; never "I say this"; "I say that" — might be something that Tony believes, but it's flawed, if not positively false. He seems to be saying that Tony Bennett is a synthesis, or even a product of others. Not a cipher, certainly, but something he's less than entirely responsible for.
That's wrong. What Tony is, is a generous guy with sand in his voice and an ability to communicate his passion — the word that comes up all the time: passion — and who has, by paying attention, learning, improving himself, and going the extra airplane mile, become an American original. A classic. A treasure.
How'd that happen?
Anthony Dominick Benedetto was born at St. John's Hospital in Long Island City, New York, on August 3, 1926, to parents of less-than-modest means. He was the first person in his family, American or Italian (his widowed grandmother was the immigrant), to be born in a hospital. Tony's parents, who were first cousins before they wed, and his older brother and sister had lived in an apartment above a grocery store where Tony's father was employed. But the father, John Benedetto, was already seriously ill at the time of his third child's birth, and within a year he was unable to work. The store was sold, and the Benedettos were forced to look for a cheaper place to live in the same neighborhood, which was in Astoria, Queens.
In his 1998 autobiography, The Good Life, written with Will Friedwald, Tony remembered, "They found an apartment in a four-story apartment house on Van Alst Avenue and Clark Street. It was a typical four-room railroad flat: the rooms were lined up in a straight row, like train cars, and you had to go through one room to get to the next. We were on the second floor of the building, above a candy store."
Today, Tony says wonderingly, "I grew up in poverty, another thing that makes where I landed so unbelievable."
It was poverty indeed after Tony's father, who Tony remembers as "a very poetic, sensitive man, full of love and warmth," died when the boy was but ten, and he himself was only forty-one. "I couldn't believe that this wonderful, beautiful man was really out of my life and that I would never see him again," Tony once wrote. "I was heartbroken. My eyes welled up with tears and I wept."
His mother, who has always been Tony's life hero (when asked if the term applies, he whistles, drops his eyes, and says, "Absolutely"), had already begun to work to make ends meet. Again, from the memoir, which is dedicated to her: "My most vivid memory from my childhood is of myself as a ten-year-old boy during the Depression, sitting at my mother's side in our modest home as she worked as a seamstress. Her salary depended on how many dresses she could make and I remember the constant hum of the sewing machine that stopped only long enough for her to cook our dinner."
Today, he remembers further, "One of the early gifts I got was from my mother. She always insisted on top quality. She would make those penny dresses, and the more she made, the more money she would earn. But even still, she'd throw away a bad dress. Always quality. Ever since, I never wanted to do a song that would insult the audience. That's the way to make music that lasts. Like a dress that lasts."
All the Benedettos made music, particularly the men. Tony believes this was predestined. "It's funny," he reflects during a conversation in the earliest days of 2007, "I really work hard not to retrogress. And yet, you know, with my brother and sister dying last year, you just ... Well, they're gone, you know, my whole family's gone. And so — voooom — you go right back to the beginning, right back. My father." Tony pauses and gathers himself. "Sorry. Lately, because my brother and sister died, I get so emotional sometimes ...
"So, then: My father died when I was ten years old. Now, in Podargoni, Calabria, Italy, the legend in my family was that he used to stand at the top of a mountain and the whole valley would hear him sing. That did it. When I heard that, it became as clear to me as I'm speaking to you right now — that is the reason I'm singing.  I realized, wow, this was my father, the father I never really had. He was very well loved by the family, and he used to sing and the whole valley would hear him. That did it for me, you understand? We're put here to sing; this family was put here to sing. I've always felt that right through my life, right up to today as I speak to you. I just feel that I have to do it, not that I want to do it. I feel I'm blessed with a passion to sing and paint. The Benedettos had to sing."
The family sang often, with the kids taking the stage during Sunday evening gatherings. Tony's older, opera-loving brother, John, was a sensational singer of arias; he performed solos at the Metropolitan Opera as a young teen and was dubbed by the New York press "Little Caruso." Tony, for his part, deferred to his brother on the Verdi material and chose to entertain his parents, aunts, and uncles (one of whom was a tap dancer in vaudeville) with popular tunes of the day. He'd give them Eddie Cantor songs and Al Jolson numbers. "I had a beautiful family," he recalls warmly. "We'd make a circle, and the entertainment was my brother, my sister, and myself. We'd stand inside the circle and they're all sitting in a circle around us with guitars and mandolins, and they'd have us perform for them. It was all very positive; they used to have so much fun with us. Every week we couldn't wait for the next Sunday, then the next Sunday to come."
If all the Benedettos sang, the drawing was, for Tony, more personal. "I found, even as a kid, I'd draw or paint away and all of a sudden it was my own little creation," he recalls. "I was shocked by it, in a way. I'd say, 'Look at that. Look at that thing I made.'"
Ralph Sharon, Tony's dear friend, accompanist, and musical director from 1957 right on through the end of the millennium (with one fifteen-year hiatus), wrote about the years immediately after Tony's father's death in an introduction to a previous book of Benedetto paintings: "With his mother going to work and his siblings busy with their own lives, Tony found himself alone for many quiet hours. Drawing, sketching, and even cartooning became important afternoon activities for him. While other children would doodle, Tony would try to 'get the picture right.'"
Perhaps nobody has seen more often Tony's compulsion to get an artistic effort right than has Ralph Sharon.
By the time he was twelve years old, Tony was an accomplished — and notorious — caricaturist of classmates and teachers at P.S. 141, and drawing had become his cofavorite pastime with singing. "I knew very early that somehow I would sing and draw and paint my whole life." And now came a crucial meeting — right out of the blue, a bit of kismet. Just before Thanksgiving in 1938, Tony was making a massive holiday mural on the sidewalk outside the family's housing-project building — "I was having fun, doing this thing with the Pilgrims and the Indians. I was using chalks my mother had bought me." He was concentrating on his work, when a large shadow suddenly covered part of the picture, and a man said, "That's pretty good." Sixty-eight years later, Tony remembers the details vividly: "James MacWhinney, a great schoolteacher. A handsome guy back then, handsomer than Kennedy, John Kennedy. He was a junior high art teacher. 'I like what you're doing, son.' He and his wife were living in the same building as us, and he offered to help me with my art. 'I go over to Rainey Park on Saturdays, son, and paint. Would you like to come with me?' I was barely a teenager. I said, 'Terrific. I'd love to!' He took me under his wing. A wonderful man. He and his wife introduced me to culture. They took me to my first musical, Carmen Jones. They took me to the Museum of Modern Art. They encouraged the things I had a passion for. We stayed friends his whole life.
"To this day, whenever I do a watercolor, I see him painting."
At one point a few years ago, MacWhinney told Tony the story of the Renaissance painter Cimabue, who mentored young Giotto after finding the boy drawing, brilliantly, on a sidewalk in Italy. MacWhinney likened their own relationship to Cimabue and Giotto's, and Tony got a huge kick out of the comparison. 
In his teens, Tony received formal training not only from MacWhinney but from the teachers at New York's distinguished School of Industrial Art, to which he'd been admitted. "I got turned down at the High School of Music and Art, and it kind of crushed me," he says. "A friend from my neighborhood said, 'Go to the Industrial Art School,' and I did. Turned out to be a blessing. I found that out many years later when I met Kinstler at the National Arts Club on Gramercy Park. He said, 'You're Benedetto; I went to the same classes as you at Industrial Art.' He's the same age as me, and he told me he had had a scholarship to Music and Art. He was so bright, sixteen years old, and the teacher at Music and Art told him, don't worry about technique; just paint what you feel. And because of that, he just closed up the book and said, 'I'm sixteen, I don't feel anything; I want to learn how to do it.' He transferred to the Industrial School, which shows you technique. Many years later, he's telling me, 'You went to the better school. They taught you the rules for painting, sculpting, everything.'
"You see, they taught you how to express yourself, the rules of expression. You can't break the rules until you know the rules, and that's the same in singing or art. Look at Picasso. Picasso's early paintings aren't to be believed. They're classical painting — complete technique. If you don't know how to do it, you won't know what to do next."
A note in passing: The various philosophies about artistic development that Tony formed at the School of Industrial Art and, later, in discussion with friends such as Kinstler are today employed at a school Tony recently founded, with his longtime companion Susan Crow, in his hometown of Queens. The school, in just its fifth year, has one of the highest graduation rates in the city — in the country, in fact — and is sending its grads off to college. Frank Sinatra School of the Arts — or more familiarly "Tony's school" — is open to all of New York's high-school-age children; despite advice from many that it would be much easier to establish a private arts school, Tony insisted it be public.
Tony studied music and painting at the School of Industrial Art until dropping out at age sixteen. The family needed his help, and of course he would pitch in. But "I just didn't want to work unless I was singing. I'm proud of my intuition, that I stuck with it. With my dad having died, everyone was pleading with me to take this job or that to help out. I wanted to sing."
And so he found work as a singing waiter, a gig he absolutely loved. He felt at the time that if he was singing for his supper in a restaurant for the next twenty years, fine — he'd get to sing.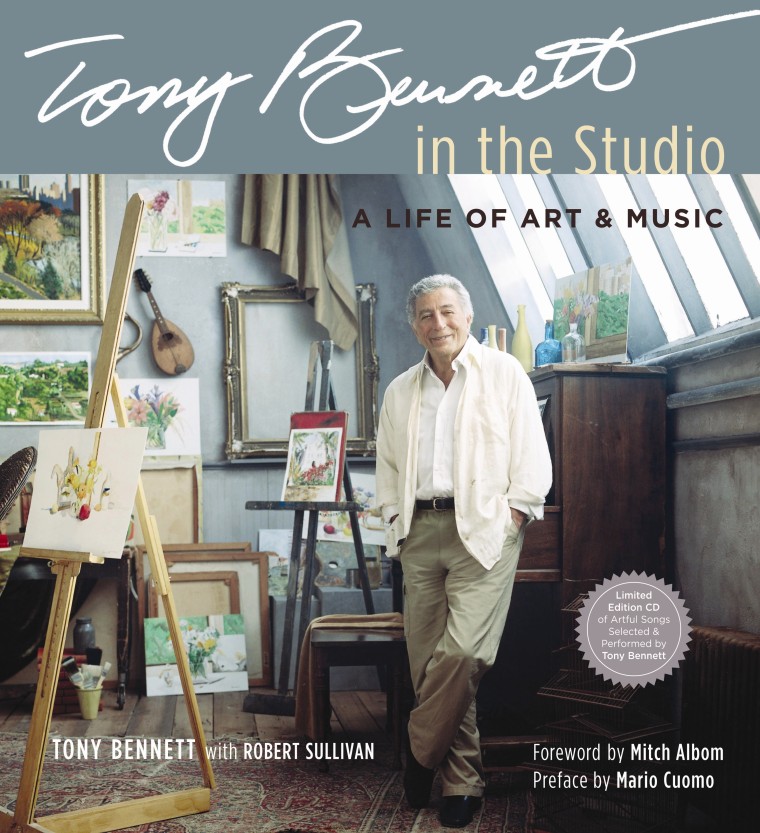 As happened just then to so many Americans, Tony's dreams were interrupted. Drafted into the army in 1944, he wound up with the Sixty-third Infantry as it moved through France and Germany near World War II's end. Tony downplays his military career when asked about it, but the facts remain: He saw some things. He was nearly killed more than once and was in on the liberation of the Landsberg labor concentration camp in Germany. To distract himself at arduous times, he drew. "There was a guy who was on the line with me in Germany," Tony recalls, "and he said to me later, after the war, 'Do you remember when we were in those trenches, with the bombs coming at us and everything? Remember what you were doing?' I said no. He said, 'You were sketching all the time.' Crazy."
Certainly his experience on the front lines, as well as another incident that happened during the war — one discussed in a later chapter of this book — served to foment a lifelong antipathy for the military. Tony is a patriot and he's proud, but he is also a pacifist. He wrote in his memoir, "The main thing I got out of my military experience was the realization that I am completely opposed to war. Every war is insane, no matter where it is or what it's about. Fighting is the lowest form of human behavior.  It's amazing to me that with all the great teachers of literature and art, and all the contributions that have been made on this very precious planet, we still haven't evolved a more humane approach to the way we work out our conflicts."
After Germany surrendered, Tony stayed in Europe as part of the occupying force, singing regularly with a Special Services band that entertained the troops on army bases. When he returned to New York after his discharge, he took up where he had left off in the restaurants, singing into the wee hours every night of the week. 
He studied bel canto singing at the American Theatre Wing on the GI Bill; he was getting serious about his craft and no longer felt that Singing Waiter would be the big posting on the resume. He also took an acting class with a Russian professor named Zhilinski, who propounded theories that would later be put together as Method acting. Tony took what he learned from Zhilinski and applied it to song: He began to think autobiographically as he got inside a lyric. He would apply the technique in his painting as well. "You look at the Masters," he says. "Take a look at Rembrandt, for instance, and you realize that nobody ever felt more about putting pen to paper or brush to canvas than he did. And he was the pen; he was the brush. Everything was all about how beautiful he felt about life. Everything was all about feeling. Every painting has a feeling, whether it's a landscape or a portrait. You see what he was feeling and you can feel what he was feeling."
Are you in every painting? he is asked. "Oh, yeah," he replies instantly, then pauses. "It's not about sticking my ego into it. It's not that. I just paint what I feel and what I sense."
Tony certainly would have liked to make his living doing nothing but expressing himself artistically, but there were still real-world concerns, so he decided to take a mundane day job to help with the bills and to support his life as "Joe Bari" (that was the stage name) in New York's nocturnal saloons. Pearl Bailey caught his nightclub act, and Tony caught her attention. She insisted he open for her at the Greenwich Village Inn. Bob Hope, who was performing in town, was invited to the show. Hope, too, liked what he saw.
Now, Tony has told me this next story a few different ways through the years, and in fact he tells it a bit differently in the autobiography, but this is the way he told it to me, and I love the flash and fizz of this version. I suggest that this might be, if not apocryphal, at least an elaboration. Hope might have suggested the name change over lunch. Memory is, as we know, a tricky thing.
But Tony is allowing me to stick with this altogether more colorful telling. So here it is:
"See, I'm the elevator operator during the day, but Joe Bari in the clubs. Now, my break came in 1950. I got a job on Bob Hope's bill at the Paramount, and just before I'm going on, Hope tells me the name's no good. Joe Bari's no good. He asks what my real name is. I say Anthony Benedetto. That doesn't do it for him either. So he goes out and says to the audience, 'And here's a new singer, Tony Bennett!' He had to introduce me twice 'cause I didn't know who he was talking about."
The name, like the man, would stick around.
Excerpted from "Tony Bennett in the Studio: A Life Of Art and Music," by Tony Bennett with Robert Sullivan. Copyright 2007. Reprinted by permission of Sterling Publishing Company, Inc. All rights reserved.