"American Idol" runner-up Adam Lambert already cleared up speculation about his sexuality, telling Rolling Stone in June that he is gay, but adding that he does "make out with girls from time to time." Still, despite that, some might be surprised by his recent photo spread in Details magazine.
In one photo, Lambert is tongue-to-tongue with a woman, and in another, Lambert (clothed) is with the same woman, who's wearing nothing but Lambert's hands, which are strategically placed.
Lambert does some explaining in the accompanying interview: "I am gay, but I like kissing women sometimes. Women are pretty. It doesn't mean I'm necessarily sleeping with them," he told Details. Also, don't discount the entertainment factor at play. "It's all fantasy — that's what entertainment is. I'm here to entertain you, and if my sexuality is apparent and you respond to it, and you're attracted to it, then great, I'm doing my job."
Those who make it to the upper rungs of the "Idol" ladder are easily criticized for their careers post show. Lambert has an astute take on this. "There's a feeling of entitlement (with the fans) because they voted to get us where we are. But you know what? I am responsible for what I created on the show — you voted for what I created, and thank you, but I created it, you didn't," he said to the magazine.
Magazine goes Gosselin-free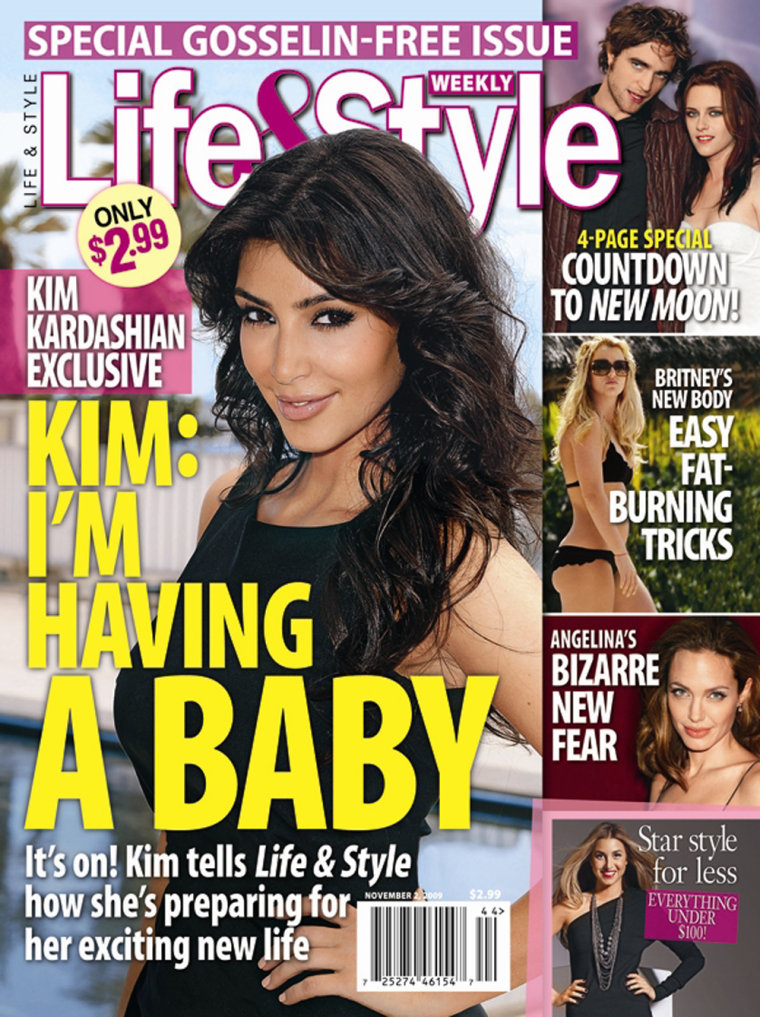 Even though the Gosselin family has proven to be newsstand gold in the past, one magazine has declared its pages a Gosselin-free zone.
This week, Life & Style is purposely not covering Jon, Kate or any of their eight kids. And before anyone points the "you're only doing this for publicity" finger, they magazine's decision was driven by reader feedback. Of 1,000 readers polled, 94 percent said they were fed up with the couple. The magazine's editor-in-chief, Dan Wakeford, said, "We believe, for the sake of their children, they need some time to solve their problems behind closed doors."
The ban isn't necessarily a permanent one. Wakeford said that they'd continue to monitor feedback and make the decision about covering the family on a week-to-week basis.
New York governor offers to 'help' 'Saturday Night Live'
Jake Johnson and Damon Wayans Jr. on the "Let's Be Cops," red carpet, Selena Gomez is immortalized in wax and more.
"Saturday Night Live" has mocked New York Gov. David Paterson's blindness in the past (and his office has criticized the show for doing so) but there are no hard feelings — the governor said that he'd be happy to appear on "SNL" to "help" the show out.
"I've offered to come on 'Saturday Night Live' because I thought I would help them get the ratings," Paterson told NY1. "Because clearly that humor that they had when they first had Chevy Chase, Dan Aykroyd and John Belushi ... has gone (with) this (current) cast of characters. I thought I would show some benevolence as governor and help them out a little bit."
Exactly who would be helping who here? NY1 pointed out to Paterson that he has an approval rating of 20 percent. "I'm not going to look at the polls. I'm going to do what I think is right," Paterson said.
Courtney Hazlett delivers the Scoop Monday through Friday on msnbc.com. Follow Scoop on Twitter @courtneyatmsnbc