The bad news: Tom Hanks announced he won't be attending a California high-school's homecoming event inspired by his films. The good news: He thanked them for their efforts with a video that students are expected to see Friday night.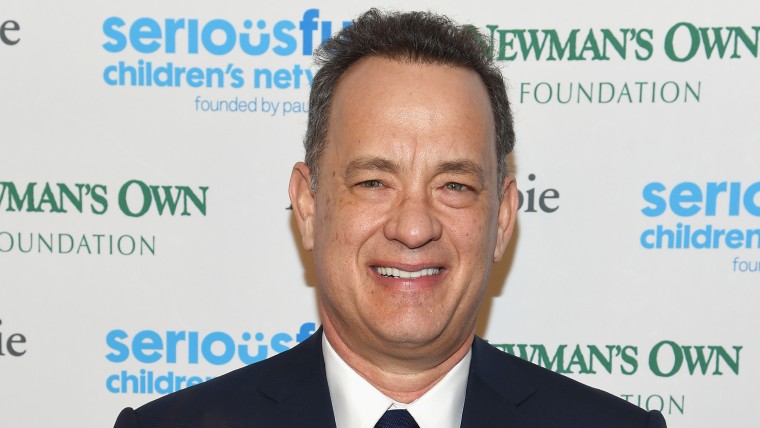 "He spent a lot of time on making it very personal for our students," Margaret Nichols, Kerman High School's assistant principal, told TODAY.com via email Friday afternoon. "It is — typical of him — witty, humorous, and informative."
She added that the school received Hanks' video — "approximately 7 minutes" long — just hours before Friday's homecoming football games, parade and dance would be held, but she did not elaborate on its specific contents. Hanks' video was scheduled to be screened on the football field Friday night.
In August, Kerman students decided their homecoming week theme would be movies starring the two-time Academy Award winner, and launched a social-media campaign in attempt to convince him to visit.
After the story went viral, Hanks himself responded on Twitter in equally enthusiastic and mysterious measure. "Gear up, Kerman High School for Homecoming!" the "Bridge of Spies" star tweeted Aug. 31. "I'm working on something for the Festivites! Hanx."
For weeks, students and staff speculated about what that might mean: anything from the actor sending a video to making a personal appearance in Kerman, which is some 200 miles northeast of Hollywood. In the meantime, community members and their supporters continued to use the hashtag #TomHanks2KermanHS on Twitter, Facebook and Instagram.
In an update uploaded to Kerman High School's YouTube page Oct. 2, Nichols revealed that Hanks' movie-related schedule would, unfortunately, preclude him from attending in person. But that's when students learned he'd be sending a pretty cool consolation prize.
"He has filmed a short video for the students of Kerman High School, which will be shown at the football game Oct. 9," Nichols says in her YouTube update. "We would like to thank Tom Hanks for his acknowledgment and consideration of the efforts of our student body. Go, Lions!"
According to the social-media campaign's Facebook page, seniors picked "Forrest Gump" as the movie to inspire their homecoming float and other activities throughout homecoming week; juniors picked "Toy Story"; sophomores chose "Big," and freshmen adopted "A League of Their Own." Floats will be a part of Friday's homecoming parade after Kerman's junior-varsity football game ends and before the varsity game begins.
Students and staff even filmed a 3-minute parody of "Forrest Gump" — in which the school track team joins a Gump-like character for a run in and around Fresno, California — and posted that video on the school's official YouTube channel Sept. 24.
But could the supposed absence all be part of a Hanks prank, with the actor actually showing up for Friday's homecoming events to spring an even bigger surprise? Nichols told TODAY.com on Thursday that she didn't know, but added that school officials in the meantime would take Hanks at his word.
Nichols added Thursday that school officials would not consider sharing Hanks' video publicly until next week.
"Once the dust has settled around here, then we'll talk about that," she added. Stay tuned!
Follow TODAY.com writer Chris Serico on Twitter.