Last month the world had a surprisingly difficult time deciding whether a photo that went viral was of Tom Hanks or Bill Murray.
Fortunately, two-time Oscar winner Hanks recently cleared everything up on "The Graham Norton Show," and we couldn't be more grateful.
"I've been doing a pale imitation of Bill Murray for most of my career," joshed Hanks on the British talk show. "I know that it's not me, because I did not take that picture, unless I've had a cranial plate shift that is medicinal."
RELATED: Tom Hanks or Bill Murray? See the photo that has the internet talking
Actually, we DID know it wasn't Hanks back in October; for one thing, the mom of the screaming toddler in the picture did say it was Bill Murray. But that didn't stop Hanks from being his agreeable self.
"I could make that face," he said, and voilà! Once Graham Norton supplied an orange hoodie, a hat and a pair of sunglasses, Hanks and his fellow guests, actors Gemma Arterton and Joseph Gordon-Levitt, "re-created" the photo to hilarious effect (especially Gordon-Levitt as the toddler).
But that wasn't all about the Hanks interview that was awesome. He also showed off his "good" side and "bad" side, characterizing the contrast between the two as going "from Richard Gere to Richard Nixon."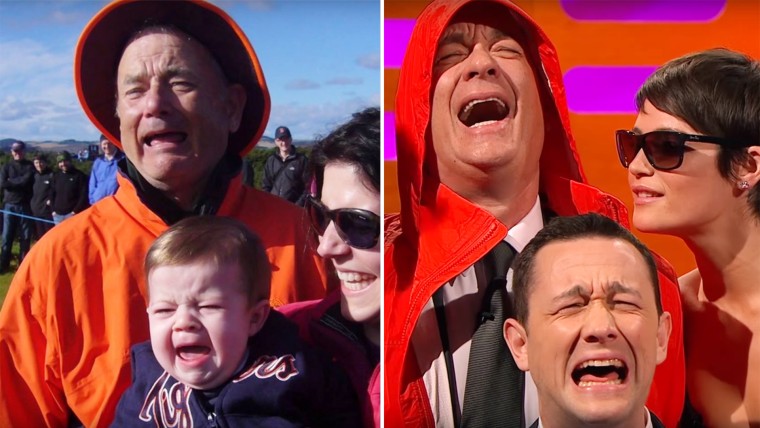 Plus, in a separate video we learned that Hanks' wife, Rita Wilson, had a particular affection for her husband's "Forrest Gump" character. Or rather, one particular body feature.
"Every now and again, if the [film] comes on cable, my wife will say 'Just leave it here, honey. I want to see that one scene where you're running away from the camera. Look at that fine Hanks ass!' … In the day, even I think it was a beautiful thing to behold."
RELATED: Tom Hanks happens upon newlyweds' photo shoot, poses for delightful pics
Hanks noted, "I had worked out quite a bit ... I must say that my buttocks, as Forrest would say, were as firm as tinned hams."
The man cannot go wrong! T-hanks again, Tom!
Follow Randee Dawn on Twitter.