/ Source: The Associated Press
For weeks, Tom Cruise and Katie Holmes answered questions about marriage by saying, "That's something we have to talk about." On Friday morning, they finally found the time — at the Eiffel Tower in Paris.
"Today is a magnificent day for me, I'm engaged to a magnificent woman," the 42-year-old Cruise said at a news conference. "It was early this morning at the Eiffel Tower, so I haven't slept at all."
The crowd of journalists cheered and applauded as the couple looked at each other, smiling and blushing. Holmes, seated nearby, held her hands together in her lap, a massive diamond ring on her finger.
Now it's everyone else's turn to chat about Hollywood's newest (and previously most suspicious) coupling.
Ever since Cruise and Holmes, 26, went public with their relationship in April, smooching and posing for photographers in Rome, many have doubted the romance — the words "publicity stunt" have rained down on the couple like an alien invasion.
While Cruise's new film, "War of the Worlds," has yet to open, Holmes' "Batman Begins" hit U.S. theaters Wednesday. Skeptics may still decry the romance, but it's difficult to doubt a relationship when a ring is involved.
"I think getting engaged actually defuses a lot of the skepticism. No one would take a publicity stunt this far," says Janice Min, editor-in-chief of Us Weekly magazine.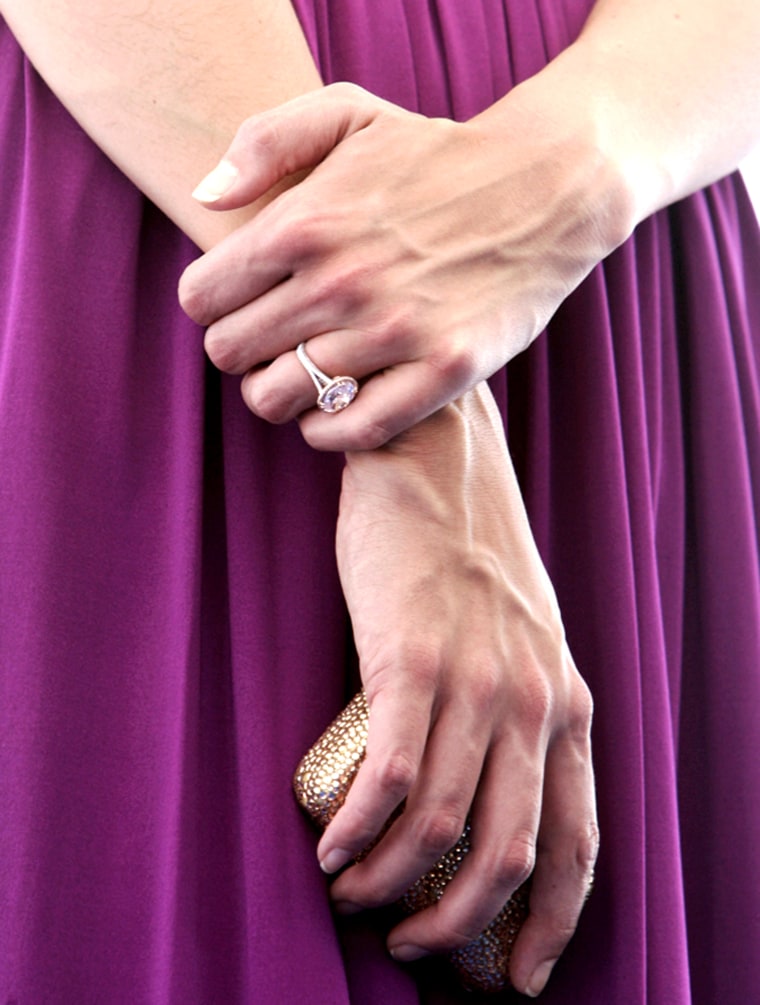 "I think they have every intention of getting married and every intention of having kids. I think that Tom Cruise is not the kind of celebrity who would venture into this lightly."
Despite the whirlwind nature of the romance, Min isn't alone in her belief in the stability of the couple's relationship.
"It could last forever. It could last till death do them part," says Bonnie Fuller, editorial director of American Media, the parent company of Star magazine. "These are two people that are known to be serious individuals."
In a celebrity world where couples — such as Brad Pitt and Angelina Jolie — are obsessive about their privacy, Holmes and (especially) Cruise have been outgoing.
"What's unusual about it is that it doesn't fit the usual contours of a celebrity romance," says Larry Hackett, deputy editor at People magazine. "It isn't the blind Page SIX item, followed by the 'two stars leaving separately from a nightclub,' followed by the denials, followed by the 'don't ask us personal questions.' Followed by the photograph of them together.
"It was presented fully baked for public consumption."
In seemingly every interview, Cruise has proclaimed that Holmes is "magnificent." His acrobatic, gaga appearance on "The Oprah Winfrey Show" last month was so over the top, it amazed everyone.
But the romance that refused to play by the rules of Hollywood PR etiquette culminated in a remarkably traditional way. After all, the Eiffel Tower is almost a cliche locale for a marriage proposal.
"I've never actually been to the Eiffel Tower," Cruise said of the choice. "It's Paris, you know. It's beautiful, a beautiful city. It's very romantic."
Cruise has been married twice — to Mimi Rogers and Nicole Kidman. Holmes had a long-standing engagement with actor Chris Klein.
A wedding date hasn't been set. "We haven't discussed that — one step at a time," Cruise said. "Let's see. We're not sure."
There will likely be plenty of potential difficulties. Cruise is 16 years older than Holmes and is a devoted follower of the Church of Scientology. (Holmes has said she's embracing the religion.)
More threatening could be their dramatic openness.
"Public discussion and public consideration of their relationship is on the table," says Hackett. "It will be exceedingly difficult if not impossible to remove that."
He adds that actresses such as Gwyneth Paltrow and Jennifer Lopez turned much more tightlipped after going through tabloid-heavy romances.
However, Fuller thinks the candor may be a positive, more natural existence.
"In some ways I think that's very smart," she says. "I do wonder why certain celebrities insist on trying to hide the fact that they're having a relationship. ... In some ways that fuels the gossip much more than being completely open and public about it.
"I think, actually, they're going to make it easier for themselves."
Still, psychologist Joyce Brothers, for one, is concerned Cruise and Holmes have been caught up in their own momentum.
"People easily get pushed into relationships in Hollywood," Brothers says. "When you have two people, it's double the publicity. It's cubed. There's an enormous amount of desire to push it along."
But, Brothers adds, "A lot of people have lost their heads and hearts in Paris."