Some actors will do anything to get a role; Tom Cruise, it seems, will do anything once he's got a role. Including his own super-scary, super-dangerous stunts. 
For his latest turn as spy Ethan Hunt in the fifth "Mission: Impossible" movie, the 52-year-old actor was recently spotted clinging to the side of an Airbus A400M, dressed nattily in a gray suit. What made it so gasp-inducing was that he was doing it while soaring 5,000 feet in the air, according to Britain's Daily Mail.
Sure, while the aircraft flew over rural British airspace he was well-strapped in with two safety harnesses, but still.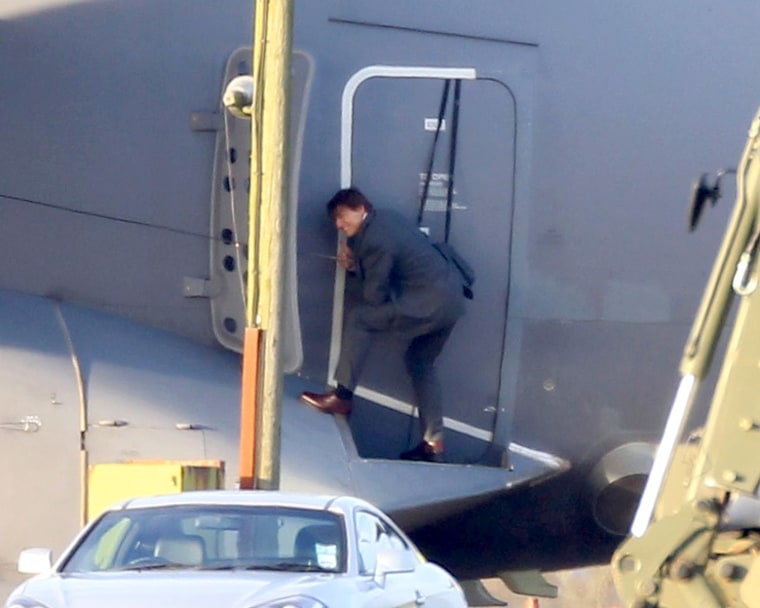 Pictures showed up on Imgur and the Mail over the weekend, though the scenes were shot in September.
This isn't the first time Cruise has risked life and limb for his roles. Over his long career, he's become known for doing tough stunt work. For 2011's "Mission: Impossible — Ghost Protocol," for example, he famously dangled from the side of the world's tallest building, Dubai's Burj Khalifa, wearing special gloves that allowed him to cling to the windows.
"Mission: Impossible 5" is expected in theaters in late 2015.