Summer is nearly here, which means one thing: the Toyota Concert Series on TODAY is back!
For the 20th year in a row, we're bringing the hottest hit-makers to Rockefeller Plaza. And we're kicking off our anniversary season on May 22 with a very special someone: "All About That Bass" and "Lips Are Movin" singer Meghan Trainor.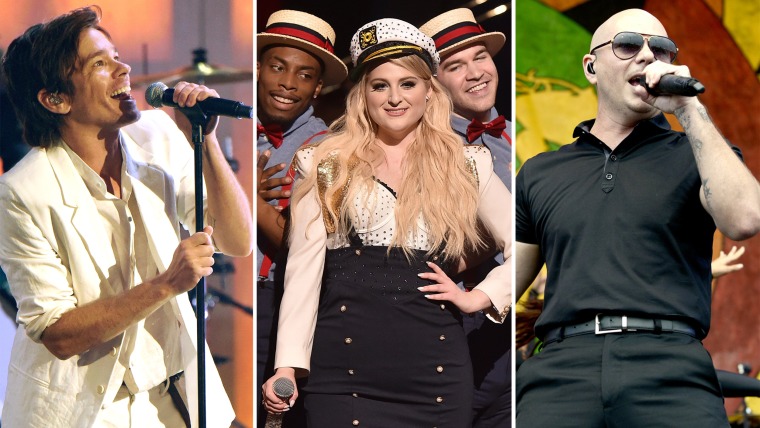 Tune in as stars like Pitbull, Imagine Dragons, Carly Rae Jepsen, Nate Ruess from FUN and the legendary James Taylor pack the plaza.
SIGN UP: Learn how you can get VIP tickets through TODAY's Fan Pass newsletter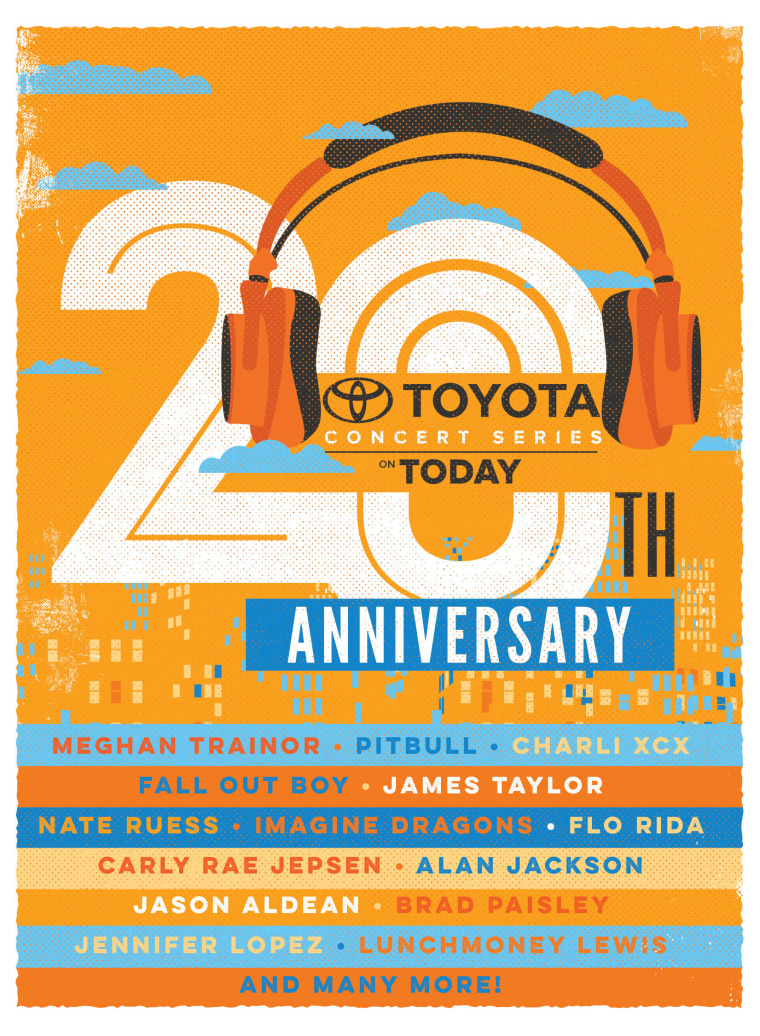 Here's the full lineup:
May 22: Meghan Trainor
#MeghanTODAY
May 29: Pitbull (*In Orlando)
#PitbullTODAY
June 5: Charli XCX
#CharliXCXTODAY
June 12: Fall Out Boy
#FOBTODAY
June 15 (*Monday): James Taylor
#JamesTaylorTODAY
June 19: Nate Ruess
#NateRuessTODAY
June 26: Imagine Dragons
#ImagineDragonsTODAY
July 2: Culture Club #CultureClubTODAY
July 3: Flo Rida
#FloTODAY
July 7: Shaggy
#ShaggyTODAY
July 10: Fifth Harmony #FifthHarmonyTODAY
July 17: Alan Jackson
#AlanJacksonTODAY
July 24: Andy Grammer
#AndyGrammerTODAY
July 31: Jason Aldean
#JasonAldeanTODAY
August 7: Keith Urban
#KeithUrbanTODAY
August 12: Lunch Money Lewis
#LunchMoneyTODAY
August 14: Janelle Monae and Wondaland
#JanelleTODAY
August 19: Little Mix
#LittleMixTODAY
August 21: Carly Rae Jepsen
#CarlyRaeTODAY
August 24: Rob Thomas
#RobThomasTODAY
August 25: Beautiful the Carole King musical: Carole King with Abby Mueller and Chilina Kennedy
August 27: Jordin Sparks
August 28: Darius Rucker #DariusRuckerTODAY
September 1: Maddie and Tae
#MaddieandTaeTODAY
September 4: Brad Paisley
#BradPaisleyTODAY
September 10: Justin Bieber
#BieberTODAY
October 16: "School of Rock" Broadway cast
Fans and visitors are encouraged to come to the plaza for the live performances. Viewing is on a first-come, first-served basis on the TODAY plaza, located at 48th Street between Fifth and Sixth Avenues in New York City. To get the best spot, fans should try to arrive by 5 a.m. All concerts are Friday performances unless otherwise noted. Additional performances may be announced throughout the season.
Are you coming? Sign up for our newsletter to get the latest information on how to get fan passes for the concerts. And check out our FAQs to stay up to date on all the latest information.