Al Roker has officially made his Broadway debut!
The TODAY weatherman on Friday night kicked off his six-week run in the hit musical, "Waitress," featuring music and lyrics by singer Sara Bareilles. As his friend and colleague Dylan Dreyer shared on the Saturday morning broadcast, the whole TODAY family was there to support him, filling up the front-row seats.
Hoda Kotb and Savannah Guthrie, who stood by Al's side last month as he announced his new gig, were among his biggest fans.
"Here is your cheering section!!!" Kotb captioned an Instagram photo overflowing with Al's sweet supporters.
Al stepped into the cast as diner owner "Ol' Joe," a curmudgeonly character who grows into a generous guy over the course of the story.
And Al not only acts, but sings, too! He shows off his pipes in a song called "Take It from an Old Man."
"He's going to leave a lot of people crying," his vocal coach, Deric Rosenblatt, said last month during Al's rehearsals.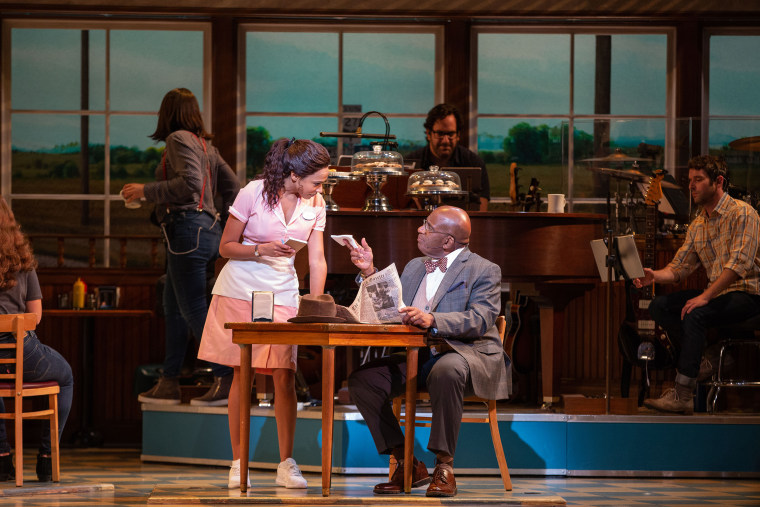 And Al really did bring the house down on Friday night, according to his TODAY supporters. Dylan shared a post-show photo montage in support of her pal.
"My heart is bursting with pride for my dear friend!!" she wrote. "It's not easy trying something new but you CAN teach an Old Joe new tricks! You knocked it out of the park in Waitress!"
Savannah felt the same joy seeing her longtime colleague make his Broadway dreams come true.
"A STAR IS BORN!" she wrote on Instagram. "Seeing @alroker on Broadway in #Waitress and my (heart) explodes with awe and pride!"
Meanwhile, Al took to his own Instagram during intermission to share a quick video from backstage.
"Well, we're in intermission at @waitressmusical and other than a couple of lines I muffed it's gone ok," he wrote alongside a selfie video surrounded by cast and crew.
Al just announced he's extended his run in "Waitress" at Brooks Atkinson Theatre in New York City — he'll appear in the show through Nov. 18, save for Saturday and Sunday matinee performances. Catch him while you can!