Ever wondered what time Matt Lauer gets to work, or which celebrities were the anchors' toughest interviews?
In "TODAY Confidential," a new weekly talk show on SiriusXM 108, executive producer Don Nash and co-executive producer Tom Mazzarelli (aka Don and Mazz) offer the inside scoop on what it's really like to put the broadcast together each day.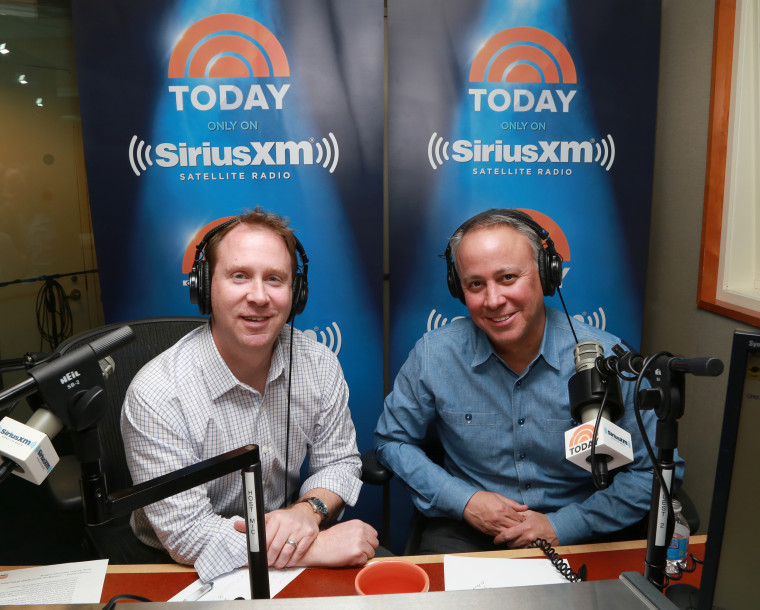 As Nash puts it, "Sometimes people come in and they see what's going on behind the scenes and there's almost a show going on within the show. And sometimes that show is even better than the actual show — or more interesting."
Nash and Mazzarelli share tidbits on news-making segments, answer fans' burning questions and chat with special guests — like Savannah Guthrie, who called into the premiere episode Jan. 29 to offer the hosts advice and play a spirited game of "either/or."
In case you need further reason to listen, here our some of our favorite moments from the first month of "Confidential," including some hilarious anecdotes from TODAY correspondent Jenna Bush Hager.
Don & Mazz reveal the worst mistakes to happen on live TV
Nash recalled an incident in which Lauer was giving an update on a crime story, and a report came over the wires saying that police had found women's underwear in the home of the man who'd been arrested. However, Lauer misunderstood Nash and instead announced on-air that the man "wasn't wearing any pants."
That story led Mazzarelli to think of another blunder. Coverage of a Los Angeles flood included footage of a helicopter rescuing a man from a river basin — and the man's pants fell down! Due to a technical glitch, the cold open of the East Coast broadcast showed the man naked from the waist down.
As Nash observed, "Anything can happen on live TV."
Jenna remembers her first date with Henry
First dates can be nerve-racking for anyone, but they can be especially complicated when you're dating the president's daughter. When Henry Hager came to pick Jenna up at the White House the first time, he appeared "totally flushed" — and for good reason. Hager's 1970s Bronco was parked directly where President George W. Bush's helicopter was just about to land and they needed to leave immediately, before her father returned home.
RELATED: Former first lady Laura Bush likes to occasionally drop the 'F-bomb,' Jenna Bush Hager says
Jenna weighs in on what it was like to live at the White House
Asked what would surprise people most about living in the White House, Jenna revealed a strict rule enforced by her dad: no late-night food delivery! She explained that the president thought restaurant workers should be able to go home to their families at a reasonable hour. When her cousin, Billy Bush, once ordered a meal, Jenna added, "My dad had to go there and say 'Hey, that ain't the way it happens.'"
"TODAY Confidential" airs Fridays at 2 p.m.