David Letterman still has over a week before his late-night tenure comes to an end, but he's already received one heck of a send-off from Tina Fey.
Fey, who's been a guest on "Late Show" 20 times since its 1993 premiere, wanted to show Letterman just how much he means to her and just how much things will change when he retires. And there's no denying that she did just that Thursday night.
Decked out in a deep blue dress with sparkling embellishments, she said, "I realize that when you retire, this is it. I'm never going to wear a fancy dress on a talk show again. First of all, it's very hard work — I don't know if you're aware of the contraptions under here, it's almost medical. And I'm terrible in heels."
MORE: David Letterman talks exit, 'the Jimmys' and why CBS had reason to fire him
And without Letterman around, who else would she try to impress?
"What, am I going to put a dress on for Jimmy [Fallon]?" Fey asked. "That's creepy. He's like my brother. I'm going to wear special underwear for James Corden? That's not going to happen."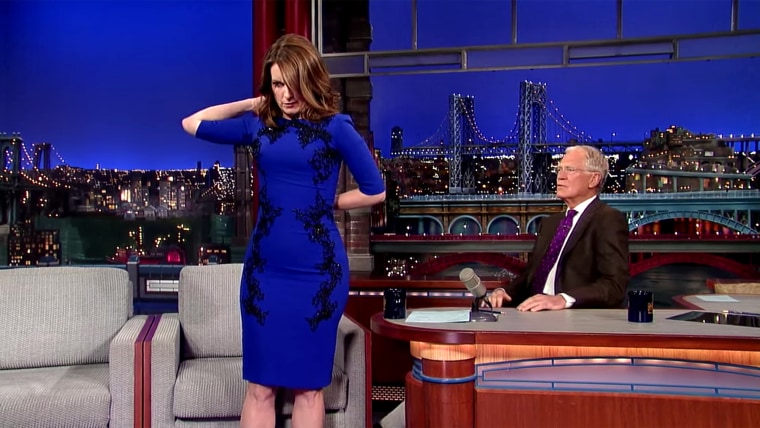 So she decided the best way to say so long to the man she so admires was to give him the dress on her back — right then and there.
And once it was off, Fey had a message hidden underneath. Emblazoned across the front of those figure-smoothing foundation garments she hinted about were the words "Bye Dave," while the backside read "#LastDressEver."
Letterman, who couldn't stop smiling, was clearly touched. "God bless you, my dear," he said as he kissed her hand.
Letterman's final episode of "Late Show" airs May 20 on CBS.
Follow Ree Hines on Google+.