Here's hoping you enjoyed Tina Fey and Amy Poehler's co-hosting of the 72nd Annual Golden Globes on Sunday night ... because it's likely you won't see it happen again. Fey told E! News that she and Poehler are finished after their third go-round, which meant anything could happen when they took the stage. 
Complete Golden Globes recap: See winners, top moments, more
After all, as Fey noted, "What are they going to do, fire us? Who cares!"
With that in mind, here are some of the highlights from Fey and Poehler that had us rolling in the aisles on Sunday: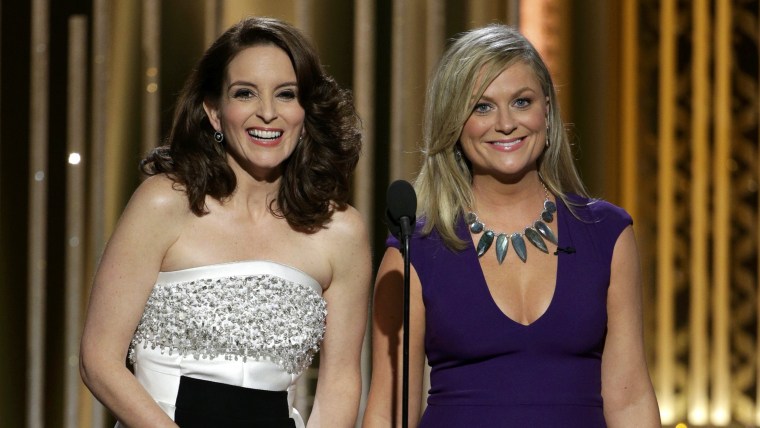 Nobody is safe
It didn't take long for the pair to hit 10 on the outrageous scale. At the tail end of their monologue they jumped to Bill Cosby and the allegations of assault being brought against him by multiple women. Referring to the fairy-tale background of "Into the Woods," Poehler quipped, "Sleeping Beauty just thought she was getting coffee with Bill Cosby." The ladies then traded imitations of Cosby's halting speaking style: "I put the pills in the people," said Fey. "The people did not want the pills in them."
Stand aside, Clooney
George Clooney has gotten pats on the back (and tweaks on the nose) for having married a woman with career achievements that equal, if not surpass him. So at the Globes, Poehler and Fey lauded Amal Clooney's many amazing feats as a human rights lawyer — and Fey noted wryly, "So tonight her husband is getting a lifetime achievement award." That's OK; we sense Amal sleeps just fine without one.
Drink up!
"If your doctor says you're allowed to drink alcohol, you should start now," Fey told TODAY's Savannah Guthrie and Matt Lauer on the red carpet before the show. Poehler suggested that for next year, the producers should hire "someone younger and easier to work with, like a Japanese hologram."
They might be considering it, even now!
They are beloved by all
Toward the end of the evening, Fey and Poehler got a nod from on high: Meryl Streep noted from the stage, "How much are we going to miss Amy and Tina? Oh, my gosh!"
And finally, here's a look back at all the reasons why we love these BFFs:
Ladies, you'll be missed!