/ Source: The Associated Press
The dead bride, Helena Bonham Carter, wore a brown sweater and frilly olive skirt. Jittery groom Johnny Depp wore white pants and a gray T-shirt. Wedding singer Danny Elfman was all in black. Matchmaker Tim Burton wore a blue shirt and black slacks.
The key players of "Tim Burton's Corpse Bride" sat down at the Toronto International Film Festival to share recollections of their strange and wondrous animated matrimonial fantasy and ponder why it is they all collaborate so often.
"With all of these people here, it's nice because it feels like a real artistic collaboration," "Corpse Bride" director Burton said in an interview with The Associated Press, alongside co-director Mike Johnson, voice stars Depp and Bonham Carter and composer Elfman, who also wrote the movie's songs and sang one of them.
"It's a movie industry, it's a business. It's treated as a business, but I think everybody here likes to think they're making art. You want to be creative, and you respond to people who have that spirit. That's a real joy, and that's the reason that I like working with these people."
"And trust," adds Bonham Carter. "It takes a long time to trust someone. You work with people, anybody you don't know, it takes about a film's length to get to know each other. Then if you move on, you have to start right back at the beginning. But if you carry on together and try doing different things, you can all grow together."
After playing the Toronto festival, "Corpse Bride" debuts in limited release Friday and opens nationwide Sept. 23.
Burton enjoys collaborationBurton and Elfman have collaborated on 12 films, among them "Edward Scissorhands," "Batman" and "Batman Returns," "Beetlejuice," "Big Fish" and this summer's hit "Charlie and the Chocolate Factory."
Along with playing Willy Wonka in "Charlie and the Chocolate Factory," Depp's five Burton films include "Edward Scissorhands" and "Sleepy Hollow."
After getting his big Hollywood break as an assistant on the animated fantasy "Tim Burton's the Nightmare Before Christmas," Johnson was invited to co-direct the filmmaker's latest stop-motion adventure.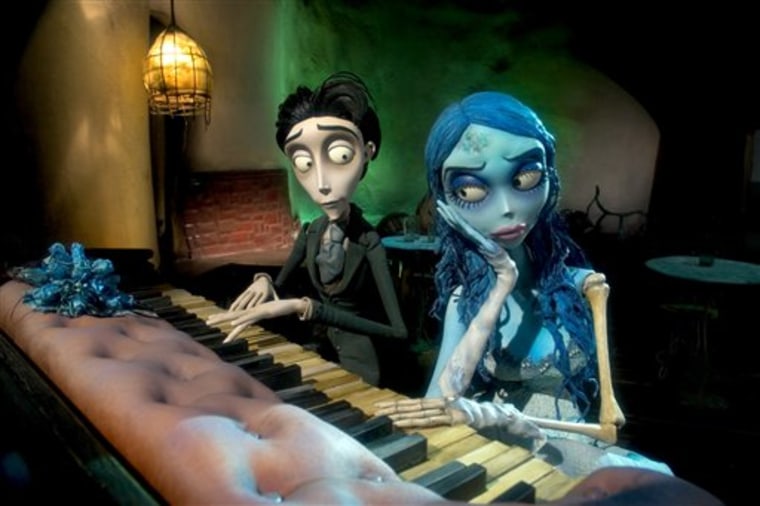 Since co-starring in Burton's remake of "Planet of the Apes," Bonham Carter went on to appear in "Big Fish" and "Charlie and the Chocolate Factory."
"And they had a child," Depp slyly adds, to round out Burton and Bonham Carter's collaborations.
After Burton and Bonham Carter met on "Planet of the Apes," they became a couple and had a son in 2003. They live in adjoining houses in London.
This time out, Depp provides the voice of Victor, the son of fish merchants hoping to raise their social status by marrying their boy off to the daughter (Emily Watson) of penniless but titled aristocrats.
Yet the nervous bridegroom, who can't master his vows during wedding rehearsal, inadvertently finds himself conjugally joined to the decomposing cadaver of a woman (Bonham Carter) buried in her bridal gown, who has been waiting for a hubby to come and claim her.
The film was created using intricate puppets shot in stop-motion animation, one frame at a time, the same process used on "Nightmare Before Christmas."
'Lucky to have been along for the ride'Elfman recalls Burton describing "Corpse Bride" about six years ago. As with all of Burton's fanciful tales, Elfman felt certain his musical approach and the director's storytelling style would click.
"Whatever it is, I know there's going to be some sensibility that's a little bit askew and that enables me to catch ahold, and I know it's going to be a good ride," Elfman said.
Jake Johnson and Damon Wayans Jr. on the "Let's Be Cops," red carpet, Selena Gomez is immortalized in wax and more.
Since "Edward Scissorhands," Depp has had a champion in Burton, who kept coming back to the actor even though Hollywood had its doubts.
"I feel very lucky to have been along for the ride," said Depp, whose choice of odd and uncommercial roles had made him a tough star to cast until he scored a blockbuster with "Pirates of the Caribbean: The Curse of the Black Pearl."
"Lucky to get the gigs from him, because I know over the years, he has had to have a great number of battles to get to cast me. Fighting the studio heads. 'You mean the weird guy who does the European art movies? No, he's box-office poison.' Tim would go in and battle for me, so I feel very lucky."
Burton no longer had to beg to cast Depp because of his sudden box-office success. In fact, for "Charlie and the Chocolate Factory," the studio bosses suggested Depp for Willy Wonka "before I could even utter the words," Burton said. "I just thought, 'What took you guys so long? It's about time."'