Funny man Tim Allen had some serious things to say about the controversy caused by his old pal Roseanne Barr's racist tweet — namely, that he was surprised by it.
"I go way back with Rosie and that's not the Rosie I know. She was the most diverse and tolerant woman I've ever known for a long time," Allen, 65, said Thursday at the Television Critics Association's press tour in Beverly Hills, Entertainment Weekly reports.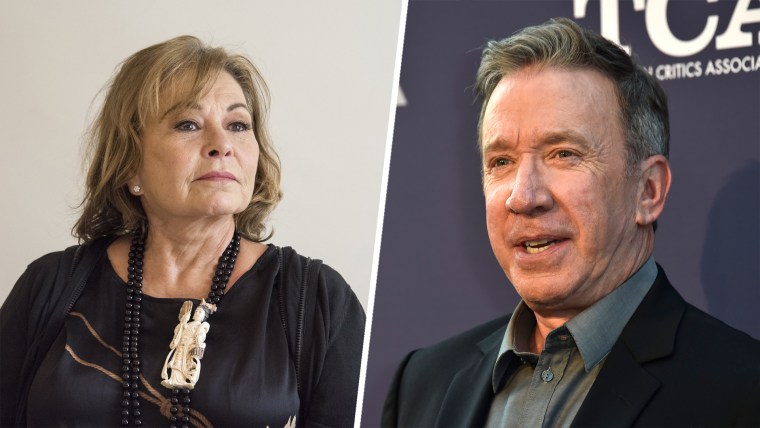 Allen was at the tour to promote the Fox revival of his former ABC series "Last Man Standing." ABC canceled the highly rated comedy in May 2017, which Allen called a "financial decision" that nevertheless left him "heartbroken."
Asked whether ABC was right to ax the hit "Roseanne" revival after Barr's notorious tweet — which called a former Obama aide an "ape" — Allen replied that comedians today are working in a hot-button climate, and that makes it tough for them to be provocative.
"It's a very icy time. I've been a comedian for 38 years and I've never seen it, like Lenny Bruce said at the Purple Onion, 'We've gone backwards,'" Allen responded.
"There are things you can't say. There are things you shouldn't say. Who makes up these rules?" he wondered. "And as a stand-up comic, it's a dangerous position to be in because I like pushing buttons. It's unfortunate."
Still, Allen said, ABC "had to do what they had to do and it's their decision."
Allen, whose personal politics lean conservative, said — like Barr's "Roseanne" character, Roseanne Conner — his "Last Man Standing" character, Mike Baxter, is "probably pro-Trump."
"I think the guy is a centrist," he said of Baxter. "He probably doesn't defend (Trump). He's for whatever is good for his business and for the state of Colorado."
But, the comedian said, Tim Allen and Mike Baxter are not one and the same.
"I'm not the character I play," he said, adding, jokingly, "Keanu Reeves didn't actually murder 100 people in 'John Wick.'"
"What's interesting to me," said the star, "is pissing people off."