Tiki Barber might be a familiar face at NBC, both as a TODAY correspondent and a football analyst. But his previous life as a New York Giants star running back is getting much of the attention these days. So is his new book, "Tiki: My Life in the Game and Beyond." Here's an excerpt:
The Next StageThe four of us walked onto a soundstage at NBC studios in New York and took our places in captain's chairs set up in front of the assembled media. Butterflies fluttered in my stomach. This press conference would be a turning point in my life, and I would be lying if I said I wasn't a bit nervous.
February 13, 2007. Jeff Zucker, the president and CEO of NBC Universal, was there, and Steve Capus, president of NBC News, as well as the legendary Dick Ebersol, chairman of NBC Sports.
Facing us in the audience were reporters from the New York Times, the Daily News, and other print outlets, as well as broadcasters from all over, many of them people I knew from my time with the Giants. Sitting down in front was Matt Lauer, host of the Today show. We had become friendly over the years, having encountered each other at charity events. He was one of the people I most admired professionally and most wanted to learn from.
This was my new life. My new, post-football, post–New York Giants life. We were here to announce my future role as a Today show correspondent and sports commentator for NBC. Playing football—which I had done since I was eight years old and which helped put me up on the stage with heavy hitters such as Zucker, Capus, and Ebersol—was now behind me.
Amid the bright lights and the reporters' questions, I wanted to enjoy the moment. It was a culmination of what had seemed, sometimes, like an impossible dream. I had set my sights on Today from the beginning of my broadcasting career, way back when I had my first radio show on WCBS.
Yes, I had played football for ten years with the Giants, and before that for four years in college, and before that in high school. In my mind, though, being a football player never defined me. I always wanted to branch out, expand my horizons, surprise people.
Be careful what you wish for. As exhilarating as the moment was, it was also like stepping off the end of the Earth for me. Would I find my footing or go into free fall? Playing sports had sustained me, centered me, occupied me for more than two decades, ever since I was in grade school. I was pumped for the challenge, excited about doing something new, but there was also a small voice in the back of my mind, saying, "How can I make this work?"
There was something else, too, another personal concern. For the first time in my life, really, I was doing something different from my identical twin brother, Ronde. The two of us gestated together, were born together (he seven minutes before me), took our first steps together, and went to the same grade school, junior high, and high school, where we played football together. When it came time for us to go to college, we entered the University of Virginia together, where we also played football on the same team, he in the defensive secondary, me as a tailback.
We both joined the National Football League the same year. We almost wound up on the same team, but in the end were drafted to two different ones. During our professional careers, we both went to Pro Bowls, the last one being the last professional football game of my career, just three days before the NBC press conference, on February 10, 2007.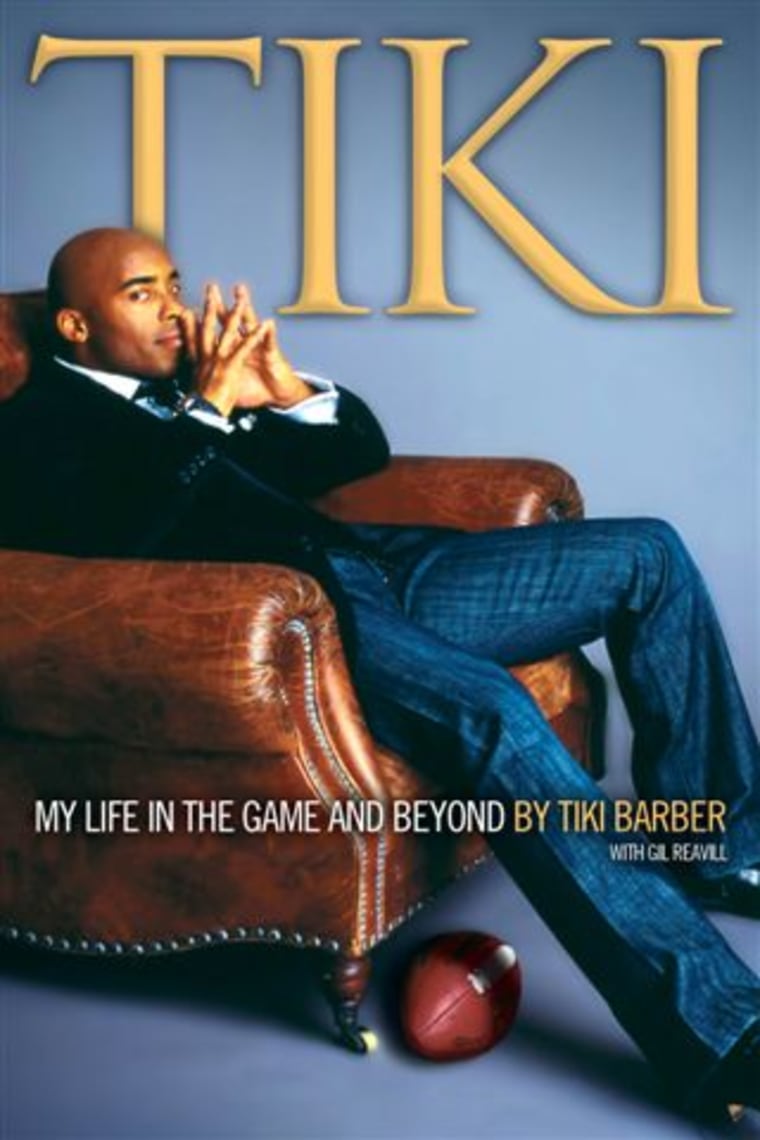 Ronde has chosen to continue on with football as a star of the Tampa Bay Buccaneers. Our paths would diverge for the first time in our lives. One of our closest connections, which stretched but didn't break in 1997 when I was drafted by the Giants and Ronde by Tampa, would finally be irrevocably broken. I was stepping onto the high wire without my usual safety net.
"On those days when you're not feeling so well," cracked NBC's Steve Capus at the press conference, "we'll call Tampa Bay and get your brother up here."
When it came time for questions from the assembled reporters, I felt as though I were on This Is Your Life, reliving the history that got me to that point in time. Beyond the x's and o's to life, liberty, and the pursuit of a TV contract. Tom Pedulla of USA Today wanted me to reflect on my career as a New York Giant.
"My time with the Giants was phenomenal," I began, in the "safe generalization" mode I knew so well from countless interviews with reporters. "I had a lot of ups and a lot of downs. A lot of boos and a lot of cheers. That time shaped the person I am. It gave me a thick skin, and it gave me resilience."
No one recalls that my time as a Giants running back almost ended before it began, that I had to reinvent myself just to be able to take the next step. Yes, there were times when I was getting booed in Giants Stadium. In my last year, the fans chanted my name. But I remember getting booed, and how much it hurts.
"These last couple of years in particular have been a dichotomy in some ways," I went on. "I became an all-star player, I became one of the elite players in this league, but at the same time the grind started to take its toll on me, and the principles of our head coach started to take their toll on me, and so I started looking for the next thing."
There it was. A minor little news scooplet that I let slip out in front of a phalanx of hungry New York media people. I hinted at the truth: If Tom Coughlin had not remained as head coach of the Giants, I might still be in a Giants uniform.
In a sense, it was thought out. I knew enough about the New York sports media to know that anything I said about Coughlin would get played up in columns and news stories the next day. As of this press conference, I was morphing from reported to reporter. I needed to make a little splash. My new NBC career would get more coverage this way.
Some folks can play the press like a pipe organ. Donald Trump comes to mind, Madonna, Bill Clinton, a few others. I was a piker compared to them, but I knew that if you want the media to write about you, you have to give them something to write about.
It's not like I was saying anything that I wouldn't say to Tom Coughlin's face. Coach Coughlin is a disciplinarian. He has a one-size-fits-all coaching philosophy, treating every player on the roster the same, pushing them all constantly, physically and mentally.
But in the last years of my career, one-size-fits-all didn't fit me. I'd arrive at Wednesday practice still hurting from getting beat up the Sunday before. Coughlin would rag on me for going half-speed. Even more than the quarterback, a running back takes a pounding during games. Especially a back with a role such as I had with the Giants, where I was either rushing or blocking on every play.
I wasn't some greenhorn rookie. I knew the game. I knew my assignments. For a running back, I was old. Ancient. I had done the job for ten years. I could not live up to Coughlin's demands anymore.
It didn't matter. Coach Coughlin treated me as though I had just stepped off the bus. I don't blame the guy—that's just the way he is. An old-school Lombardi type of coach.
But the NFL is changing. It's all about specialization now. Coughlin would virtually have to get a personality transplant to approach the game in the way I'm suggesting—the way it's approached by coaches in other franchises around the league.
I've heard former San Diego head coach Marty Schottenheimer quoted as saying he saved his star back LaDainian Tomlinson from getting beat up in practice, so that L.T. would be fresh for Sunday. There is a realistic hierarchy in place on other teams. You approach your most productive players a little differently, in order to continue getting the best out of them in every game. It just makes sense.
I understand the opposite argument. Every player is equal. Treating some players as "more equal than others," to use a George Orwell phrase, would hurt team cohesion. It's Coughlin's right to approach the game that way, just like it's my right to walk away.
Tom Coughlin's coaching method, his one-track, single-focus mind, his one-size-fits-all training regimen weren't the only factors pulling me away from football and toward Today. Tom Coughlin didn't pull the plug. But he certainly gave it a tug.
The press conference announcing my new career continued. We broke up for individual one-on-one interviews. In a few of those I was, predictably, taken to task for my Coughlin comment ("Giants Will Miss Tiki, Not His Mouth" read one headline the next day). Reporters asked about my future, but they also asked a lot about my past, what had led me to this, why I wanted to change my focus so decidedly.
This book is in part an answer to those questions. It's a ridiculous thing, I know, for a thirty-two-year-old to publish his memoirs. But at the same time I have traveled an amazing journey that a lot of people will find interesting. I've gone from being raised in semi-rural Virginia to holding a high-profile job in television. I accomplished an arduous evolution from being an ordinary performer in my chosen profession, football, to being a standout.
I hope that this book will inspire others in their journeys. But I also hope to memorialize and honor the people who helped me along the way.
My life is all about relationships. I've met amazing, inspiring people, sometimes because they've been my teammates, and sometimes just by happenstance, because I've been in the right place at the right time. They have given me enormous input toward making me a successful person.
I would never fool myself into believing I've done everything on my own. I've always had good people around me who believed in me, motivated out of love, or perhaps because it was in their best interest to make me better at what I was doing. Their motives didn't really matter to me. They helped me.
As much as detailing the ins and outs of professional football, as much as taking you past the sidelines and onto the field to give you the view from inside the huddle, those two questions—how I did it, and who helped me—represent what this book is about.
How do we persevere in the face of adversity? How do we shut out the chorus of negativity and nastiness to put one foot in front of the other and just keep going?
We find a way to put our hearts into it.
It's not as simple as it sounds, and success actually involves a lot of different elements. You can't just say, "I'm going to put my heart into it," and magically reach your goals. There's a lot of work, discipline, and character that goes into the process. But I learned one thing for certain from my football career. Heart is an essential ingredient to success.
Success and happiness come into play when we perform a single act: stepping up. That's it. That's the marker for success and happiness that psychologists from Abraham Maslow on down have determined. I encountered Maslow in Psych 101 when I was at UVA. He was a groundbreaking American psychologist with the innovative idea to study not the lives of mentally ill people (as most psychologists did before him) but of success stories, people like Frederick Douglass, Eleanor Roosevelt, and Albert Einstein, finding out what made them tick. Maslow helped develop the theory of self-actualization, and he said that we're most happy and successful when we progress, get better, move forward. When we step up.
The National Football League is a lot more bookish than one might imagine. Everyone is feverishly grasping for an edge, and a lot of people have come to recognize that the true edge in any sport comes not simply from physical conditioning. Being in top physical form is necessary but not sufficient in a professional football league where everyone, all 1,440 players who make up the active roster, is constantly working out, bulking up, and refining their already elite physical presences.
No, the true edge in the NFL comes not in the objective, statistical zone of the physical—What's your time in the forty? What do you bench press?—but in the more slippery, more subjective realm of the mental.
That's why a lot of people read, coaches especially. They are looking for hints, clues, secrets. The quest leads them into strange nooks and crannies of literature.
Coach Jimmy Johnson's favorite book was Flow, by Mihaly Csikszentmihalyi. From it, Johnson took a lesson about the crucial difference between happiness and pleasure. I can get pleasure from eating a good veal scaloppine at Primola, for example, one of my favorite restaurants in Manhattan. But that pleasure doesn't equal happiness, and it sure doesn't mean success.
"To be happy," Johnson says, "I've got to be challenged, I've got to accomplish things, I've got to have some sense of satisfaction and achievement."
A business bestseller enjoying great currency around the NFL recently is called Good to Great, by Stanford University's Jim Collins. The book's three-word title encapsulates perfectly what I was trying to do for my whole NFL career. It expresses a goal that a lot of us have, not only NFL players, but everyone who is serious and ambitious about life.
If we want to be happy, if we want to be successful, we have to find a way to step up. And to do that, we have to find a way to go from merely being good—taking our place among the mass of people who do their jobs, proceed through their lives competently, and achieve acceptable results—to rise above that level and become truly great. As a friend of mine used to put it, to make a big splash, you can't just tread water.
How do we achieve success and happiness?
By stepping up.
How do we step up?
By finding a way to go from good to great.
How do we do that?
That question has always been my central concern, on the football field or anywhere else. I was exposed to the whole idea of stepping up very early on. Two of the most important people in my life started me on my journey, one by her example and the other by his pure competitive spirit.
Excerpted from "Tiki: My Life in the Game and Beyond" by Tiki Barber Copyright 2007 Tiki Barber. Reprinted by permission of Simon and Schuster. All rights reserved.