Even teen girls who call President Barack Obama "Dad" can still be starstruck.
When Sasha Obama, 14, was adorably freaking out upon meeting "Deadpool" star Ryan Reynolds, big sister Malia, 17, was right there to give her a thumbs-up. The first daughters were attending their first state dinner on March 10 when the great sister moment was captured in a White House photo.
RELATED: Canadian Prime Minister Justin Trudeau's son steals the show in Washington, D.C.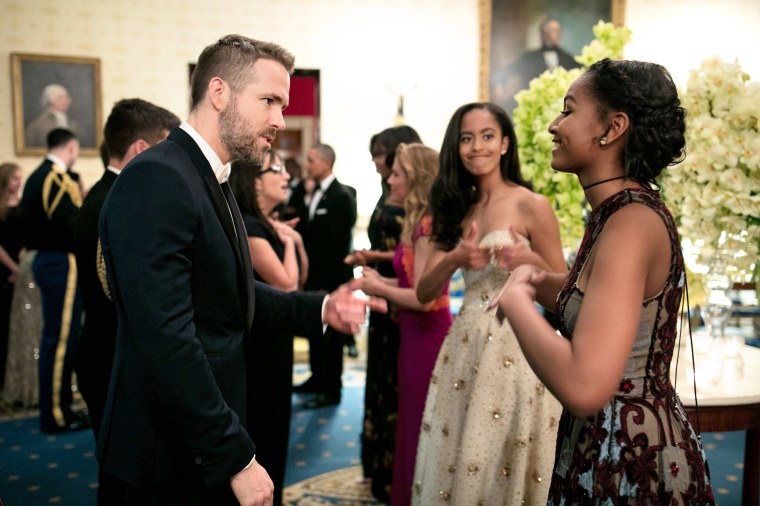 It's hard to tell whether Malia is giving Sasha the "good job, sis!" or the "way to be a spaz in front of Ryan Reynolds" thumbs-up, but it was a moment any sisters can relate to. Sasha's fangirl meeting with Reynolds also struck a chord with many who imagined themselves having the same hand-wavering, breath-shortening moment.
During the dinner, Sasha was seated next to Reynolds' wife, actress Blake Lively. The president and the guest of honor, Canadian Prime Minister Justin Trudeau, both remarked during the dinner about the growth of Sasha and Malia.
"When I was first elected to this office, Malia was just 10 and Sasha was 7. And they grow up too fast," the president said. "Now Malia is going off to college ... And I'm starting to choke up."
RELATED: Ryan Reynolds talks 'Deadpool,' plays spin the bottle with fan
"I admire you very much, both of you, for your extraordinary strength and your grace, through what is a remarkable childhood and young adulthood that will give you extraordinary strength and wisdom beyond your years for the rest of your life," Trudeau said. "The one thing that you have received from your extraordinary parents is the tools to be able to handle the challenges and the opportunities in front of you."
Follow TODAY.com writer Scott Stump on Twitter.