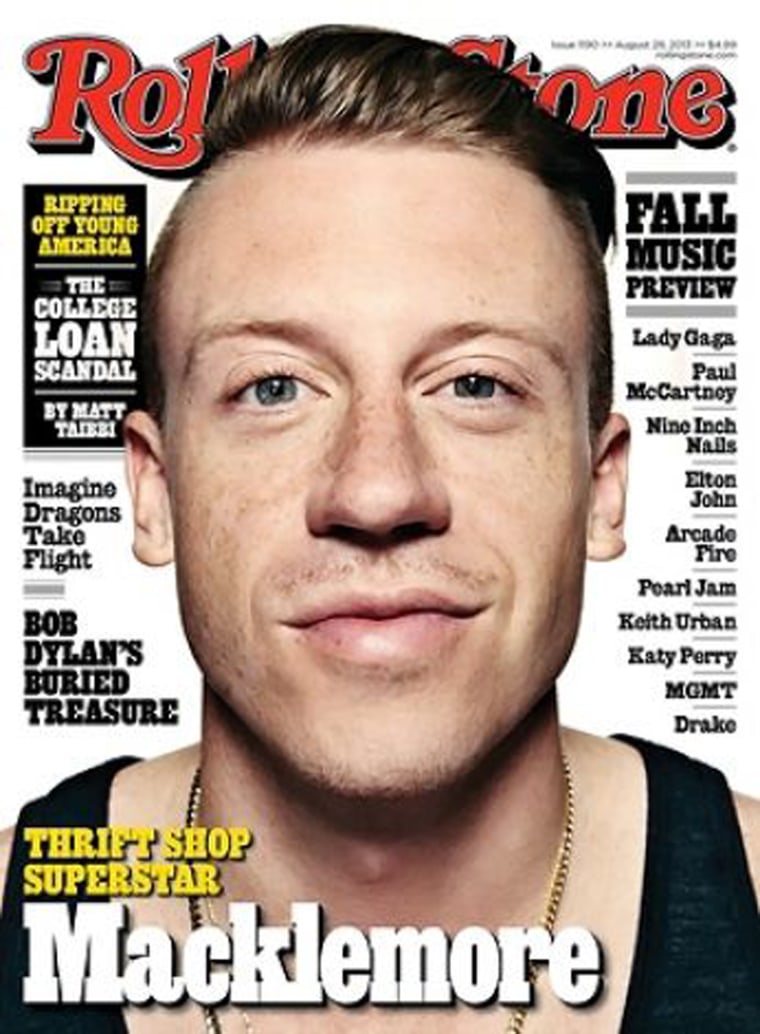 The rap duo known as Macklemore (really Ben Haggerty and Ryan Lewis) have had a remarkable year thus far, with two No. 1 hits with novelty tune "Thrift Shop" and the gospel-inflected "Can't Hold Us." But in a recent issue of Rolling Stone, Haggerty acknowledged that the band's success has partly come from the fact that they're white.
"We made a great album," he said, "but I do think we have benefited from being white and the media grabbing on to something. A song like 'Thrift Shop' was safe enough for the kids. It was like, 'This is music that my mom likes and that I can like as a teenager,' and even though I'm cussing my a-- off in that song, the fact that I'm a white guy, parents feel safe. They let their 6-year-olds listen to it. I mean, it's just ... it's different. And would that success have been the same if I would have been a black dude? I think the answer is 'no.'"
He also noted, "If you're going to be a white dude and do this s---, I think you have to take some level of accountability. You have to acknowledge where the art came from, where it is today, how you're benefiting from it. At the very least, just bringing up those points and acknowledging that, yes, I understand my privilege, I understand how it works for me in society, and how it works for me in 2013 with the success that (the band's album) 'The Heist' has had."
White rappers have been around almost as long as African-American ones, though the genre is clearly and genuinely attributed to having come from the African-American community. But while there have been true white artists (Beastie Boys, Eminem) and true white novelty acts (Vanilla Ice) appropriating the genre, white artists appropriating an art form from outside the culture can still sting in the African-American community, as it hearkens back to the origins of rock 'n' roll, where white artists like Elvis became internationally famous and wealthy while African-American originators were often relegated to the background. 
Even into the 1980s, the Beasties were outselling Run-D.M.C., and their "Licensed to Ill" album was the best-selling rap album of that decade.
Gawker's Rich Juzwiak had a few things to say on the topic, first pointing out that prior to "Thrift Shop," Haggerty also had a song called "White Privilege," featuring lyrics like: "Where's my place in a music that's been taken by my race, culturally appropriated by the white face."
Noted Juzwiak on Haggerty's Rolling Stone interview comments, "First congratulations are due to Macklemore for self-congratulating so articulately." 
But he then wonders if by acknowledging the privilege of being white, Haggerty isn't trying to pre-empt criticism. "If one checks his privilege, as he is often encouraged to do by seemingly concerned and arguably condescending individuals, while going to go about his business and do the things he would be doing anyway, doesn't his behavior become flagrantly imperialistic? ... (J)ust because you are aware that it's a s----- thing to do doesn't make it less s-----."
(Note: Video contains explicit language.)
Macklemore will appear on Aug. 25's MTV Video Music Awards. The hip-hop act tied Justin Timberlake with a leading six nominations.