/ Source: msnbc.com contributor
It's easy to tell what the stakes are in "American Idol" as the competition enters the homestretch. With the promised record contract and possible fame and fortune so close to a reality for the remaining contestants, it's becoming almost more pressure than some of the finalists can bear.
Tuesday night, Vonzell Solomon broke down after her first song (becoming the first "Idol" contestant in history to start sobbing because of something Paula Abdul said). On Wednesday, it was Carrie Underwood, perhaps feeling insecure after a less-than-stellar pair of performances, who looked like she was about to throw up from the tension as Ryan Seacrest was declaring her fate.
Probably, that was because she isn't used to having her fate undecided so late in the telecast. Incredibly, a show that's sole purpose is to reveal the results of the week's voting was so cluttered up with filler and commercials that Seacrest didn't start doling out the safes and outs until 9:26. It was funny to see him motoring through his script like he was trying to set a words-per-minute record, but it didn't make any of the finalists feel any more secure.
Of course, Underwood was safe, allowing her to run joyfully back to her seat to give a big hug to Bo Bice. The two frontrunners throughout the competition managed to move one week away from the final pairing that everyone's been anticipating since Constantine Maroulis got voted off last month.
That left Solomon and Anthony Fedorov onstage, flanking Ryan Seacrest as he tried to build the suspense. Solomon has been a better singer throughout the competition, but had a rough night on Tuesday. Fedorov is clearly lucky to have made it this far, but was also the only one of the final four who didn't put up one clunker of a performance on Tuesday.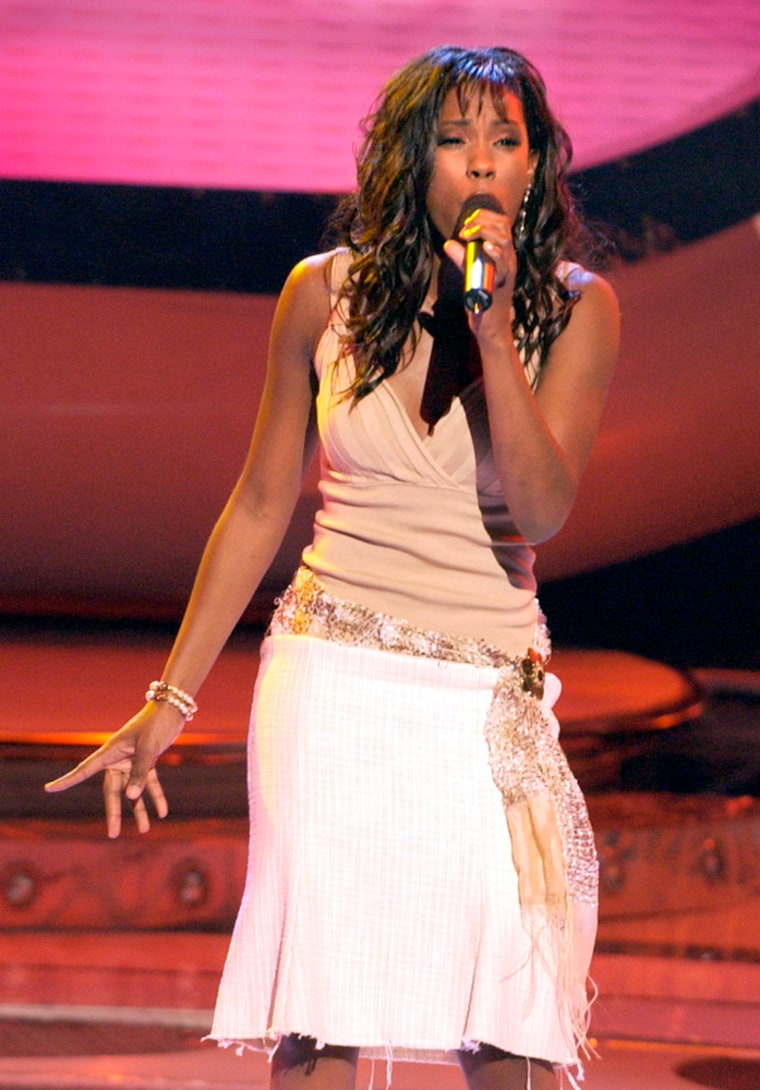 Didn't matter. Solomon built up enough goodwill over the past few weeks of stellar efforts to survive. Or maybe fans of the show just felt sorry for her after her crying jag onstage. At any rate, Anthony Fedorov continued the run on unpopular males being sent home.
A guy has been voted off the show four weeks in a row. Bo Bice may want to have a bag packed next Wednesday, just in case.
Before the show got around to giving the unlucky last-place finisher the boot, it showed the tapes of their original auditions again, apparently to remind the contestants that they were unpolished rubes from the sticks just a few months ago and can be sent back there again if they ever do something like go on ABC news and talk smack about the show.
Fedorov struggled against the oddsWhile this particular part of the clip didn't make the re-air, when we first met Anthony Fedorov, he was telling the cameras in Cleveland that it was a miracle he was able to even dream of becoming an "American Idol" at all. He suffered breathing problems as an infant that forced doctors to perform a tracheotomy, and he was told he would never speak again.
Not that anything in a TV reality show compares to that kind of medical drama, but it was apparent early on that Fedorov would need a similar combination of skill, luck, determination and chance to win this competition. He sailed into the final 12, but it's been a struggle for him every week since then.
He had spent more time in the bottom three than any of the final four hopefuls, as he tried in vain to find a niche for himself. After the judges originally said he reminded them of Clay Aiken, Fedorov seemed to run away from that label in the early weeks, singing a Mark Anthony hit and a George Michael/Aretha Franklin duet to liven things up, but when those got him poor reviews he went back to the ballads and stayed there.
Essentially, he's stuck around not so much because he has a strong following – clearly he has just enough to scrape by – but because each week someone did a little bit worse. It's ironic that he got sent home after a week where he was definitely not the worst of the final four performers Tuesday night.
Unfortunately for him, that still wasn't good enough to get fans of the other three performers to change their allegiances. Now, he's stuck flying coach back home to Pennsylvania while the other three get a private jet back to their hometowns for the obligatory cheerleading footage. In this, he has a reason to complain. All the cash this show rakes in each week, and they can't at least give the guy a first-class ticket?
Looking back at BiceThe funniest bit of the night was the Bo Bice audition tape, which never made it to air originally. As Randy might have said, Bice had the Steven Tyler thing goin' on, opening his mouth wide enough that small birds could have built a nest in there during one of his glory notes.
When Paula asked her usual audition question of why he should be the next American Idol. Bice said "'American Idol' could really use a kick of some rock, some blues, some soul." Simon quickly replied "John Stevens?" alluding to season three's red-haired teen sensation who was about as far from a rocker as a human being can be.
Fedorov is no John Stevens, but he was clearly equally overmatched compared to the rest of the remaining finalists. At least he had the comfort, if he looked to his left as he sang his final number, to see Carrie Underwood mouth something that looked like "I love you." Of course, at this point she probably loves everyone and everything in the world, since he's so happy to still be in the competition.
But at least Fedorov can still dream.
Craig Berman is a writer in Washington, D.C.