It's one thing to be nominated once in a season, but to be recognized twice? Only three actors can brag about receiving two Golden Globes nominations apiece on Thursday morning: Chiwetel Ejiofor, Julia Louis-Dreyfus, and Idris Elba.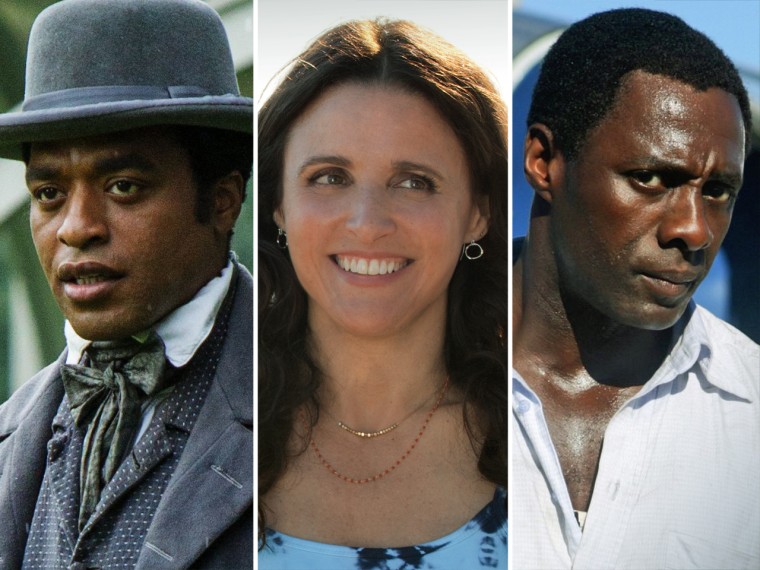 Chiwetel Ejiofor, who was expected to be nominated for his dramatic lead role in "12 Years a Slave," also managed to nab a nomination for his work on the Starz miniseries "Dancing on the Edge." The actor told TODAY the recognition was "absolutely thrilling" and "most surreal."

Ejiofor will compete with Elba, the star of "Mandela: Long Walk to Freedom," in both categories. Elba was also recognized for his work on the BBC series "Luther."

"I'm truly humbled and honored to be acknowledged for two projects that, though very different from one another, are both extremely personal and special to me," Elba said in a statement. "Thank you to the Hollywood Foreign Press for your support, and I would also like to give a special thank you to Mr. Mandela, who will be forever missed."
Louis-Dreyfus, nominated for her HBO comedy "Veep" and her performance in the film "Enough Said," put her double nominations into perspective in a statement: "I'm thrilled and so grateful to the Hollywood Foreign Press. One question: does this mean I need two dresses?"