Thousands turned out over the weekend for fan-organized tributes dedicated to Paul Walker, honoring the "Fast & Furious" actor who died in a car crash with his friend Roger Rodas on Nov. 30.
Attendees at the Los Angeles tribute walked uphill to the site of the crash while a line of cars — from Lamborghinis to a souped-up VW Bus — drove alongside, according to The Hollywood Reporter. 
Walker's "Fast & Furious" co-star Rick Yune put in an appearance, and a plane that read, "RIP God be with Fast & Furious star Paul Walker" and "Our hearts go out to his friends & family," flew over the service TODAY reported. The plane was rumored to have been sent by Paris Hilton, but later in a Twitter post she denied having sent it.

"I felt really inspired by him, so I felt like I had to come and pay my respects," one fan told TODAY.
A church located near the site provided coffee, water and hot chocolate to attendees. Rodas, 38, and Walker, 40, had owned a custom auto shop located behind the church.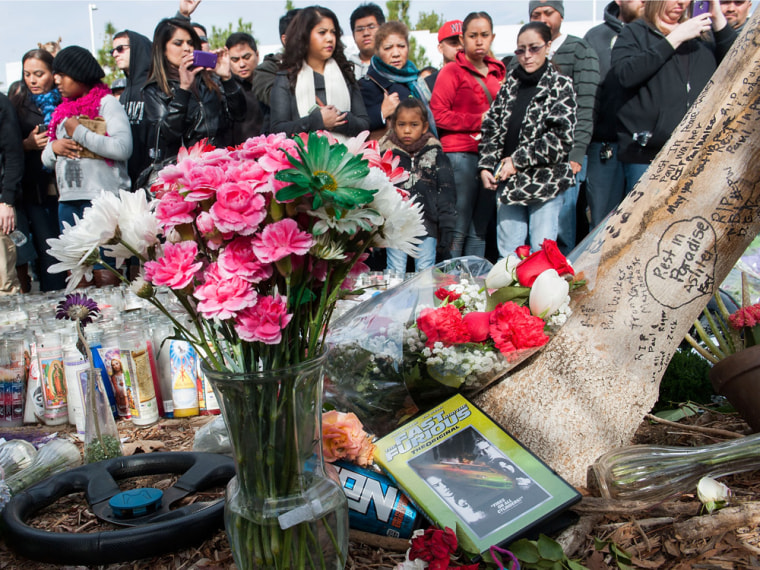 In Atlanta, where the latest entry in the film's franchise had been filming, more than 1,000 cars cruised the streets in his memory. At the time of the accident, Walker was on a Thanksgiving hiatus from the film, whose production has since been put on hold while Universal Pictures decides how, or whether, to proceed next. (NBCNews.com is operated by NBCUniversal Media LLC.)
The coroner's report indicated the two men died from traumatic injuries sustained after their 2005 Porsche Carrera GT, which was driven by Rodas, crashed into a tree and a lamppost.