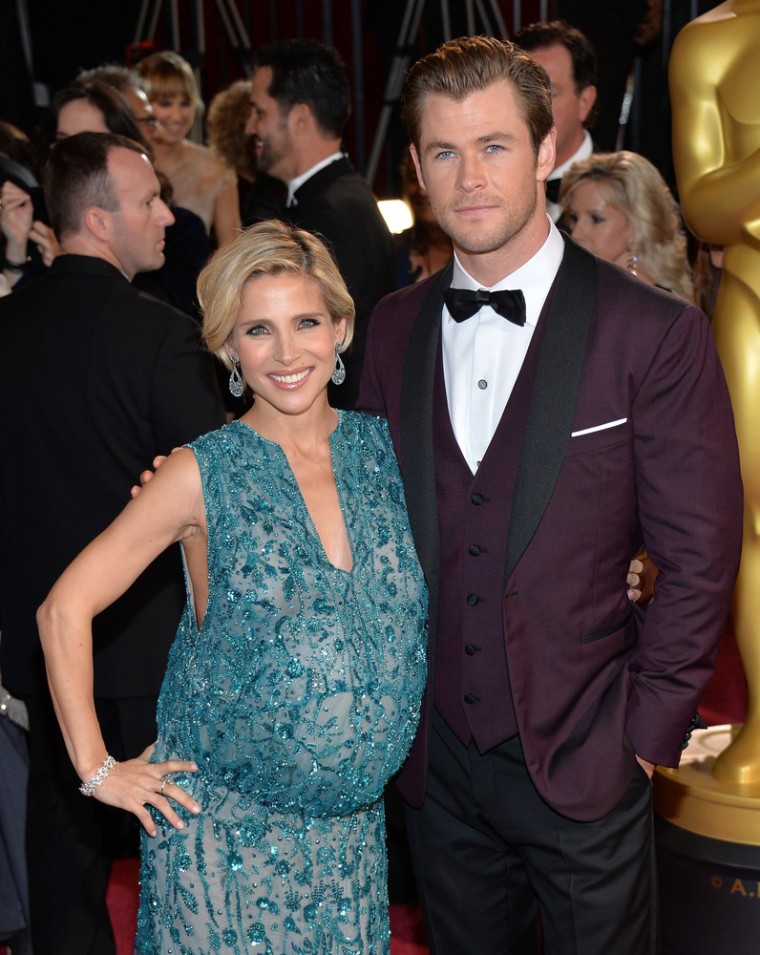 And babies make five! Elsa Pataky has given birth to twins, her rep exclusively confirms to E! News. The Spanish actress and her hunky hubby Chris Hemsworth welcomed their second and third child together. The names and genders have not been revealed.
In January, a rep for Hemsworth confirmed to E! News that the "Thor" star and the blond beauty were expecting twins. The happy couple is already parents to daughter India Rose, who will turn 2 years old in May.
Pataky was photographed flaunting her baby bump on numerous occasions throughout her pregnancy, proving she was easily one of the most adorable pregnant ladies ever. 
Whether she was rocking the red carpet with her man at the 86th Annual Academy Awards,enjoying a casual lunch date in Malibu or even painting her belly with none other than the image of a life preserver (seriously, best photo ever), Pataky and Hemsworth continued to kill us with cuteness as the gorgeous mama approached her due date.
Hemsworth recently opened up about being a dad to Parade magazine, and it's clear the talented thesp is first and foremost a family man.
"I think [parenthood] brings out the child in all of us. That's what's so beautiful. It reminds you of the fascination you had with things, and how you can spend hours just being with someone," the "Rush" star gushed, adding, "It's amazing."
As for how his friends and family see him as a father?
PHOTO: Chris Hemsworth and ready-to-pop Elsa Pataky enjoy casual pizza date in Malibu
"Hopefully a good one!" the 30-year-old stud joked. "My wife thinks I am. I love it. It's the greatest thing I've ever been a part of. When I am at work, she's [India Rose's] what I'm thinking about, and when I'm not at work, she's who I'm hanging out with!"
The good-looking actor also previously told E! News that fatherhood has changed him "for the better," because "it puts things into perspective."
Hemsworth and Pataky started dating in early 2010 and married that December. They welcomed their first child in May 2012.
Congrats to the proud parents!
PHOTOS: Chris Hemsworth, Elsa Pataky and India Rose's cutest family moments