Thomas Rhett is a rising country star, a Grammy nominee and ... Blake Shelton's former tutee?! Who knew?
It's one of the fun facts he shared with Willie Geist during an interview that aired on Sunday TODAY. Are you ready to learn more about the "Die a Happy Man" hit-maker? Let's do it. There won't be a quiz at the end, we promise.
1. Blake Shelton helped Rhett with his homework when he was younger
As the son of singer-songwriter Rhett Akins, Rhett had the chance when he was young to spend time with top Nashville artists like Shelton. And "The Voice" coach taught Rhett a thing or two beyond country music. At least he tried to.
"Looking back at it today it's just so funny to, like, hang out with Blake today because I am opening a show for him, but he was helping me with homework 10 years ago," Rhett told Willie.
RELATED: Watch Blake Shelton, Gwen Stefani and her sons in epic holiday dance-off
And was Shelton a good tutor?
"Not really," Rhett laughed.
OK, so Blake Shelton gets an "F" as a teacher. Still, that had to have been a cool experience for Rhett. The only way it could've been cooler is if Shelton had tutored Rhett while sitting in his "Voice" chair.
2. Rhett's first band was a flop
Literally so. When he was in the sixth grade he joined a group called "High Heeled Flip Flops." He readily admits it wasn't a high point in his music career.
"We were so bad. We all dyed our hair black, jet black, and in our shows we all talked in English accents," he recalled.
Why would they do that? "Because we wanted to be the Ramones so bad," he explained.
The Ramones — who, it should be noted, were from New York — are known for their hits like "Blitzkrieg Bop" and "I Wanna Be Sedated," not to mention their really cool punk-rock hair.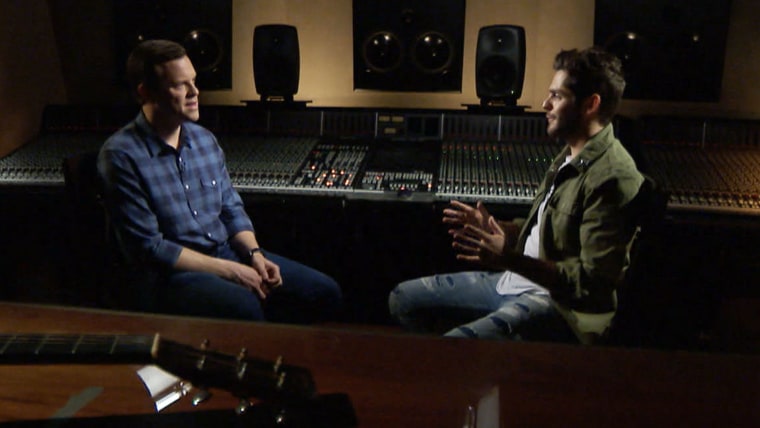 3. His mom didn't want him to become a musician
Rhett's mother wanted him to become a doctor or a lawyer. And, being the good son that he was, he went to college with the intention of becoming a doctor one day. He attempted to study kinesiology ... though not for very long.
"Not even a semester," Rhett noted. "But the whole time I was really just writing songs."
We think things worked out just fine for him.
RELATED: Little Big Town's Kimberly Schlapman shares big news — she has a new baby girl!
4. He had interesting musical influences as a kid
Aside from his dad, of course, who also exposed him to rock 'n' roll legends like The Beatles and The Rolling Stones. But never mind the Fab Four ... Rhett was really into the Fresh Prince.
"I grew up with, maybe not the best hip-hop in the world, but a lot of hip-hop. Will Smith was like my jam when I was like 9 or 10 years old," he said.
That's right, Rhett loved to get "Jiggy Wit It"! In fact, he said it was the first rap he ever learned.
5. He is grateful for his Grammy nomination
Rhett is a Grammy nominee for the first time: He's in the running for best country song honors for "Die a Happy Man." It is, literally, a dream come true for him.
"Being nominated for a Grammy after this big year that we had was just the most massive cherry on top in the world," he told Willie. "As a kid I dreamed of being nominated for a Grammy. I'm so pumped to be there and be part of that environment."
He then offered a pearl of wisdom we can all follow: "You just have to live today. And I think one of my New Year's resolutions is definitely trying to stop and live in the moment and cherish it."
6. He has a big announcement coming this Tuesday
And he'll be making it right here on Today.com! Check back with us on Tuesday morning to find out the exciting news he has for his fans!
Follow Shane Lou on Twitter.