Tricks weren't allowed at the White House on Halloween (as per the Secret Service) but for their final Halloween night in the White House, President Obama and First Lady Michelle Obama had a "Thriller" of an evening anyway.
Welcoming over 4,000 people (largely elementary school children and children of military veterans) for trick-or-treating on the South Lawn of the White House, the Obamas handed out candy, Bo and Sunny baseball cards, cookies and fruit bars. But before the candy commenced, President Obama and Mrs. Obama had a few words for the assembled crowd.
RELATED: See TODAY Show's '90s Halloween 2016 costume reveal
"You don't have to eat healthy today, you can have candy...even FLOTUS says so," proclaimed President Obama.
"You can have candy," Mrs. Obama confirmed.
But that wasn't all that went down. Before the candy giveaway, Obama did a little super-flexing with tiny Superman Walker, the son of press secretary John Earnest:
While outside, Obama crooned Prince's "Purple Rain" when he spied a mini-The Purple One. (We also loved the costumes that featured a mini-Barack and an actual "lame duck.")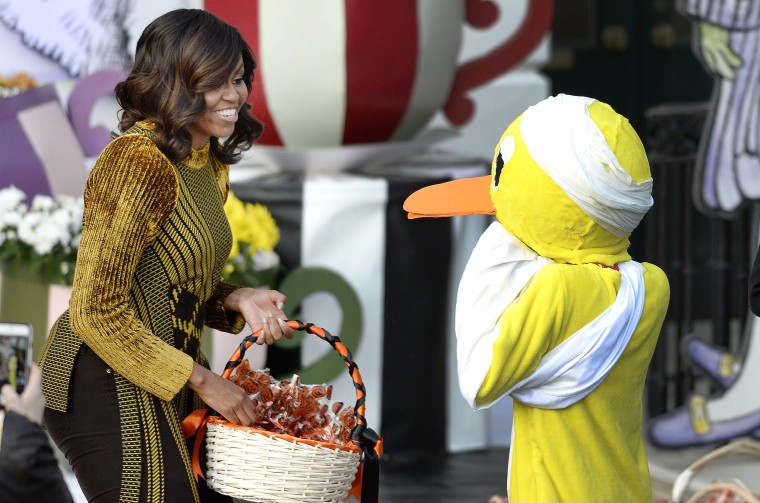 And then came the smooth moves.
"We've been working on a little dance," Obama said by way of introduction. "We don't know how it's going to go, but we think we should all just try it anyway."
Go to 2:23 in clip to see the dance!
RELATED: See the cutest celebrity kids' costumes this Halloween
There are many things President Obama can do well; dancing may not be one of them. But as we all know from her appearances on "The Tonight Show" and "The Ellen DeGeneres Show," Michelle has all the right moves!
This is a total treat!
Follow Randee Dawn on Twitter.