On Monday night, Lady Gaga joined mourners nationwide as she led a Los Angeles vigil for the victims of the Orlando shooting.
In front of thousands of grieving people, the pop star read the names and ages of the 49 people who were killed early Sunday at the gay nightclub Pulse, the worst mass shooting in U.S. history.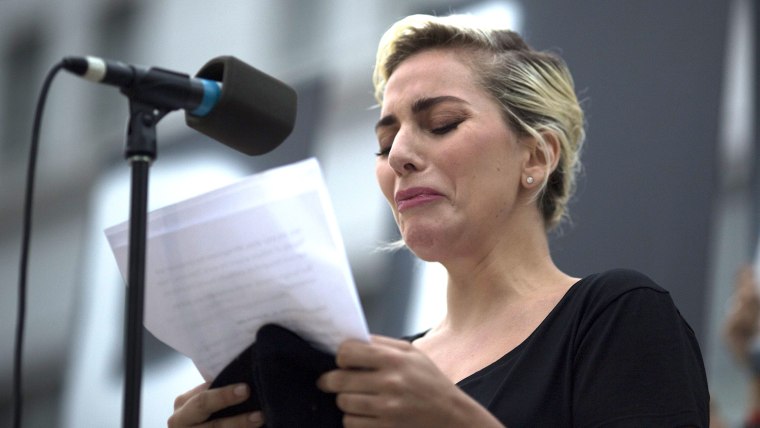 "I can't help but feel that this level of hatred, like all prejudicial crimes, this is an attack on humanity itself. This is an attack on everyone," said the singer.
RELATED: Adele emotionally pays tribute to Orlando shooting victims during Belgium concert
"Tonight, I gather humbly with you, as a human being, in peace and sincerity, in commitment and solidarity," she added, fighting back tears. "To take a real moment and mourn the tragic loss of these innocent, beautiful people."
The event, like the many others that took place around the country over the past two days, was a tribute to the fallen — and, at the same time, a celebration of pride.
'Keep loving each other': Late-night hosts powerfully address Orlando tragedy
City Hall was lit with rainbow colors, the Gay Men's Chorus of Los Angeles sang "True Colors" and there were speeches from advocacy groups including the Los Angeles LGBT Center.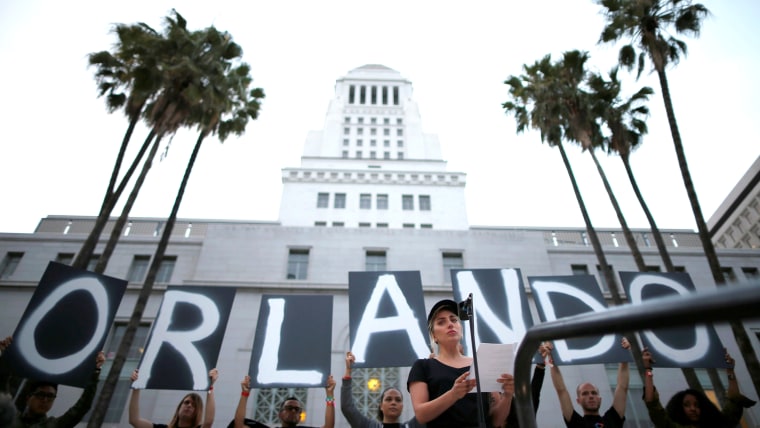 RELATED: Sandy Hook mom pens letter to Orlando nightclub shooting victims
"I will not allow my anger and outrage over this attack to overshadow our need to honor those who are grieving truly for their lost ones. Lost members of the LGBT community," Gaga said.
"Tonight, right now, Orlando, we are united with you. And we are here to remember."
Meanwhile, in Orlando, thousands continued to gather on the lawn of the Dr. Phillips Center, a performing arts venue that has been turned into a memorial for the shooting.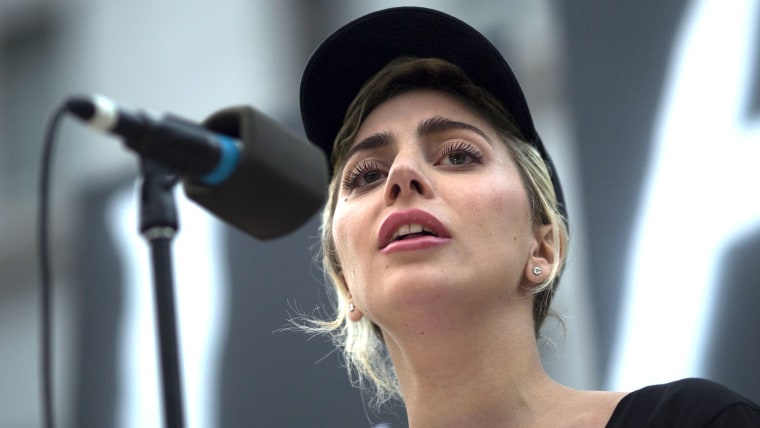 And in Manhattan, New York Governor Andrew Cuomo and Mayor Bill de Blasio addressed an enormous crowd gathered at the Stonewall Inn, a gay rights landmark, to commemorate the lives of the victims and remember the history of violence against the LGBT community.