Jennifer Lopez may have been the star in the fast lane with James Corden during his prime-time Carpool Karaoke special Tuesday night, but it was Oscar winner Leonardo DiCaprio who got the biggest laugh — without ever getting in the car.
After Lopez and Corden belted out some of her biggest hits — including "Booty" and "Jenny From the Block" — the "Late Late Show" host grabbed J. Lo's phone so they could send a text to one of her many A-list pals.
MORE: 'Broad-minded guys' Rod Stewart and James Corden get 'Sexy' in Carpool Karaoke
He scrolled past Bradley Cooper, Demi Lovato, soccer player Cristiano Ronaldo and Dwayne "The Rock" Johnson before deciding on DiCaprio and writing, "Hey baby, I'm kinda feeling like I need to cut loose. Any suggestions? Let me know." He signed off as "J.Lo, ya know, from the block."
A horrified Lopez forbid him from sending the message, but that did nothing to stop him.
"Now I'm going to have to explain this!" she cringed.
But DiCaprio didn't need an explanation. He just wanted more details about the good times ahead: "You mean tonight, Boo-boo? Club wise?" he asked.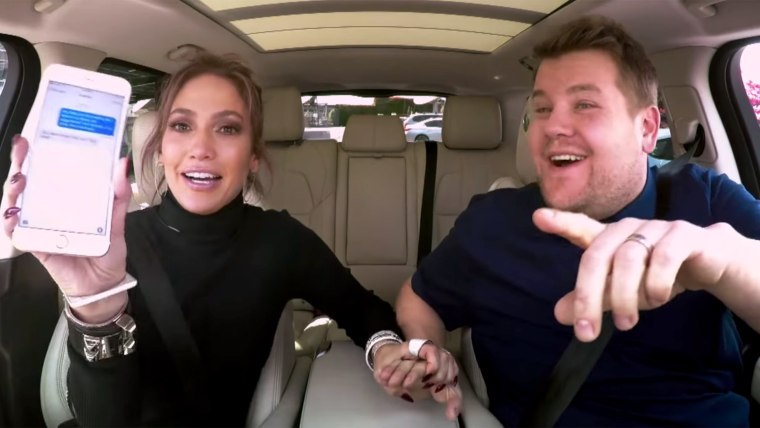 "He actually thinks I'm serious," Lopez said in disbelief. "As if I would sign 'J.Lo'."
As far as Corden was concerned, she was totally missing the point.
"You're going to the club with DiCaprio tonight!" he cheered.
MORE: Stevie Wonder takes wheel for James Corden's Carpool Karaoke
Be sure to check out the full clip to see other highlights, including Lopez's lessons in getting sexy for a music video and some straight talk about butt insurance.
Follow Ree Hines on Twitter.