Houston Texans football star J.J. Watt has come to the rescue of one young fan.
Noah Fulmer, 8, was one of four people injured in a terrifying New Year's Eve car accident in Matagorda Beach, Texas — an accident made even worse when emergency personnel ripped open the boy's beloved Houston Texans "Watt" football jersey while tending to his injuries.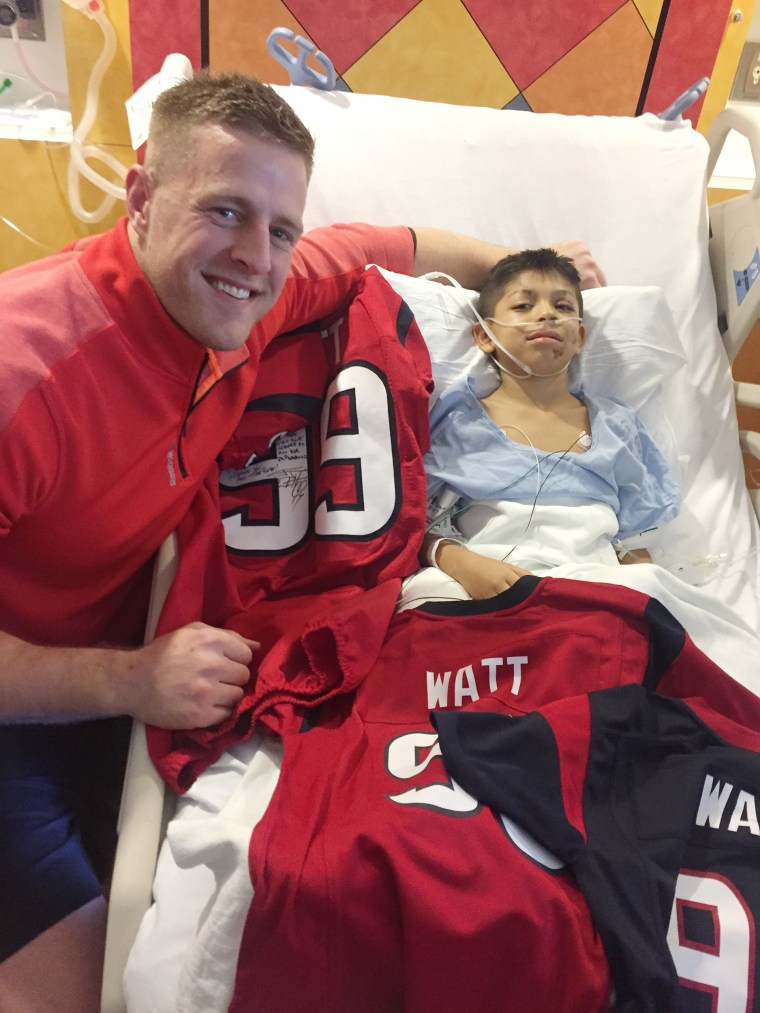 On Jan. 2, Marc Carapia, a relative of Noah's, tweeted Watt the news about the accident, which involved a speeding Toyota Tundra crashing into two parked vehicles, including a pickup truck whose bed Noah was climbing into just before midnight.
Noah, who was there celebrating the New Year with his mom, Maria Garza, and other family members, was whisked by helicopter to Children's Memorial Hermann Hospital in Houston, where he's been undergoing multiple surgeries for two broken legs.
RELATED: DeAngelo Williams pays for 53 mammograms to honor mom, who died of breast cancer
What really moved the bighearted athlete was seeing Carapia's tweet about how distraught the little boy was over losing his favorite jersey.
"He responded to that tweet in about 30 minutes," Noah's dad, Cory Fulmer, a pipe fitter's helper in Bay City, Texas, told TODAY.
In his reply tweet, the 27-year-old star defense player promised he'd visit Noah in the hospital and bring him a brand new jersey.
"I knew he'd done stuff like that before. I knew he was a good person," said Fulmer, who said he was hopeful Watt would keep his word.
And just as promised, Watt showed up the very next day at Noah's bedside with several jerseys in hand — including his game jersey, which he'd autographed with a special message of strength for the young patient.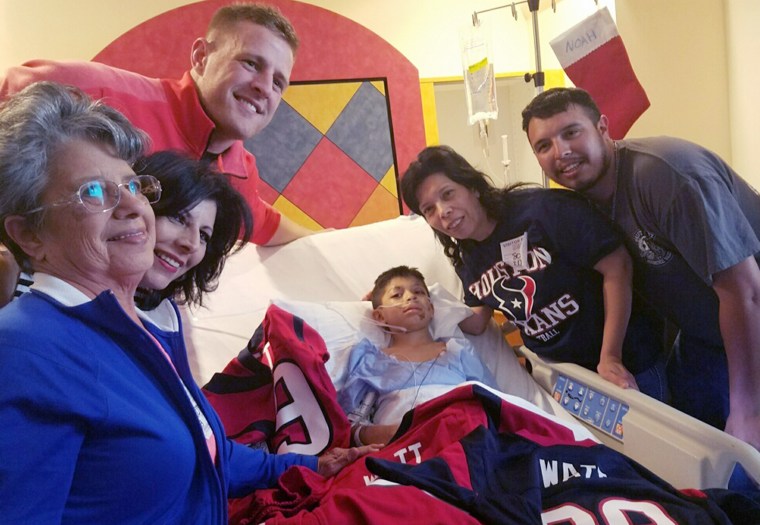 RELATED: J.J. Watt is Batman! Texans star surprises children's hospital in character on TODAY
"It was exciting, and it was a good feeling for Noah," said Fulmer. "I was so happy he did it."
Watt, he said, gave Noah "words of encouragement."
"He told Noah, 'I know what it's like to be in the hospital. I've had my back surgeries. You've got to stay strong like I did,'" said Fulmer. "He just made Noah feel better."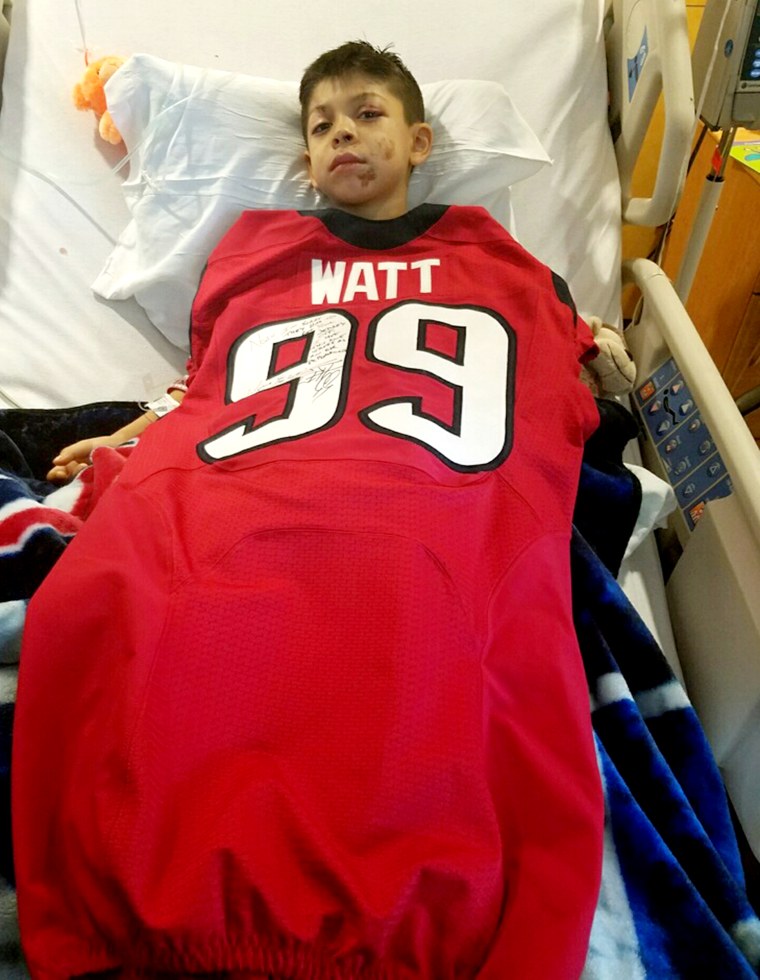 Although Noah was woozy from surgery when Watt arrived, he was thrilled to see his favorite player in his hospital room. "He was really happy," said Fulmer.
Noah has already had two surgeries on his legs, with more to come, including one procedure that will remove the big toe on his left foot, which was crushed in the accident. "He's not aware of the surgeries coming up, but I'm going to try to break it to him later today," said Fulmer.
RELATED: Football player sits at lunch with boy who has autism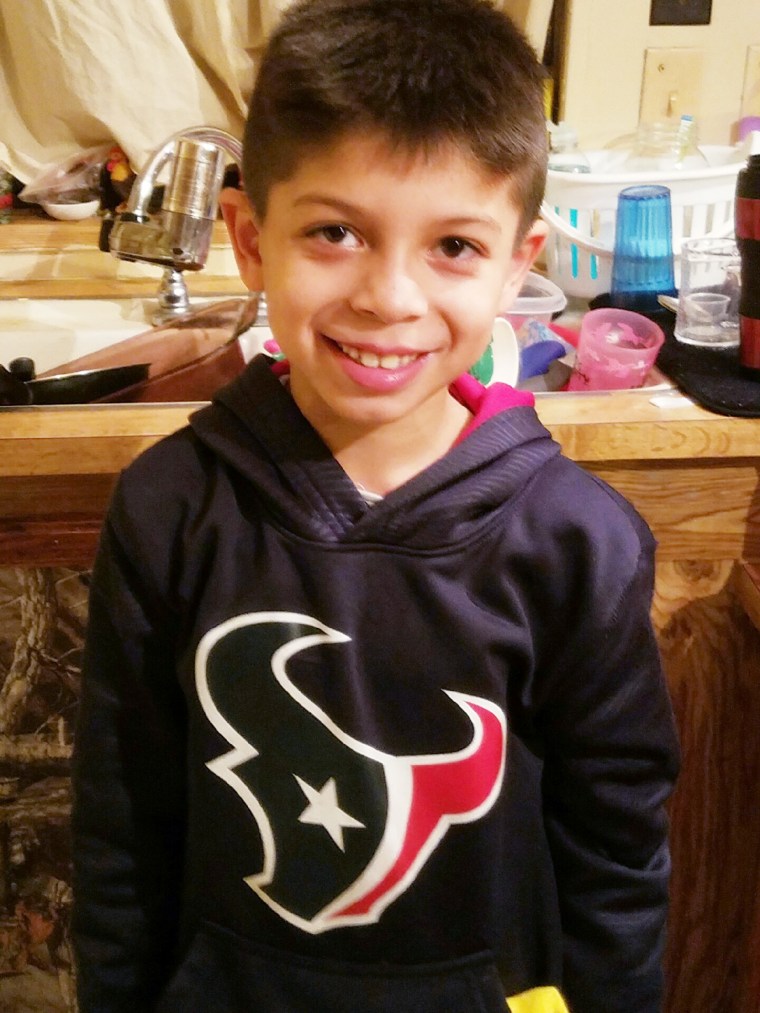 According to his dad, Noah has been "tough" throughout the excruciating ordeal. "He's talking now — being a little bit of a brat," Fulmer said happily.
But the accident has been devastating for his parents. "It's hard seeing him like this," said Fulmer. "I wish it could be me lying in that hospital bed instead of him."
Noah's visit from Watt has been reported by news media all around the world, and the family has been heartened by the outpouring of support, including donations to a GoFundMe page that relatives set up to help offset medical expenses.
"It's amazing, all the love and support," said Fulmer. "We're so grateful. We really can't believe it."