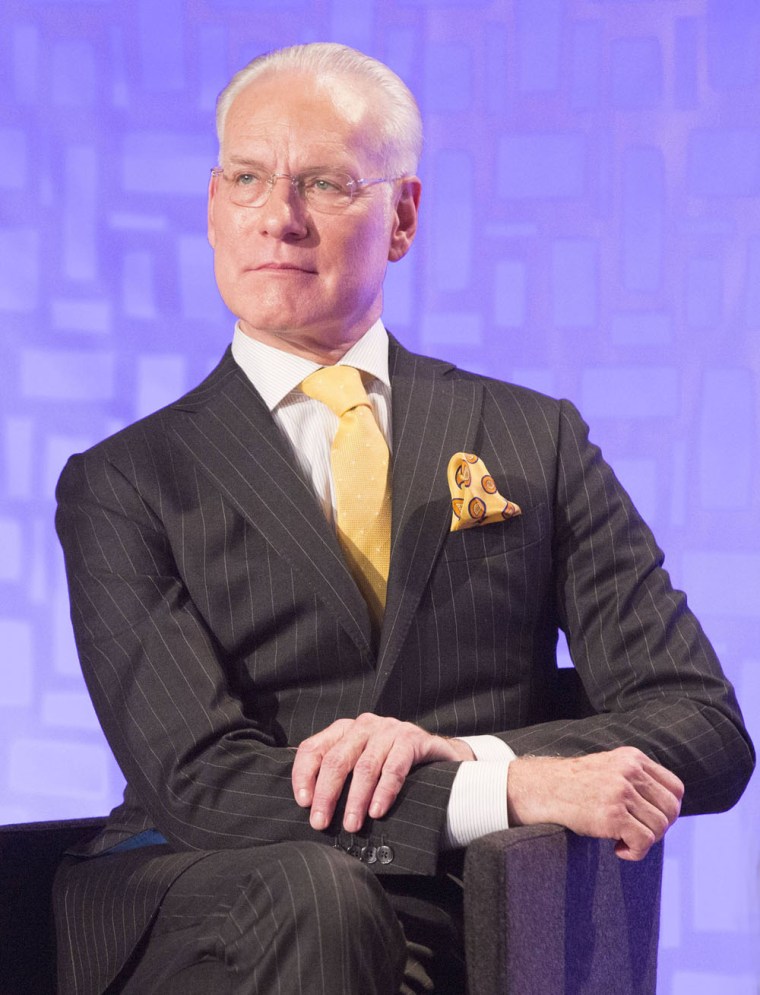 Who knew Tim Gunn had a temper?
Fans rarely see him get flustered on "Project Runway," but you can count on a spike in temperature on his new reality show, "Under the Gunn," which premieres Thursday.
"People come up to me on the street all the time and say, 'You're such a lovely man. You're always so well behaved. You're always so even-keeled.' Well, guess what? That man has his moments!" he told reporters during a conference call Monday.
Like on "Project Runway," "Under the Gunn" pits 15 designers against each other with a new fashion challenge every week. But they're split into three teams, led by a mentor who also wants to win. "Runway" alumni Mondo Guerra, Anya Ayoung-Chee and Nick Verreos are the mentors.
Gunn's the host. He also mentors the mentors, which, as it turns out, is no cakewalk.
In one scene, he raises his voice to Verreos and says, "This has got to stop!"
Gunn told reporters the mentors became overbearing and way too hands-on. "They were becoming these irrepressible nags," he said. "I had to pull Nick off of the designer once to say, 'Let her go!'"
They also seemed delusional at times. He'd ask for feedback on mentees' designs and they'd say fantastic. "Then I'd see them go down the runway and think, 'Really?'" he admitted to TODAY.
Gunn sits with the judges during the runway shows and judging, but he doesn't decide who gets eliminated.
"I thanked my lucky stars while I was sitting there that I wasn't a judge," he told TODAY. "It's enough to have to facilitate the conversation among the judges, but to also be a full-blown participant in it? I felt physically lighter for not having to have that role."
The heavies are designer Rachel Roy, celebrity stylist Jen Rade and Marie Claire senior editor Zanna Roberts Rossi.
Though the panel of experts certainly know their stuff, viewers will get to see Gunn get testy. When the women get nitpicky and overly critical of designers, he pipes up. "I really get my back up. I want to say to them, 'You try it!'" he said.
Even though filming has wrapped, his emotions are still running high as he braces himself for what critics have to say. "It sends terror through me, to be perfectly honest!
"When critical barbs are thrown, and I'm sure they will be, I'm the target. There is no one to bob and weave around or to share it with. So I feel very exposed."
No Heidi Klum around for him, that is.
"Under the Gunn" was actually created because of Klum's absence. Lifetime was ready to shoot season 13 of "Project Runway," but the model had other commitments.
"She was taping 'Germany's Next Top Model,' and that's like 'Runway' for her. It's a 24-hour-a-day job," Gunn explained to TODAY. "And Heidi and I have a pact, which is we don't do the show without the other."
So they made "Under the Gunn" instead, without Klum. "There was a scramble and this whole new concept was born," Gunn said.
Doing it without Klum was tricky, he shared with TODAY. "I missed her deeply and dearly. But she was constantly in my head. Constantly."
One thing that didn't trip Gunn up? Filming in Los Angeles. "I wasn't going to pull a diva move and say, 'Well, I refuse to do this. I'll only do this in New York,'" he said.
He and showrunner Sara Rey decided to own the fact they were in L.A. "We thought, 'We're not in New York. Let's not pretend that we are. Let's use the resources of the city, of which there are many,'" he said. "It was a lovely change. I really enjoyed it."
In true Tim Gunn fashion, they made it work.
"Under the Gunn" premieres Thursday at 9 p.m. on Lifetime.